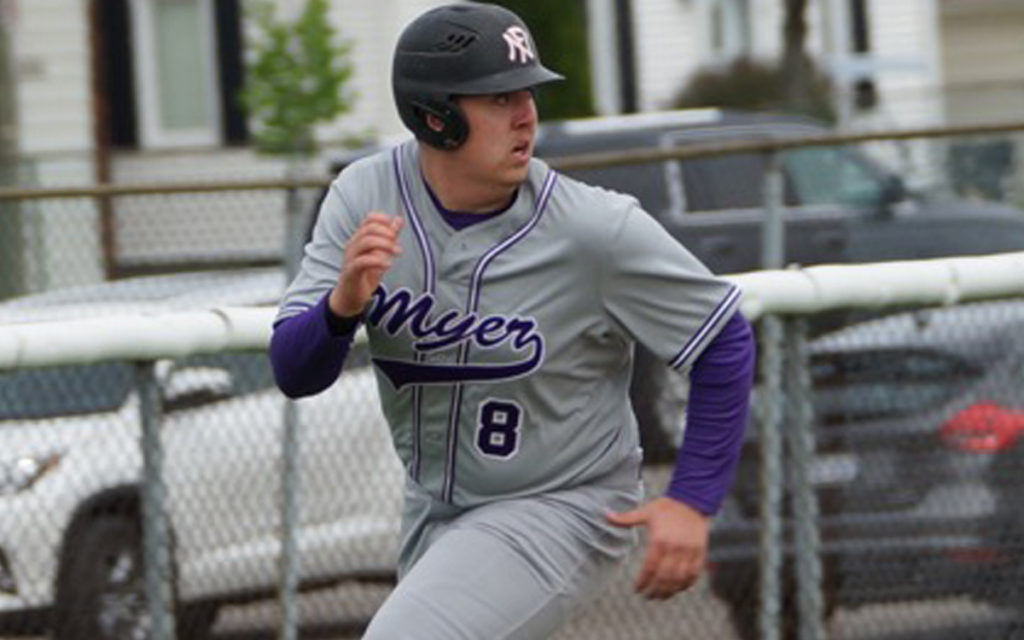 Myer's Ryan Shannon rounds the bases during play in the Bullet Proof  high school baseball tournament. Photo Credit: Jeff Eidt
Last week the annual Bullet Proof High School Baseball tournament was held in St. Catharines.  A.N. Myer of Niagara Falls, which has 'threepeated' as SOSSA champions and finished in the top five in OFSAA the last three years, continued to experience unparalleled success.
Myer's program is one of the very few in Ontario to have both a Varsity and a Junior Varsity (JV)team, made up of predominantly grade nine and 10 players.  Last year the Junior Varsity team was featured in local papers for winning a Varsity tournament in Oakville.  This year, the JV and Varsity teams were entered in the Bullet Proof tournament – both have made it through to the finals!
"We are blessed with a lot of player depth at Myer," said head coach Dave Buchanan.  "We also have a large coaching staff with lots of experienced and newer coaches, former players returning to help out, so we were able again this year to field two teams".
In round-robin play last week the Juniors defeated Blessed Trinity 4-0; Notre Dame 7-4 and then dropped one to E.L. Crossley 8-6.  Their record was good enough to get them into the playoff round where they beat the previously undefeated St. Francis in a 3-2 thriller.
The Juniors were led by great pitching performances from Ryan Nicholson and Drake Somerville.  Stellar defence and timely hitting were provided by Thomas DiDomenico, Peter Rigas, Will Anderson, Connor Theal and Connor Mills.
The Senior Varsity team went undefeated beating St. Michael's 13-0; Neil McNeil of Toronto 6-1 and St. Paul 3-2.  In their semi-final they defeated Notre Dame 6-3.  The two Myer teams will square off in the final next week.
The senior squad was led at the plate by Dennis Lescombe and Ryan Shannon.  Great pitching and defence was the key though led by Will Jackman, Kyle Fortuna, Calum Theal and Lescombe on the bump.  Catchers Noah Fortuna, Owen Diodati and Cal Theal were rock solid and multiple diving catches by outfielder Matthew Wiebe provided some highlights.
"Only the Varsity team will continue on now through the local playoffs," explained Buchanan. "The league only allows us one entry going forward.  Several of the JV players will be brought up to supplement our Varsity lineup and hopefully help us get back to OFSAA again."