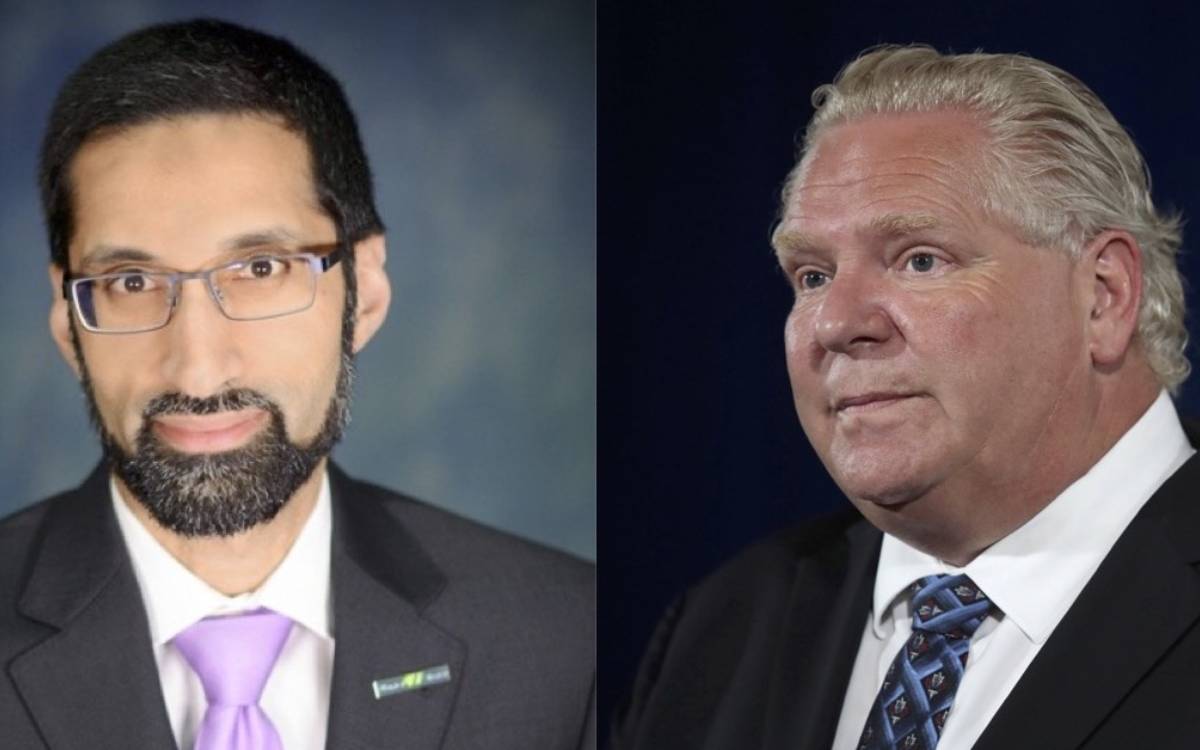 Niagara's Dr. Mustafa Hirji, Acting Medical Officer of Health and Commissioner, Public Health (left) and Ontario Premier Doug Ford (right). Photo credit: Niagara Region and Toronto Star/Steve Russell
Niagara recently achieved an impressive milestone in its ongoing battle against COVID-19: 200,000 vaccine doses delivered.
A total of 40 per cent of the region's residents are now at least partially vaccinated against the COVID-19 virus, with 2.7 fully vaccinated.
Exactly half of those life-saving jabs were delivered at Niagara Health's mass vaccination clinic in St. Catharines, which recently hit 100,000 doses administered.
"Each vaccination brings us one step closer to ending this pandemic, so hitting 100,000 vaccinations is a significant milestone," said Lynn Guerriero, Niagara Health President and Interim CEO.
"Many people have worked hard to contribute to the success of our clinic and it has become a very special place in the community. It's so moving to read the thousands of personal messages written on sticky notes by people who live and work in Niagara about what getting vaccinated means to them in the fight against COVID-19."
The incredible effort of staff at every single vaccination clinic across the region has seen deaths related to the virus mercifully slow to a crawl.
After an onerous third wave, new daily cases rates are even starting to come down. Monday marked the third day in a row that Niagara saw less than 100 new cases of COVID-19.
Yet despite the progress, Niagara's top medical official Dr. Mustafa Hirji recently told NewsTalk 610 CKTB that he thinks the Ford government should extend the provincial stay-at-home order another month passed its current expiration date of May 19.
Dr. Hirji reasons that mid-June represents a more suitable time to open up because by then 75 per cent of the population should be at least partially vaccinated.
For his part, Premier Ford appears to indeed be preparing to extend the stay-at-home order.
Per the Toronto Star, the order could officially be pushed back to June 2 sometime this week.
As Robert Benzies and Rob Ferguson reported on Monday, Minister of Health Christine Elliott said that although the numbers are declining, they remain "too high…[to] change the stay-at-home order."
It's uncertain whether schools will open before the extension expires.
According to CKTB, Niagara's top doctor thinks schools could open before the order is lifted, at the end of May or beginning of June.
"Opening schools first will let us see how that will impact the reproductive number," Dr. Hirji said.
Niagara made headlines in early April for pushing educators and school staff to the front of the vaccination line.
As of Monday, May 10, Thorold had the region's highest rate of active confirmed cases per 10,000 residents, with 46.2. The municipality was followed closely by Port Colborne with 45.3, Welland with 41.7, and St. Catharines with 39.1. Fort Erie and Lincoln had the lowest active cases per capita at 22.2 and 21.7, respectively.
Those under age 39 continue to make up well over half of the active cases in Niagara, accounting for 949 of 1,739 current cases.