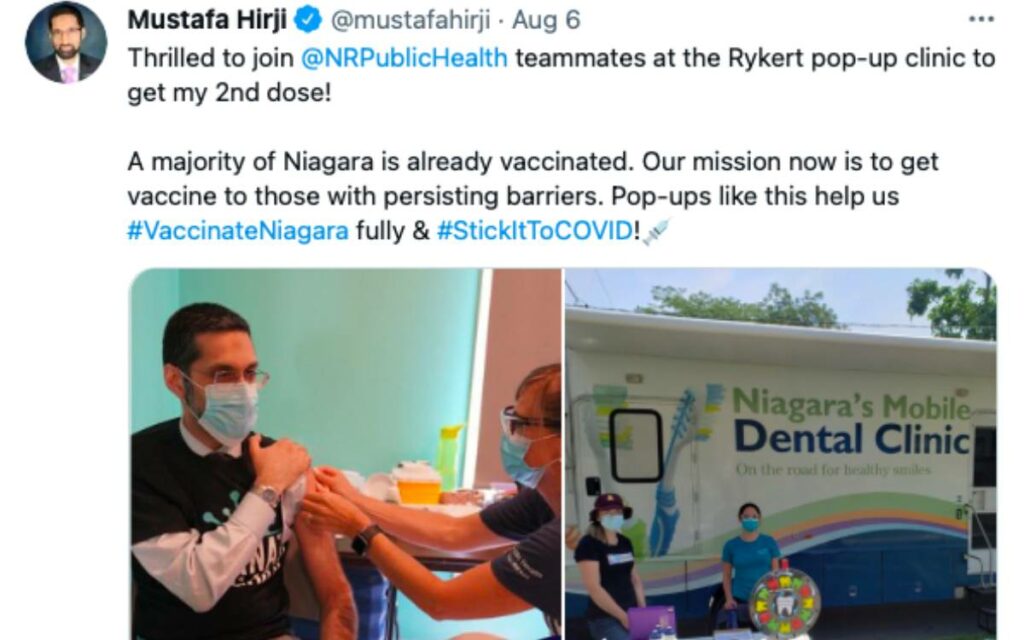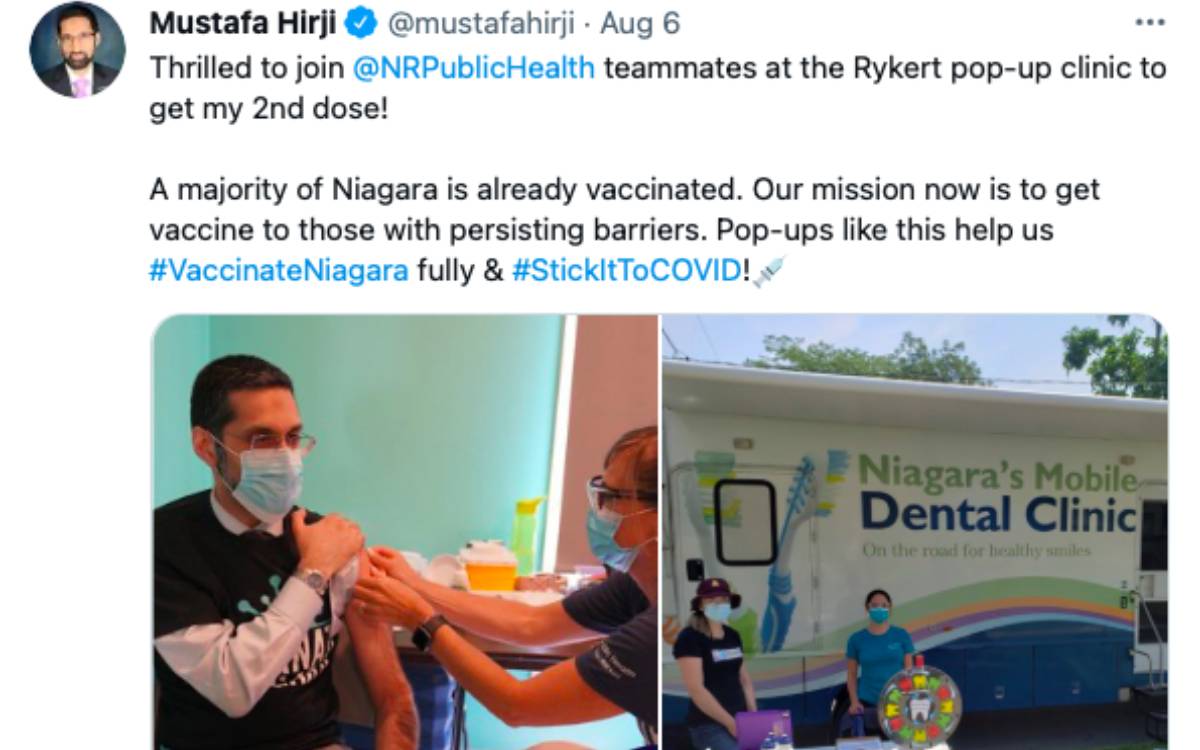 Screenshot of Dr. Hirji's August 6 tweet regarding his second vaccine dose. Photo credit: Twitter/Mustafa Hirji

On Friday, Niagara's acting medical officer of health Dr. Mustafa Hirji posted to Twitter that he went to a mobile pop-up clinic to receive his second dose of COVID-19 vaccine. 
"Thrilled to join @NRPublicHealth teammates at the Rykert pop-up clinic to get my 2nd dose!", wrote Hirji. "A majority of Niagara is already vaccinated. Our mission now is to get vaccine to those with persisting barriers." 
The post received over one hundred 'likes' from users and generated a healthy number of comments, both good and bad. Many congratulated Hirji, while others were not so kind. But one commenter posed an interesting question: why was it that Niagara's head of public health was only getting his second dose of COVID-19 vaccine on August 6? 
Dr. Hirji received his first dose on May 21. He waited a full 11 weeks between shots. 
A longer wait-time of up to 12 weeks between doses was previously recommended for those receiving two doses of AstraZeneca, but Hirji did not receive AstraZeneca. 
Due to an observed increase in a rare blood clotting condition, the province completely stopped giving first doses of AstraZeneca on May 11, a week and a half before Niagara's acting medical officer of health received his first shot of vaccine. 
Thus, he would have received either Pfizer or Moderna.
Pfizer and Moderna each have a dose interval of 21 and 28 days, respectively. Even if mixed, that interval does not extend past four weeks. 
All adults in Ontario became eligible for accelerated second doses on June 28. So, even if Hirji did not have a second appointment due to eligibility criteria at the time, he would have been able to book one about a week after waiting the appropriate dose interval. 
Locally, walk-in appointments became available to everyone over the age of 12 at all Niagara Region Public Health vaccination clinics starting July 23. But even before that, clinics were taking some day walk-ins and booking next day.
As Hirji tweeted on July 18, "Don't wait any longer – we now have next day & even a few same day appointments!! Get [dose] #1 or move #2 to an earlier date & #StickItToCOVID." 
And it's not as if Niagara has been in short supply of vaccine.
Again, as Hirji himself told his Twitter followers on July 27, "There's enough vaccine for everyone now. Let's make sure to our share and #StickItToCOVID!! Walk-ins welcome at all vaccine clinics in Niagara and most pharmacies."
Local pharmacies have reportedly actually had to start throwing away excess Moderna vaccines that have expired.
The Niagara Independent reached out to several regional councillors on Niagara's public health committee to discuss Hirji's decision to delay completing a full vaccination series. 
After explaining his own individual circumstance getting vaccinated, regional councillor Rob Foster from Lincoln said he was happy to see Dr. Hirji get his second shot, and that he was "further looking forward to all of us who are able to get their shots, getting their shots."
Regional councillor from Welland Leanna Villella declined to comment, saying that "vaccines are a personal issue."
Regional representative from Fort Erie Tom Insinna similarly said that he didn't have a specific comment but noted that questions regarding Hirji's delay "indeed need an answer."
While, regional councillor George Darte from St. Catharines commented, "I am guessing that [Dr. Hirji] is the only qualified [person] to answer your question."
After twice trying to get ahold of Niagara's acting medical officer of health, an administrative assistant at the Region told The Niagara Independent: "Unfortunately Dr. Hirji is unavailable for interviews this week."