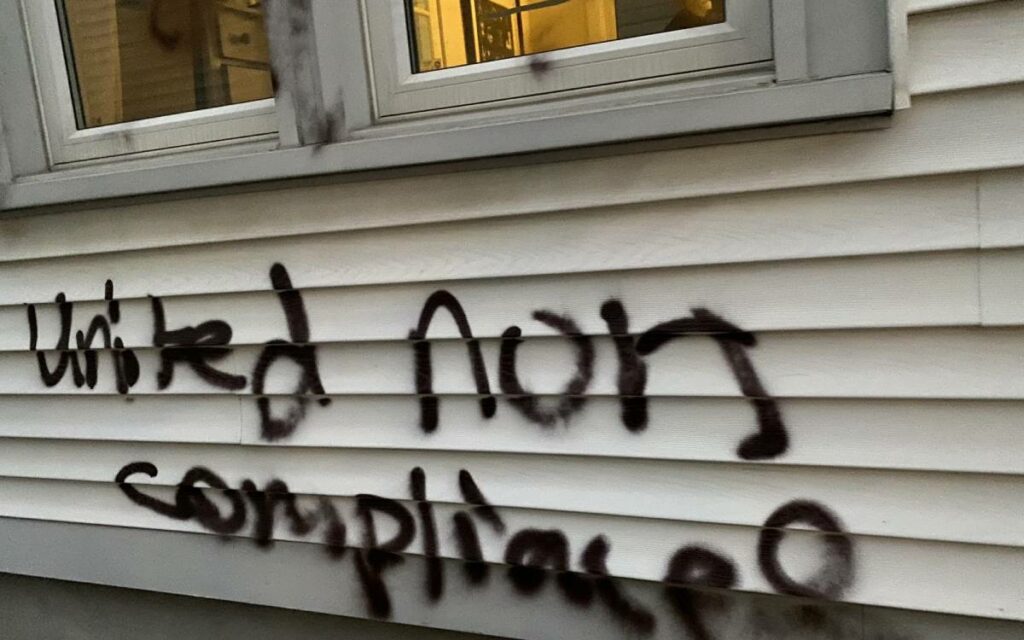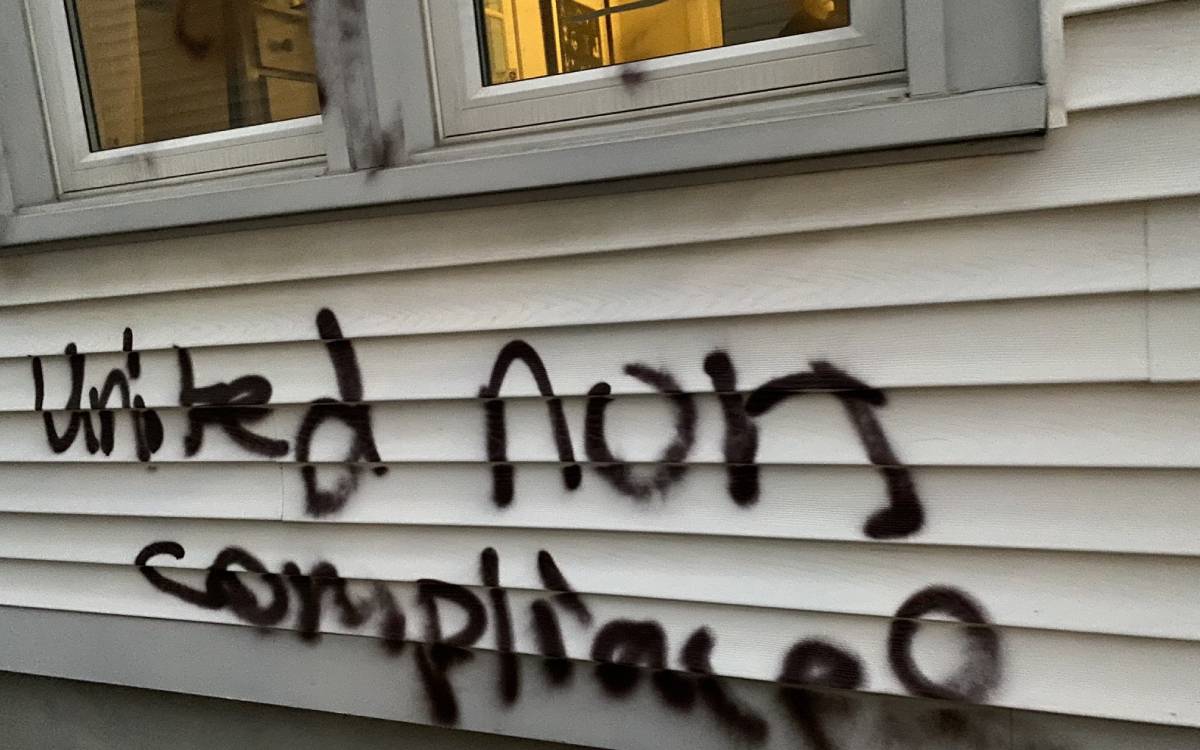 It's the third of three similar incidents to occur to a public official in St. Catharines in the last four months. Photo credit: Twitter/Karrie Porter 
The private residence of a St. Catharines city councillor was reportedly targeted by vandals earlier this week.
On Wednesday, Dec. 22, St. Patrick's Ward councillor Karrie Porter awoke to a series of messages scrawled across her house in black paint that read: "Scary Karrie is a Karen", "F*ck you Marxist Bitch", and "united non compliance". 
Porter posted photos of the graffiti on her Twitter account, calling the incident "a pathetic display of cowardice and weakness."
"You get 0/10 for this work," wrote the St. Catharines councillor, in a direct appeal to the "goons" who targeted her house. 
The first graffitied message calling Porter a "Karen" is a reference to a meme that gained increased popularity in mid-2020 following a number of notable viral videos in the U.S. of angry white women engaging in what many perceived to be acts of bigotry. 
According to Dictionary.com, "Karen is a pejorative slang term for an obnoxious, angry, entitled, and often racist middle-aged white woman who uses her privilege to get her way or police other people's behaviors."
"As featured in memes, Karen is generally stereotyped as having a blonde bob haircut, asking to speak to retail and restaurant managers to voice complaints or make demands".
The second message spray painted across Porter's house called the first-term councillor a "Marxist Bitch." 
Referring to someone as a "Marxist" – an individual who adheres to or admires the theories of German philosopher Karl Marx, co-author of The Communist Manifesto – has regained traction in politics in recent years. Broadly speaking, it's often used by conservatives, libertarians, and classical liberals to negatively refer to people on the far-left of the political spectrum. 
In her Twitter post about the spray-painted comment, Porter playfully wrote, "Marxist + Bitch? Well, there are some grains of truth there."
Porter unabashedly subscribes to the political left, having worked and volunteered for several local NDP office holders and candidates, as well as having previously served as an executive on both the provincial and federal Niagara Centre riding association boards.
Porter is also a community activist who regularly organizes and attends protests in support of causes that many would identify as fundamentally left-wing. 
The third and final message scrawled across the councillor's house read "united non compliance", a phrase popularized by Chris Sky (Saccoccia) in 2020. 
Sky, according to the CBC, is an "anti-vaccine conspiracy theorist" who encourages "civil disobedience" and travels around the country organizing protests in opposition to restrictive pandemic-related measures imposed by the government. Sky actually organized a rally in Niagara Falls back in August of this year.
Sky calls civil disobedience against public health measures "united non-compliance". 
The vandalism at Porter's house is the third of three similar incidents to have taken place at the home of a St. Catharines public official in the last four months.
In September, St. Catharines Liberal MP Chris Bittle had his SUV spray painted with "FU Liberal" while the vehicle sat parked in his driveway overnight. 
Two days later, Mayor Walter Sendzik had his home, fence, and vehicles spray painted with anti-Trudeau, anti-Communist messages. 
No suspects have been publicly acknowledged in connection to any of the three incidents.