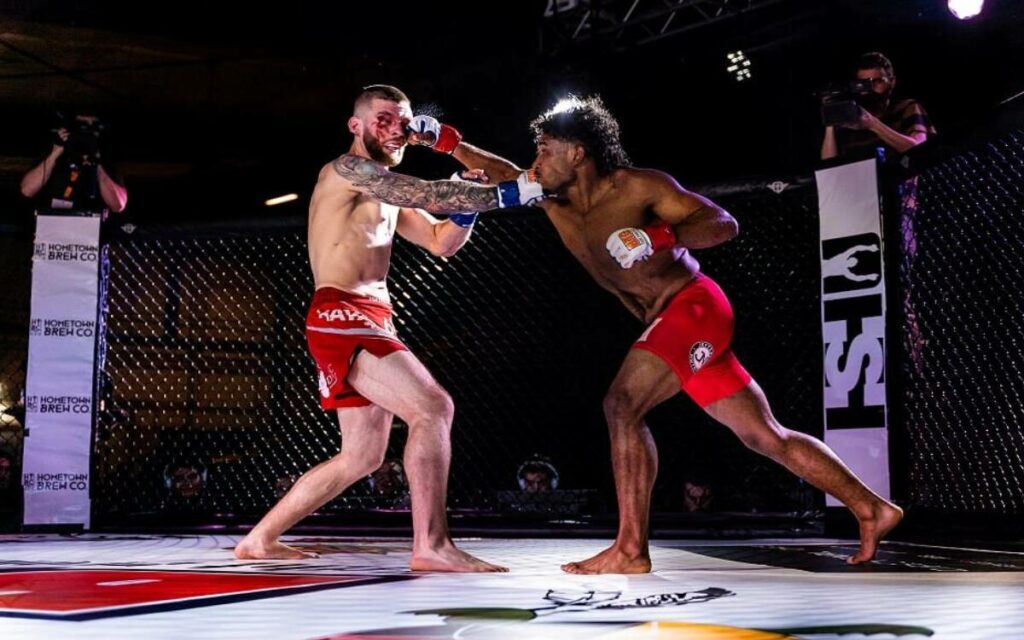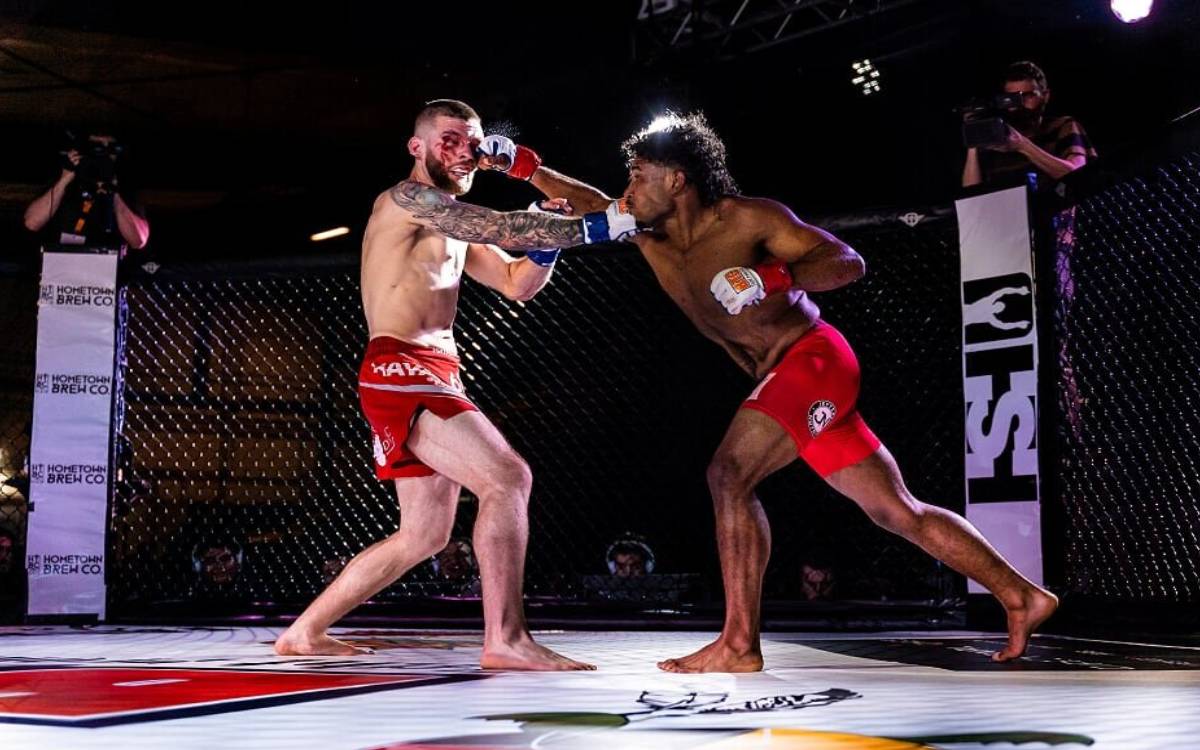 Niagara Top Team's Teshay Gouthro (right) in his pro MMA debut against Paul Fisher at BTC 6: Night of Champions, Jun. 1, 2019. Gouthro and a handful of other Niagara fighters will participate in Saturday evening's BTC 13: Power at the Meridian Centre. The event will be the first large stadium MMA show in Ontario since March 2020. Photo credit: BTC Fight Promotions
The province's first professional mixed martial arts (MMA) stadium show in over a year and a half will take place at the Meridian Centre in St. Catharines this Saturday, Nov. 20. 
The event, presented by Burlington-based promotion BTC Fight, features 12 exciting matchups between some of Canada's top 135-pound prospects and is headlined by UFC veteran and former Invicta and Strikeforce women's bantamweight champion Sarah Kaufman. 
"We are thrilled to be back and active in our hometown province," said BTC Fight COO Shari Carruthers. "[To be] in a large venue like the Meridian Centre, feel the fans excitement and hear the crowd when one of the hometown favourites enter the arena will always be one of my favorite things about an event." 
Outside of a medium-sized show held at BTC's training facility in September, Ontario fans have not had the chance to experience a large MMA event in person since March 2020. 
Back with a bang, spectators at Saturday's show will be treated to a blockbuster headliner between Kaufman, who holds a professional record of 21 wins, 5 losses, and American Bellator veteran Jessy Miele in a three-round featherweight bout. 
"Having Sarah and Jessy be a part of this show is truly special, especially as women driving this promotion," said Carruthers, who co-founded BTC Fight alongside Irene Starr in 2017.
Kaufman – whose resume includes fights with former and current UFC champions Ronda Rousey, Miesha Tate, and Valentina Shevchenko – agreed to sign with BTC after an interview with Carruthers' team at an Alberta event in August. 
"Now, what a lot of people don't know is that we also last year started a magazine called The MMA Chronicles, we have committed to printing four times a year," Carruthers told The Niagara Independent. "While we were in Edmonton, we asked Sarah if she would be interested in interviewing for the magazine. After the interview, we knew we needed to get her on a card – it just seemed like a fit. Now here we are."
Preceding Kaufman's bout with Miele, the event will also feature the quarterfinals of BTC Fight's bantamweight $10,000 grand-prize tournament. 
"These four fights will be in the middle of the card and we are anticipating four incredible matches, these fighters are new in their careers and are all looking to make their mark in this sport," said Carruthers. "We are truly expecting fireworks!" 
A number of fighters Saturday will enjoy home crowd advantage, with Niagara well-represented on the card: a conscious effort, according to Carruthers.
"Our goal, as a promotion, has always been to travel across the province to allow as many fighters as possible to fight at home. Many Canadian MMA fighters never get that opportunity. We are thrilled if and when we can be a part of that experience for them, their teams, friends, and family."
Headlining the co-main event of the night is Xavier Nash, a native of Fonthill who trains out of Modern Vision MMA in Welland. The 30-year-old Nash last fought in June at BTC 10 in Vancouver, where he picked up a unanimous decision win over Jake Macdonald and climbed to 5-4 as a professional.
Alongside Nash, three teammates from Niagara Top Team will also fight at home Saturday night: Teshay Gouthro, Luke Roberts, and Cody Chovancek. 
"The MMA scene in Niagara is really growing with a few really dominant gyms right now," said Carruthers. "Our hope is that all of these centers come out on the other side of COVID and continue to grow and develop these athletes."
The first bout of the evening starts at 6:00pm. 
Individual tickets and ringside tables are still available and can be purchased here and here. Those unable to attend the event in person can watch the fights from home by purchasing the pay-per-view here.