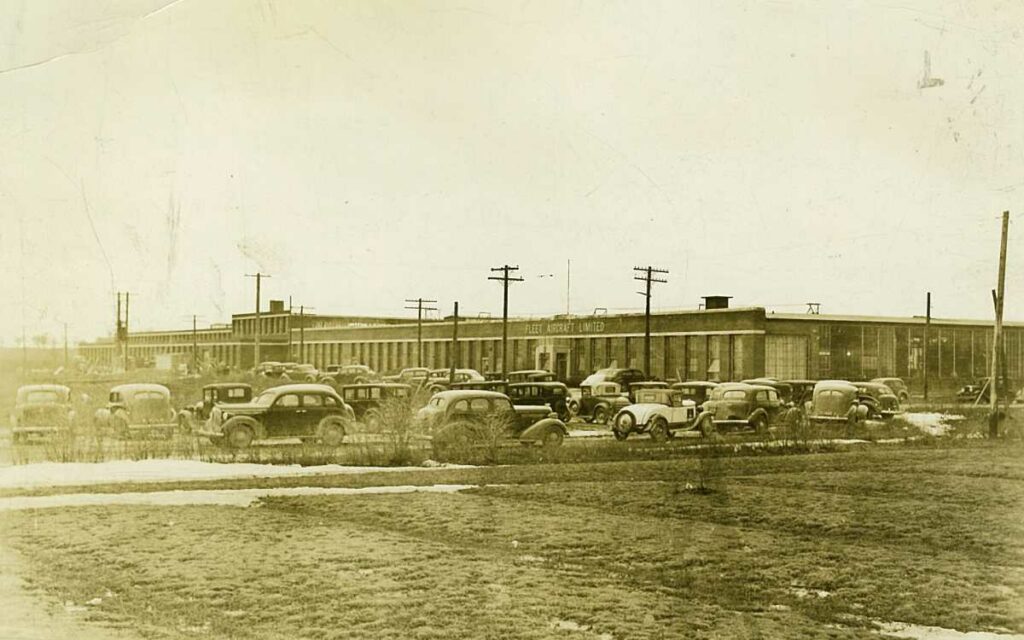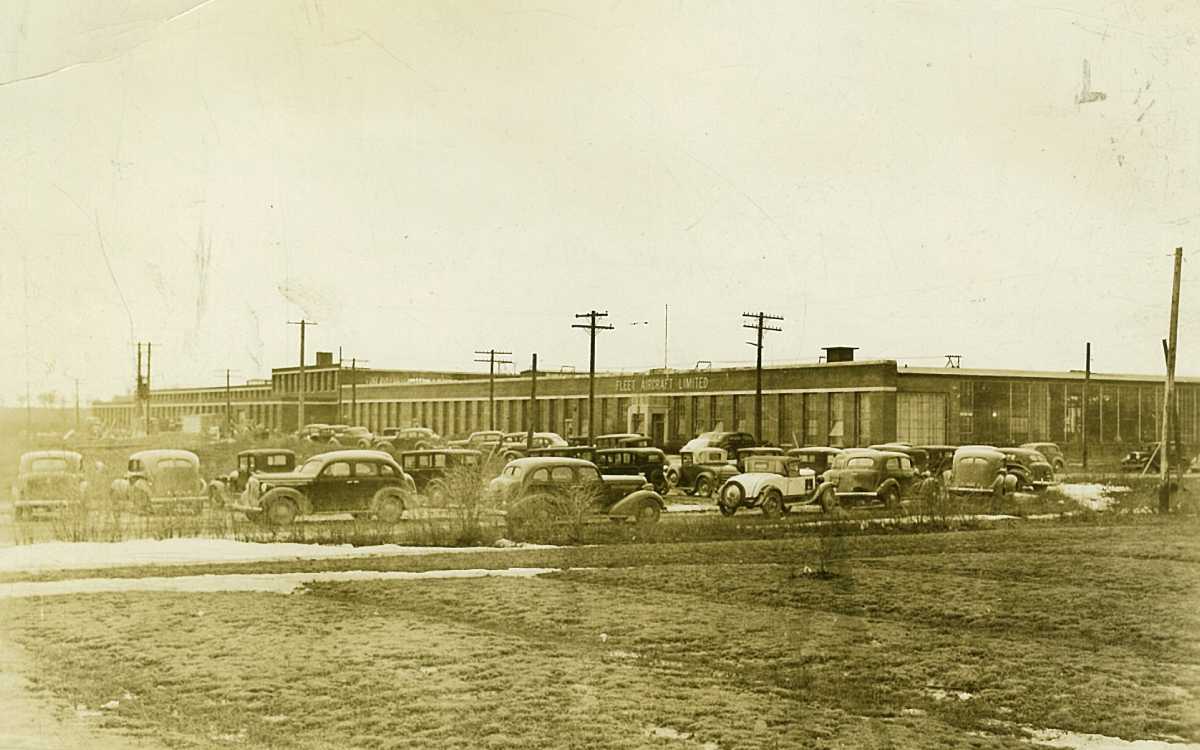 Fleet Aircraft in Fort Erie, c. 1940. Credit: Fort Erie Public Library, Local History Archive.
Located only a stone's throw west of the town's famous horse racing track, Fort Erie's Fleet — in one corporate incarnation or another — has been manufacturing aerospace structures and components along Gilmore Rd. for the better part of a century.
From its humble beginnings at the outset of the Great Depression up to the present day, Fleet has employed thousands of Niagara residents and done a great deal to help buttress the local economy. Throughout the years, the company has weathered numerous labour strikes, changes in ownership, and out-and-out closure.
But had it not been for a chance encounter and a fatal plane crash, the American manufacturing mogul who established Fleet may never have selected a small town in Ontario to open a subsidiary branch of his aerospace business.
Reuben H. Fleet was born on March 6, 1887 in Montesano, Washington. The son of a wealthy engineer with extensive land holdings, Reuben attended Culver Military Academy at age 15. Upon graduation from the academy, Fleet worked as a realtor and eventually joined the National Guard. It was during this time that he developed a love for aviation.
When the US entered the First World War in 1917, Fleet joined the aviation section of the army's signal corps as a flight trainer. He was stationed in Washington DC and briefly served overseas in England.
After the war, Fleet helped establish the US Air Mail system and was instrumental in testing a number of technological innovations in the aircraft industry.
Fleet resigned from the military in late 1922. Shortly thereafter, he took up a position with Gallaudet Aircraft Company. Within months, he organized a merger between Gallaudet and another American aerospace manufacturer, Dayton-Wright (of 'Wright Brothers' fame). The resultant company was aptly named Consolidated Aircraft.
Consolidated opened shop in May 1923 in Connecticut. By September 1924, the company had moved operations to Buffalo, NY. Fleet's keen eye for innovation and commitment to quality saw his business undergo rapid growth in the post-war years. The first seed of what would become Fort Erie's Fleet was planted during this time in 1928.
That year, Fleet happened to bump into Canadian Aviation Hall of Fame inductee WJ "Jack" Sanderson.
Though American-born, Jack Sanderson was raised in London, Ontario and called Canada home for much of his life. At the outbreak of the war, Sanderson joined the Canadian military, eventually serving in both the army and airforce. He saw action in France and Germany as a high-altitude bomber.
Following the war, he returned home to work his father's farm in Canada. In 1928, Sanderson helped form the London Flying Club and was hired as the organization's inaugural flight instructor.
While the historical record is unclear regarding precisely where the encounter took place, at some point early on in his capacity as head of the newly formed flying club Sanderson met Reuben Fleet. The two aviation enthusiasts (and veterans of the First World War) struck up an instant rapport. But it wouldn't be until the fall of 1929 that their friendship would crystallize.
In September 1929, Fleet was flying himself and his assistant (and alleged lover) Loretta Golem home to Buffalo in his newly designed Fleet Model 3 biplane. The pair were returning from a six-week "20,000 mile transcontinental" sales tour of the western US.
As they flew the last leg of their journey over southern Ontario from Detroit to Buffalo, somewhere around West Lorne along the north shore of Lake Erie the plane's engine gave out. Fleet managed to steer the engineless aircraft into a somewhat controlled crash landing in a field near St. Thomas.
The accident left Fleet and Golem with significant injuries. Both passengers were brought north of the crash site to Victoria Hospital in London. Suffering a broken neck and spinal injuries, Loretta Golem died the next day at age 31.
Though he survived, Fleet was left with "every bone in his body out of place" and had to spend nearly two months in hospital. While he sat immobile recuperating, an acquaintance Fleet made a year prior — who just happened to be from London — paid frequent visits to his fellow aviation enthusiast.
During the several weeks Fleet was held up at Victoria Hospital, Jack Sanderson is said to have been particularly "warm and thoughtful" to the physically and emotionally broken businessman. So impactful was the Canadian pilot's care and company, that Fleet, upon recovering, decided to open a subsidiary of Consolidated across the border from Buffalo in Fort Erie.
While sentimental in its initiation, the addition of a Canadian branch was also pragmatic.
As Fleet explained later in life, "When we began to get orders from foreign countries we ran into a real problem with our State Department. The government wouldn't give us a permit for longer than three months to build any plane…for export to any foreign government." In addition, as Fleet recounted, "[Consolidated] had 400 men coming over the Peace Bridge from Canada every day anyway."
Fleet Aircraft of Canada was officially incorporated in March of 1930. Jack Sanderson left his home in London and moved two hours east to serve as the company's first president. Under Sanderson's direction throughout the 1930s, Fleet built more aircraft than any other aerospace manufacturer in Canada.
After the Second World War, Sanderson left to form his own company in Toronto. Fleet had already years prior moved Consolidated's operations from Buffalo to the fair-weather of San Diego.
Despite its founder and first president far removed from the shores of the Niagara River, Fleet Aircraft continued to make complete planes into the 1950s. In 1957 it was acquired by Magellan Aerospace and the company's name was changed to Fleet Aerospace. The rebranded organized made aerospace components for nearly 50 years under Magellan's ownership.
In 2003, after a lengthy labour strike, the company ceased all operations. The facility sat mothballed for three years. In December 2005 a group purchased the company's assets and reopened the Gilmore Rd. factory as Fleet Canada.

Today, Fleet continues to make aerospace components in Fort Erie and employs 150 people.
But had it not been for a plane crash that saw Reuben Fleet end up in a London, Ontario hospital — just down the road from his newly-acquired Canadian acquaintance Jack Sanderson — the American manufacturer may never have decided to expand operations across the border into Fort Erie.