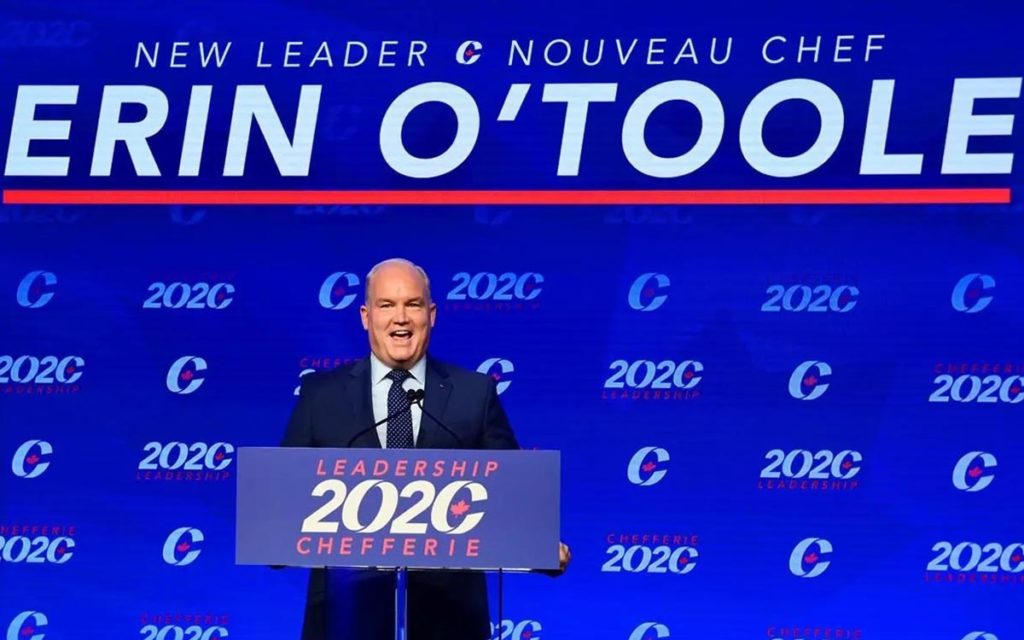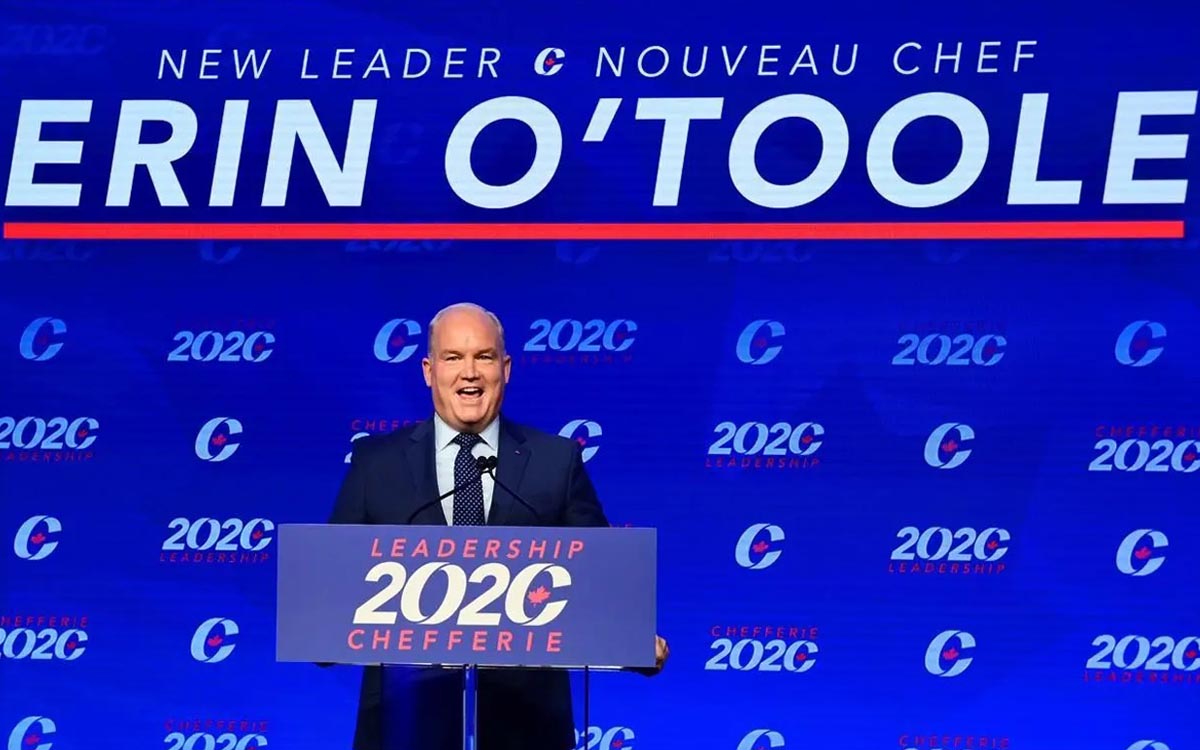 Newly crowned Conservative leader Erin O'Toole.
2020 has been a year full of surprises, and the Conservative Party's leadership race did not disappoint.
After a seven hour delay in results, Durham Member of Parliament and military veteran Erin O'Toole obtained a decisive third-ballot victory over runner-up Peter MacKay at the contest's conclusion last night. While many anticipated the race would be a close one, fewer had predicted an O'Toole victory given MacKay's name recognition and prominence within the Conservative Party.
In the end O'Toole's win was decisive, mitigating concerns from Conservatives that a close race would lead to weeks long discussions about a fractured party. With 57% of the vote and broad-based support across most regions of Canada, O'Toole can credibly claim to be the consensus choice of most Conservatives across the country.
So – how did he do it? A number of factors played into O'Toole's upset, but these are some of the big ones.
He was able to build support in both Western and Central Canada. In order to win in the Party's points-based system, a candidate needs to have a solid base of support in more than just one region of Canada. Taking a page from Brian Mulroney's "grand coalition" of Western populists and Quebec nationalists, O'Toole sought support from two very large factions of the Conservative party, and spent time cultivating support for each group. Out west, O'Toole launched his campaign in Calgary, and quickly received the endorsement of Alberta Premier Jason Kenney, one of the most prominent voices in Canada's conservative movement. Meanwhile in Quebec, the campaign spent hours making personal, individual calls to conservatives in the province to recruit their support. As British Columbia and Ontario were effectively washes where the top three candidates split support, Alberta and Quebec became must win for O'Toole in order to edge out a victory. Those efforts clearly paid off.
He initiated policy conversations and debates at a time when Conservatives were looking for new ideas. One of the major criticisms of the Conservatives in the last election was that their policy proposals were stale, lukewarm versions of what Stephen Harper had put out four years prior. Members were keen to hear about new proposals to support Canadians, grow the economy, and expand the Party membership. O'Toole's team saw an opportunity to deliver a substantive policy platform which included regional-specific callouts for ideas that they felt would resonate in geographic areas key to future Conservative successes.
O'Toole's policies didn't translate as Conservatives moving further to the left in order to win.  While there is a widely held understanding that Conservatives must broaden their base of support in order to win in the next election, there is an aversion to compromising on conservative values and principles to do so. While there were new ideas around expanding EI coverage and a more generous application of the Canada Child Benefit, there were also a number of "red meat" policies for staunch Conservatives, including a firm stance against the communist regime in China, supporting the rights of firearms owners and defunding the CBC. O'Toole was able to put new ideas on the table that will chip away at Liberal-dominated issues, while keeping a decidedly sharp tone and "true blue" branding on issues that matter to grassroots Conservatives. This kept his accessible voter coalition broad.
Social conservatives felt comfortable with O'Toole's approach and message. While most social conservatives parked their ballots with either Derek Sloan or Leslyn Lewis, a considerable number marked O'Toole as their second or third choice, which was critical to gaining an edge over Peter MacKay. Though O'Toole didn't lean into lightning rod values issues like same-sex marriage, abortion or assisted dying,  voters who prioritize those issues and others, felt their views would be respected under his leadership, rather than viewed as "stinking albatrosses".  O'Toole's genesis as a politician under a united Conservative Party banner likely also helped quell concern from social conservatives that he would be a progressive moderate; MacKay's progressive conservative heritage meant that many social conservatives were never open to his candidacy in the first place.
O'Toole excelled in a COVID-19 campaign environment, particularly in social and digital media tactics. The pandemic forced people to get to know the candidates online, rather than the traditional townhall and barbeque circuit. Knowing how to identify and segment target voters online has always been important, but became critical in this new campaign reality. O'Toole's campaign team included leading digital strategists with a track record of success in organizing conservatives and amplifying right of centre perspectives online. This played a major role in O'Toole's dominance on many social media platforms, and has served as excellent training for future campaigns which will be increasingly digital.
The race, against all odds, has left the Conservative base feeling energized and satisfied heading out of the leadership contest, with minimal pearl-clutching over Party unity concerns.
There are winners and losers in every race, but this campaign was won by Erin O'Toole, rather than lost by Peter MacKay. That hard work and ability to bring together conservatives of different backgrounds and perspectives will be tested in the coming weeks and months by the Liberals, who are keen to paint the Conservatives as out of touch with the needs of Canadians.
It will be up to Erin O'Toole to take his conservative coalition and expand it to include Canadians from outside of that coalition faster than Trudeau can.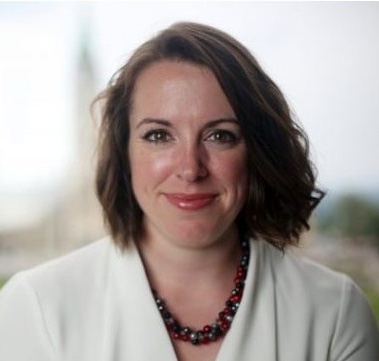 Kate Harrison is the Vice-Chair of Summa Strategies Canada, one of the country's leading public affairs firms. She is a regular political commentator on CTV, CBC, Sirius XM, and other talk radio stations, as well as a contributor to various news outlets. She has been involved in conservative politics for over fifteen years, and an active member of the country's conservative movement.