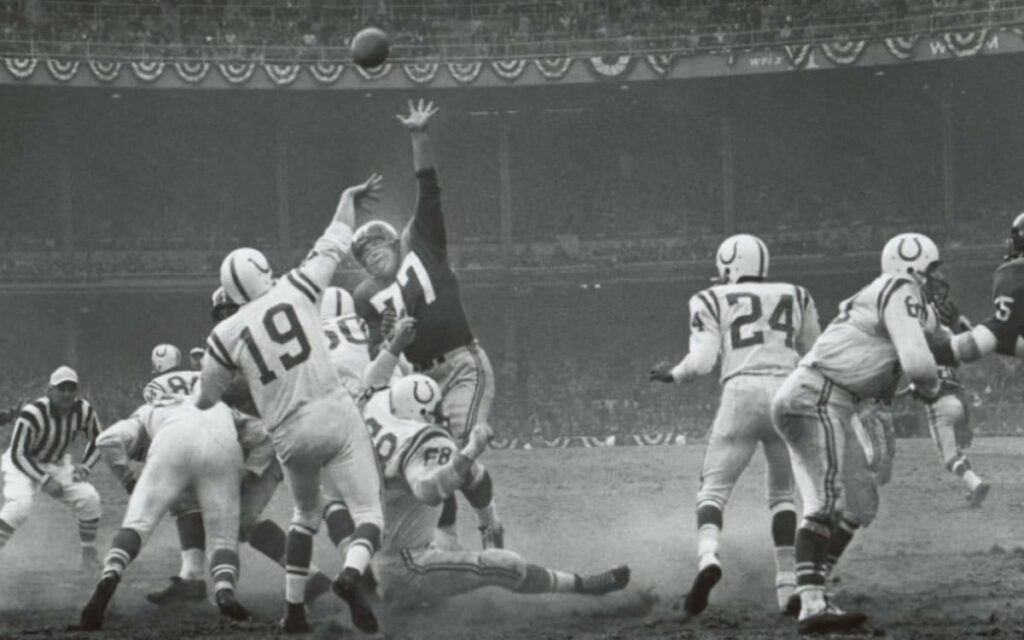 Many trace football's hold on the American viewing public back to the 1958 NFL championship game between the old Baltimore Colts and the New York Giants.
Early in September the viewing attention of Americans will suddenly shift. The return of football will signify autumn's arrival and the end of the long national intermission between games. Football will dominate ratings, encapsulate all television platforms, and dictate viewing habits for the next 5-6 months. How did this happen? How did football become so popular that 73 of the top 100 shows on television last year were football games? 
Many trace football's hold on the United States back to the 1958 NFL championship game between the old Baltimore Colts and the New York Giants. Serendipitously, NBC bought the rights to telecast the game nationally, becoming the first network to deliver an NFL title game to American homes. The showdown between the two clubs still ranks as one of the greatest ever played. Having a showstopper like this on national television ignited a love affair between Americans and football that remains as passionate and devoted as ever.
Baseball remained the national pastime throughout the first half of the twentieth century, even into the 1960s and 1970s. Football, however, became so popular that even baseball could not keep up with its growth. Since 1972, football has consistently topped the polls as America's favourite sport. 
The 1958 game included 17 future Hall of Fame players and coaches. In a seesaw battle between the top-ranked defense of the Giants and the Colts' legendary quarterback Johnny Unitas, entertained fans watched with rapt attention. An estimated 45 million people tuned in to the game, the most ever. Aiding the suspense, the game ended in a 17-17 tie, forcing overtime. The Colts' Al Ameche scored on their first possession giving Baltimore the victory, but not before football transformed millions of viewers into fans. 
Author Mark Bowden wrote a book about the game, chronicling its effect on viewers as a harbinger of things to come, "There was a sense throughout Yankee Stadium and in homes all over America that something truly memorable was unfolding. It was television prime time. The nation was experiencing a new kind of human experience, a truly communal live national event, something made possible by the new medium."
"In future years," Bowden continues, "the phenomenon would become familiar, but no less powerful, as the nation gathered to watch rocket launches, the aftermath of assassinations, a magnificent civil rights speech, an astronaut stepping on the moon, a presidential resignation, and someday even the slow-speed highway chase in Los Angeles of a former NFL football star charged with a double-murder – O.J. Simpson was still in grade school in 1958. At this moment, football itself was about to step fully into the age of television, of multimillion-dollar player contracts, slow-motion replay, cable sports networks, Super Bowls, and franchises with market values exceeding the gross national product of many small countries." 
The game served as a catalyst, but there were other reasons for football's ascent. As if made for TV, the game presented perfectly on the new furniture gaining popularity in every living room across America. After the 1958 game, several developments led to football fervor. The three major networks began to televise games more regularly. The AFL (American Football League – a competitor to the National Football League) set up shop in 1960 with teams in many growing cities in middle and western America. 
The slate of games on Sundays meant clubs played once a week, making it easier for fans to follow the games, learn the players' names, and keep track of the latest outcomes. Finally, the emergence of fantasy football, beginning in Oakland in 1962, led to another popularization of the game. The "father of fantasy sports" Bill Winkenbach originated what became known as fantasy football while serving as a part owner of the Oakland Raiders. The online fantasy era began in 1997 and now attracts about 40 million Americans per season according to 2017 research done for the Fantasy Sports and Gaming Association (FSGA). 
Americans are swept up in football fever most of the year, following both college and pro leagues throughout the fall into February. By mid-March teams are eligible to sign free agents, creating interest for a couple of weeks as stars switch cities, are cut, or demand new deals, trades, or a renegotiated contract. 
In late April the NFL offers another package to fans when they air the annual draft of college players for three days. The spectacle begins on a Thursday night and goes through Saturday with seven rounds creating enough interest that the NFL Network and ESPN provide wall-to-wall coverage. After the draft the league goes a bit quiet, but soon training camps are open, the Hall of Fame gets played, pre-season games begin, and the lead up to opening night commences. The start of football season reminds one of troops gathering for a pilgrimage that ends on Super Bowl Sunday, a day now set aside as a pseudo-national holiday that includes patriotic celebrations, extravagant parties, and the legendary American-sized appetite for food, drink, and excess. 
I confess to becoming a football convert as a kid. I watched Super Bowl V (1971) as a Dallas Cowboys fan and never looked back. When attending Clemson University in the 1980s I experienced first-hand the power of big-time college football and what it could do to support a variety of sporting programs for men and women. The television contracts earned today for these universities pays for a substantial part of scholarships, team facilities, stadiums, equipment, and travel for all sports offered on campus, including intramural sports available to non-scholarship students. 
I also enjoyed attending Friday night high school games and became fully aware of how important a role the sport played in communities across the South drawing people together, advancing school spirit, and opening up opportunities for kids to earn a college degree who may have never had a chance to do so otherwise. What millions witnessed in Friday Night Lights as a book, movie, and TV show only reinforced the idea that football is king in America. 
I play fantasy football in two leagues, I follow the league faithfully week to week and I listen to a daily podcast that Locked On Sports produces called, Peacock & Williamson's NFL Show. I do not watch every game, but my interest remains as keen as ever. The depth of the game's impact on American society probably rests in one last thought I have regarding why the sport has reached such heights. 
If Roger Goodell, the commissioner of the NFL stepped down today, one of the leading candidates to replace him would be former President George W. Bush's Secretary of State, Condoleezza Rice, a black woman with an incredible story. Many would likely consider Dr. Rice's promotion to commissioner of the NFL as a greater ceiling breaker than becoming president of the United States, since an African-American has already claimed the White House, and an African-American woman sits just a heartbeat away at present. 
Whether Rice ever serves as NFL Commissioner remains to be seen, but football's reign as king stands undisputed.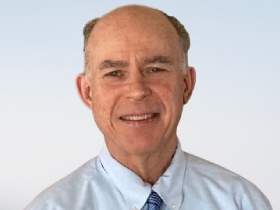 Dave Redekop is a retired elementary resource teacher who now works part-time at the St. Catharines Courthouse as a Registrar. He has worked on political campaigns since high school and attended university in South Carolina for five years, where he earned a Master's in American History with a specialization in Civil Rights. Dave loves reading biographies.