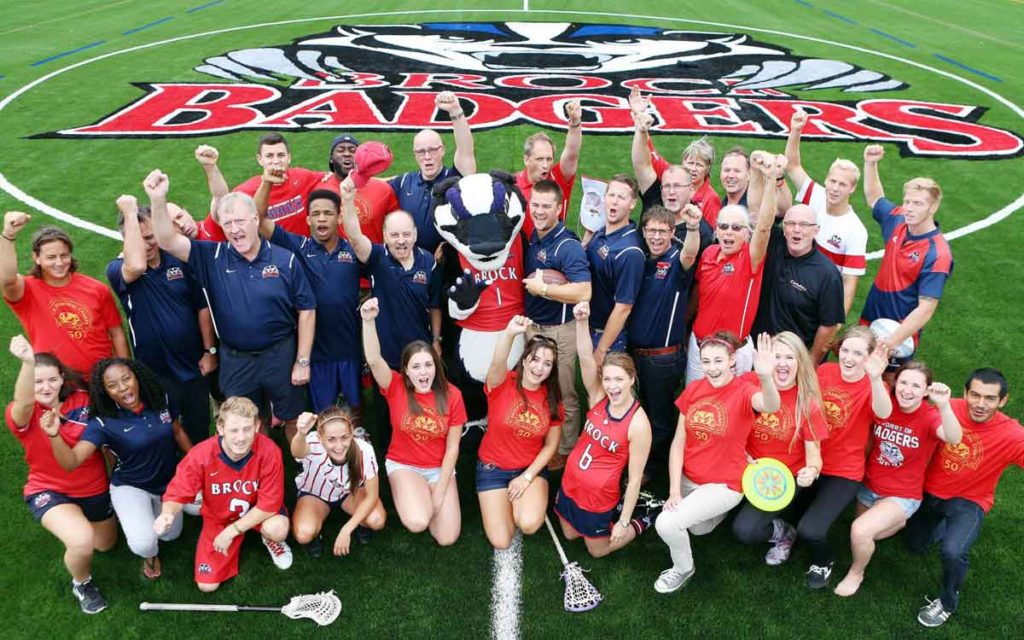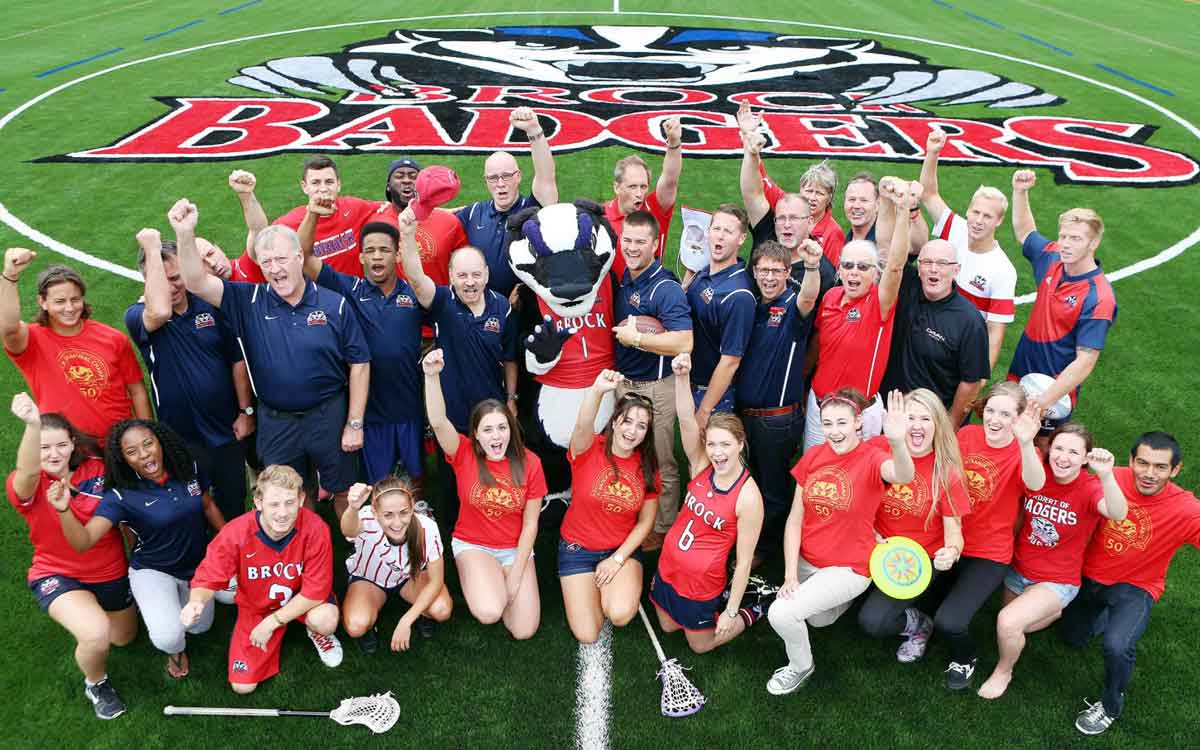 Brian Hutchings (third from left back row) celebrates the opening of the turf field at Brock with staff and student athletes. Hutchings will be leaving Brock to become the CAO of Brantford.  Photo: Brock University
Walking through the halls with outgoing Brock University vice president of administration Brian Hutchings two things quickly become clear. One is that people are shocked he's leaving. The second is he will be missed.
From the cashier at the Tim Horton's kiosk, to faculty and staff passing by in the halls, everyone commented on Brock's recent announcement that Hutchings will be leaving the academic world and heading back to the sector from whence he came; the municipal world.
Hutchings announced earlier this week that he will be departing Brock where he spent the past seven years and head to the City of Brantford where he will take on the new challenge of that city's chief administrative officer.
Hutchings arrived at Brock from the Regional Municipality of Niagara where he served for 13 years in different leadership roles ending up as commissioner of corporate services.
When he arrived at Brock the university was in a financial crisis with a $44 million deficit. It's a tough spot for any newly arriving senior administrator to be in. Fast forward seven years and the university is on a solid financial footing but it wasn't an easy journey. "We're essentially at ground zero," explained Hutchings.  Although to this day he said balancing the University's finances is the most stressful part of his job. "What keeps me up at night? A revenue model that doesn't work."
It wasn't an easy process and there are a lot of competing interests at a post secondary school. Tough decisions have to be made when an institution is facing that massive of a financial mountain. But getting the books back to balance is just one of the successes Hutchings reflects upon. There were others that were clearly more enjoyable.
A former CFL player, Hutchings continues to have a huge love for sport. He tells the story of feeling frustrated in 2012, always seen as the new guy bringing bad news to the university faculty and staff as he and his team tried to right the financial ship. Hutchings thought, "What can I do that's positive?"
He opened up the newspaper that morning and it was filled with articles about his former team, the Hamilton Tiger-Cats, heading to the Grey Cup. That's when it hit him. "I have athletics," he said to himself. Brock's athletics falls within his portfolio. Hutchings assembled his team the next work day and started down the path to revamp Brock's athletic programs and particularly the marketing of them. That's when Badger Pride was born.
"We didn't have a football team so we invented the Steel Blade hockey tournament." That Steel Blade final game now fills the Meridian Centre with students, faculty, staff and people from the community. Brock is also home to a top sports management program that Hutchings was able to tap into. "I was lucky, the stars aligned," he said.
Brock ramped up the marketing for basketball, brought in a director for university sports and created more hype around the school's athletics. One person Hutchings pointed out specifically was Brock's wresting coach Marty Calder.  "He was the first guy I thought of when I was thinking of leaving because I would miss him greatly. Marty has some magic he's created with his wrestling program."
Hutchings got emotional when he talked about telling his staff he was leaving. "The biggest emotional thing for me is leaving my team. I would go to war with them," he said. "I try to treat people right. My team is fantastic and I could barely get through telling them."
Looking ahead to his new role in Brantford, Hutchings said there is a lot to look forward to. He likes the idea of working for a municipality that has a full suite of services like police, fire, hydro and all the social services. "I'm excited by that. I think Brantford is poised for huge growth, like any community it has its challenges but one of them is growth management and that's a good challenge to have," Hutchings said.
Hutchings will still be able to have an important role in sports as Brantford wants to become a sports tournament capital as part of their tourism strategy.
It wasn't just his time and his accomplishments at the Region or Brock that the pro football player turned professional accountant is proud of. Hutchings contributed immensely to the community outside of the office.  He sat on a number of boards including the Niagara Workforce Planning board, United Way and Wise Guys. He was named Grimsby's Citizen of the Year in 2003.
He described himself as the typical jock growing up, not all that interested in academics until he met someone that Hutchings credits for taking him down the right path in life. Dave Whitty, a teacher at Ridley College saw Hutchings at a track and field meet. He saw lots of athletic potential and suggested Hutchings come to Ridley basically on an athletic scholarship. Hutchings' father was a pro wrestler and wasn't around much. Whitty took him under his wing and for that Hutchings said he will be forever grateful. "The guys at Ridley taught me to study and work hard at academics. They told me to use my brain and brawn. It was a game changer for me."
"I'm not the smartest guy in the world but I work really hard. You can call me a lot of things but don't ever call me lazy."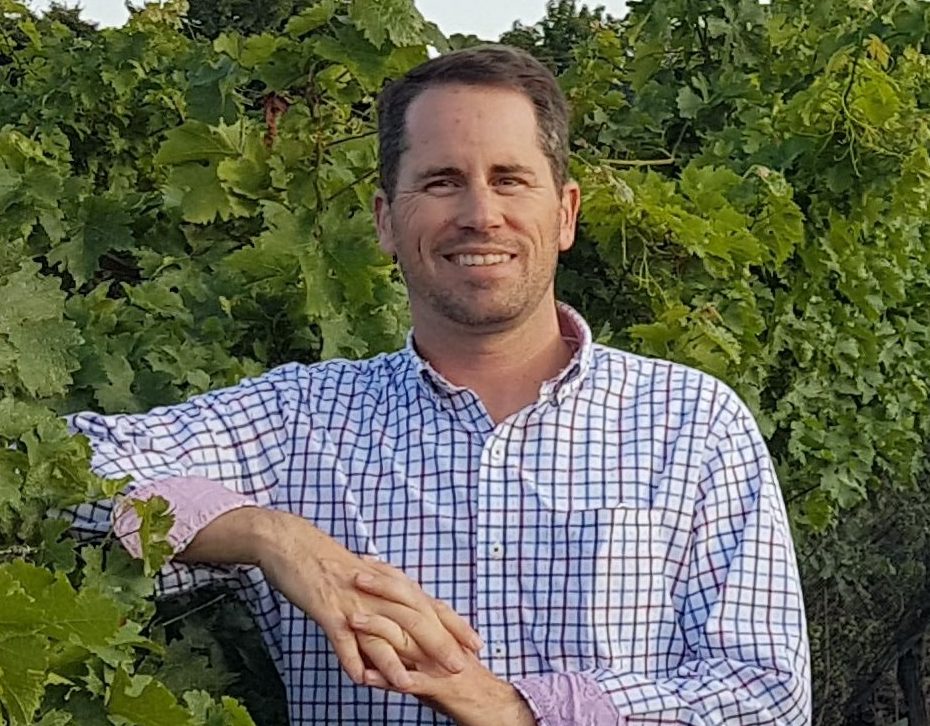 Kevin has spent over two decades as a public relations professional in a variety of sectors including professional sports, the arts, industry and healthcare.  After tiring of the daily commute to Toronto he returned to Niagara and launched The Niagara Independent, an on-line news sources published twice weekly.
He is a graduate of Brock University, Niagara College and the Richard Ivey School of Business. He was named one of Niagara's 40 Under Forty in 2005.
Kevin is most proud of his twin daughters. He is also a triathlete and four-time Ironman finisher.