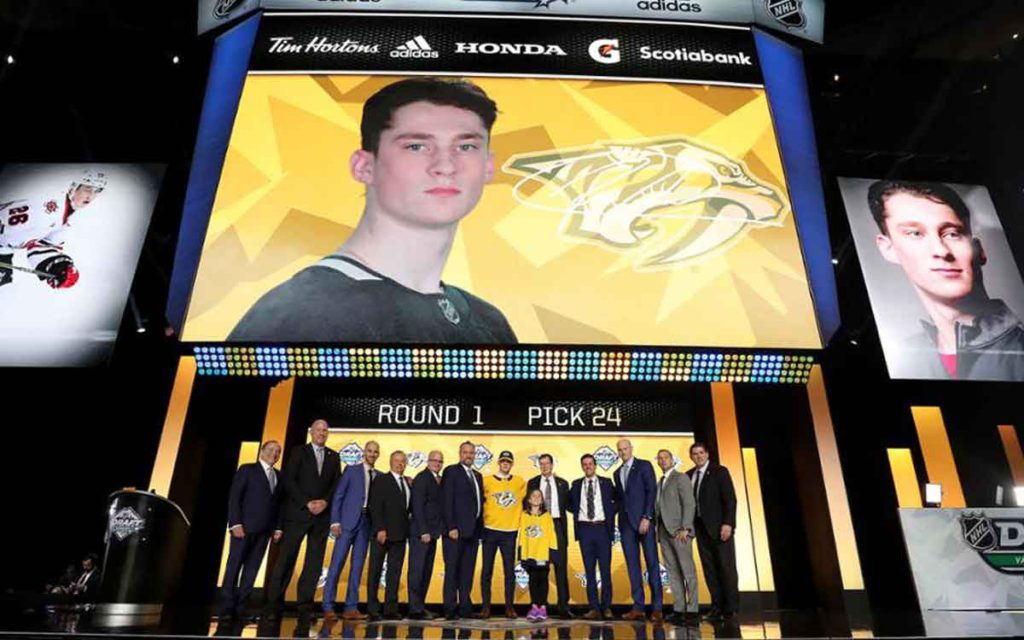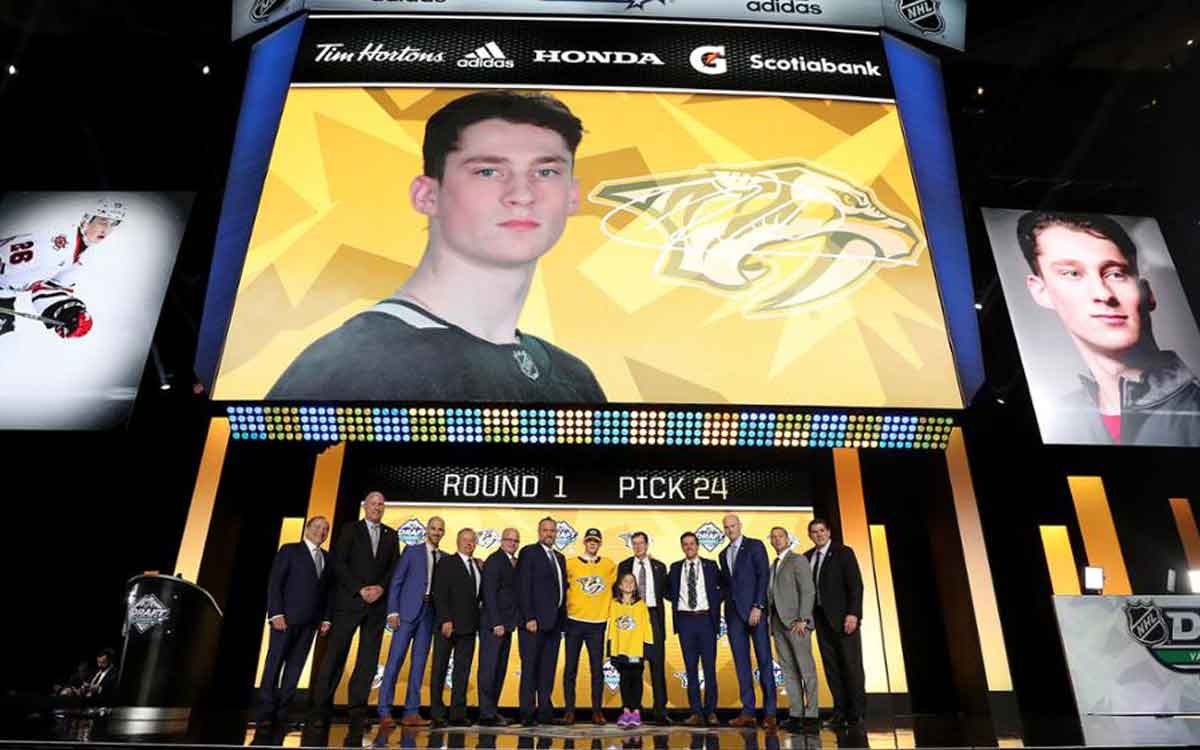 Niagara IceDog Philip Tomasino on stage at the NHL Draft after being selected in the first round by the Nashville Predators. Photo: nhl.com
Phil Tomasino joined an impressive list this past Friday night in Vancouver, British Columbia – the site of the 2019 NHL Entry Draft.
Tomasino joined the list of Niagara IceDogs players drafted in the first round, as he was selected 24th overall by the Nasville Predators.
The 17 year-old was the first Ontario Hockey League forward taken at this year's draft, and joins a list that includes Alex Pietrangelo, Mark Visentin, Ryan Strome, Dougie Hamilton and Brendan Perlini.
Tomasino joined the Niagara Sports Report on 610 CKTB Sunday morning and called Friday 'the best night of my life.'
"It was obviously an incredible night for me," said Tomasino who left for Nashville Monday to take part in Predators development camp.
"It's an amazing feeling, and I'm so thankful for this opportunity."
Tomasino, a Mississauga native, was also quick to praise the fans in Niagara.
"I think they play a huge part in our whole team's development," Tomasino said. "Without them our rink wouldn't be as loud, and I don't think we would be the team we are without them, for sure.
A lot of credit to them, they've always been there for us through the ups and down, and they're easily the best fans in the league by far."
Tomasino's stock grew as the 2018-19 season went on. The second year IceDog finished the campaign with 34 goals and 72 points in 67 games, to go along with a plus-37 rating – a 48 point increase from his rookie season.
The biggest attribute scouts noticed about Tomasino's game was his speed, something that is very evident and much coveted in today's NHL.
IceDogs brass was in Vancouver to hear Tomasino's name called. IceDogs General Manager, Joey Burke and Assistant GM Brandon Currie, along with associate coach Jody Hull made the trek out west.
"It was unbelievably exciting," explained Burke. Tomasino is a guy that was trending in that direction all year long. It's no surprise at all from our end to see the success he's had.
It could not have been a more exciting night for us on Friday night. The mom was shaking from her excitement of the pick, and the dad and the sister couldn't wipe the smiles of their faces, and neither could I.
"It was an unbelievable weekend for us. We knew Phil would go in the first round, and could not be happier for him, and again no one deserves it more than he does."
Burke and the Predators both say Tomasino will be back in Niagara for the Ontario Hockey League season which begins for the IceDogs on September 19, home to the Sudbury Wolves.
And unbeknownst to Tomasino, there is another IceDogs connection in the Predators organization. Former IceDogs and Brock Badgers goaltending coach, and Welland native, Ben Vanderklok is in charge of the netminders in Nashville.
Tomasino is looking forward to meeting Vanderklok at development camp this week.
"I didn't know that, but it will be nice to meet someone that is familiar with the team you're on so that will be awesome."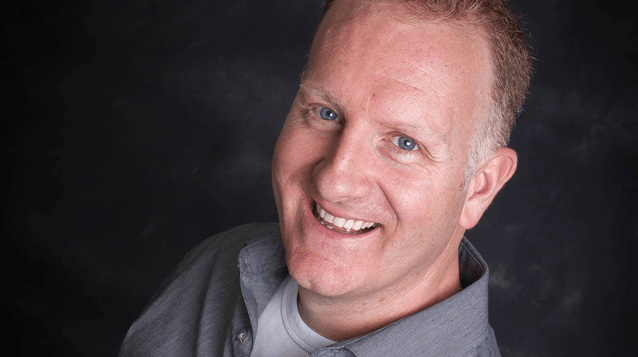 Rod Mawhood is a lifelong Niagara native who has had the pleasure of working in all three mediums – Radio, Print and TV – for over 20 years. His first announcing gig was with the then St. Catharines Stompers. Since then he's worked in radio and TV in Toronto, and currently is the announcer for the Niagara IceDogs and Niagara River Lions.
Rod also covers the Buffalo Bills for FOX Sports and the Buffalo Sabres for NBC Sports.