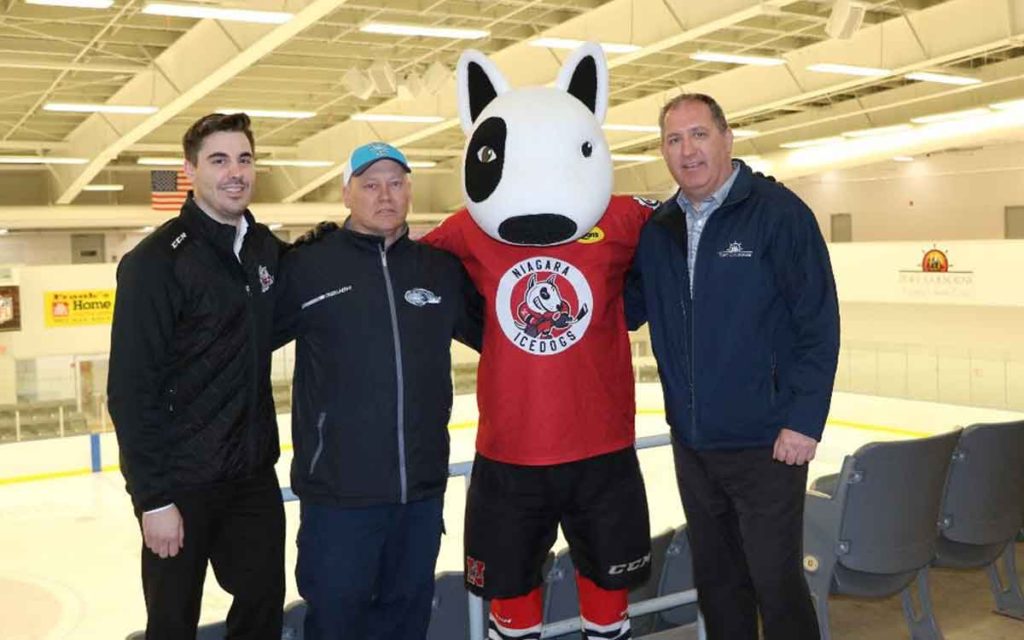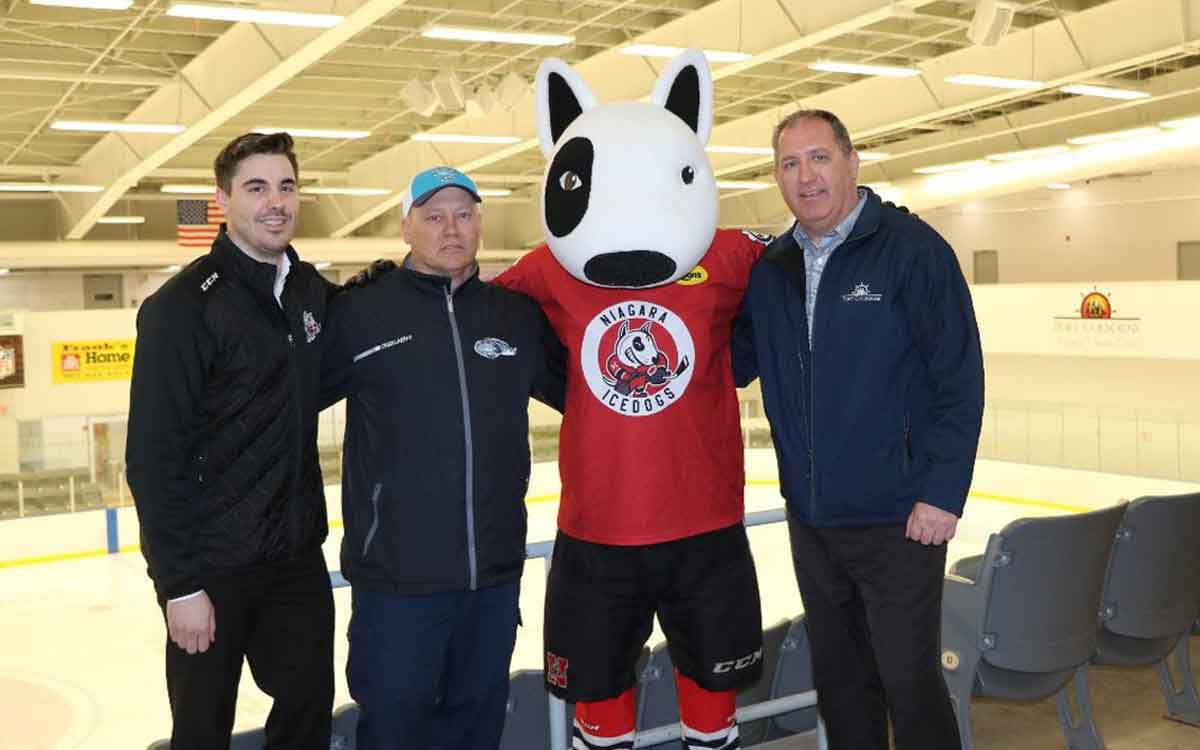 Port Colborne Mayor Bill Steele (far right) welcomes Niagara IceDogs mascot Bones to Port Colborne.
The Guelph Storm defeated the Ottawa 67s 8-3 to capture the Ontario Hockey League championship, the Memorial Cup, Sunday in game six of the best of seven series. For the third series in a row the Storm found themselves down two games to none and found a way to claw back and win the series. It's the fourth time in franchise history that Guelph has won the Memorial Cup.
Montreal Canadiens prospect Nick Suzuki earned the Wayne Gretzky '99' Award as OHL Playoff MVP, leading all players with a Storm franchise record 42 points (16-26–42) in 24 games.
With the OHL season just barely wrapping up, teams from across the league are already preparing for next season, including the Niagara IceDogs who yesterday announced the team will be opening their home exhibition schedule at the Vale Health and Wellness Centre in Port Colborne.
Niagara's OHL team will play their first game, out of training camp, against the Barrie Colts on Friday, August 30th at 7:00pm in the south Niagara city.
Revenue from the game will be supporting the Port Colborne Wave Girl's Hockey Association. The IceDogs are covering the costs of the event.
"The Niagara IceDogs are excited to bring our team to Port Colborne during our upcoming exhibition season. The Vale Health and Wellness Centre is a first-class facility and it will be great to showcase IceDogs hockey to our fans down in South Niagara." stated Nino Bourikas, Director of Community Marketing and Sales with the IceDogs.
Tickets will become available on Monday, May 20th at the Vale Health and Wellness Centre Box Office for $10. The tickets will be issued on a general admission basis.
The Niagara IceDogs will continue their home exhibition schedule on Friday, September 13th against the Peterborough Petes at 7:00pm in Beamsville at the Fleming Centre.