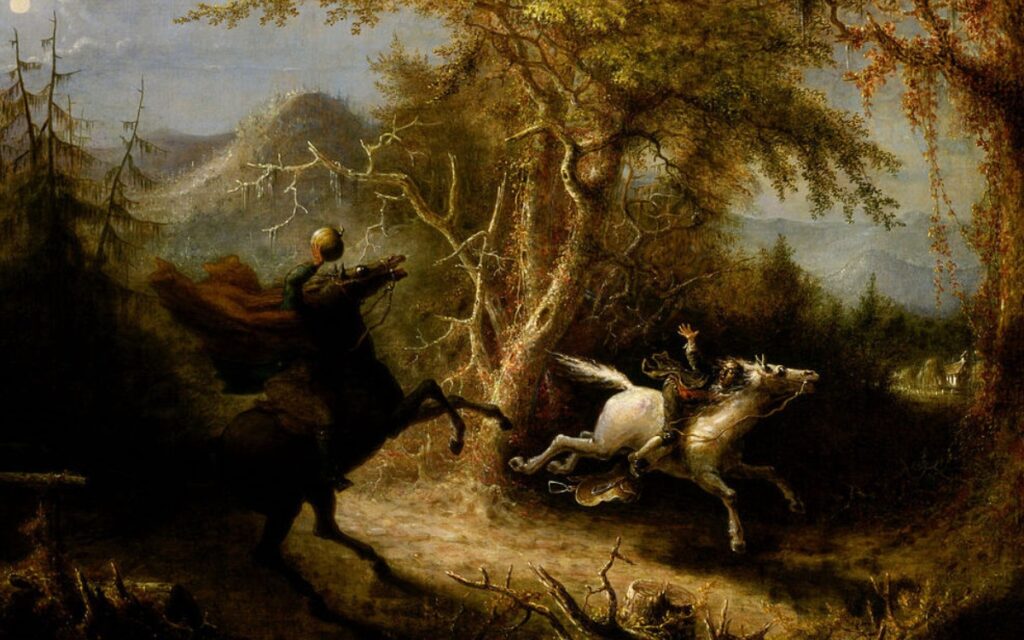 Most North Americans are familiar with the story of the headless horseman, but few realize its creator and protagonist's namesake have deep Niagara roots. Pictured is The Headless Horseman Pursuing Ichabod Crane (1858) by 19th-century American painter John Quidor. Photo credit: Wikimedia Commons/Google Art Project 
On Monday, people throughout Canada and the United States will celebrate Halloween. The annual October observance is commemorated through trick-or-treating, parties, and, of course, the telling of ghost stories. 
One of the most famed tales in Halloween history is the Legend of Sleepy Hollow. The story was first related in the Sketchbook of Geoffery Crayon, Gent., by Washington Irving, published in 1820. 
The Legend of Sleepy Hollow recounts the trials and tribulations of Ichabod Crane, a school master who lived and worked in Colonial New York. As the story goes, Crane finds himself in a rivalry with a strapping outdoorsman named Abraham (a.k.a. Brom Bones), for the heart of Katrina Van Tassel, the daughter of a wealthy farmer. The story ends with Crane disappearing after a late-night ride home through woods that are rumoured to be haunted by a pumpkin-headed horseman seeking an unfortunate soul to fill the void temporarily occupied by the pumpkin. The reader is left to draw his or her own conclusions regarding the fate of Crane.
The tale is wonderful North American folklore that has been enjoyed through the generations. What many do not realize, however, is that the story has deep Niagara roots. 
Washington Irving was an American soldier who served as a military aide to Daniel D. Tompkins, governor of New York State, during the War of 1812. In this role, he conducted inspections of troop deployments where American soldiers sought to expand control surrounding Canadian-American border territories. Irving interacted with Captain (later Colonel) Ichabod Crane (1787-1857), who held command in the Niagara Peninsula. 
The name Ichabod is not among those most common to society. The most likely reason for its original lack of fame would be its Biblical roots, in which it basically translates to "the glory of the Lord departed" (1 Samuel 4:13). Nonetheless, Irving identified it as a unique and promising name for his protagonist in The Legend of Sleepy Hollow. 
As the years went by, the story has become renowned throughout North America and the world. 
Various cinematic adaptations have been produced, the most popular of which include The Legend of Sleepy Hollow (1999), starring Johnny Depp as Ichabod Crane, and a longstanding personal favourite of my own, Disney's The Adventures of Ichabod Crane and Mr. Toad (1949), narrated by Bing Crosby. 
So, if you happen to encounter the old and familiar character of Ichabod Crane over the next few days, know that you are not only acquainting yourself with a traditional North American icon, but also a Niagara-born Halloween legend!
Nick completed his Honours Bachelor of Arts Degree in Labour Studies at Brock University. He has previously served in municipal and federal politics. In his free time, Nick enjoys following sports, taking part in outdoor activities and reading biographies. Nick resides in Niagara Falls.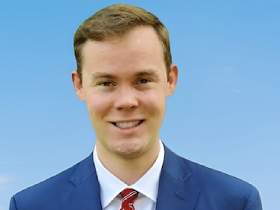 Nick Redekop completed his Honours Bachelor of Arts Degree in Labour Studies at Brock University. He has previously served in municipal and federal politics. In his free time, Nick enjoys following sports, taking part in outdoor activities, and reading biographies. Nick resides in Niagara Falls