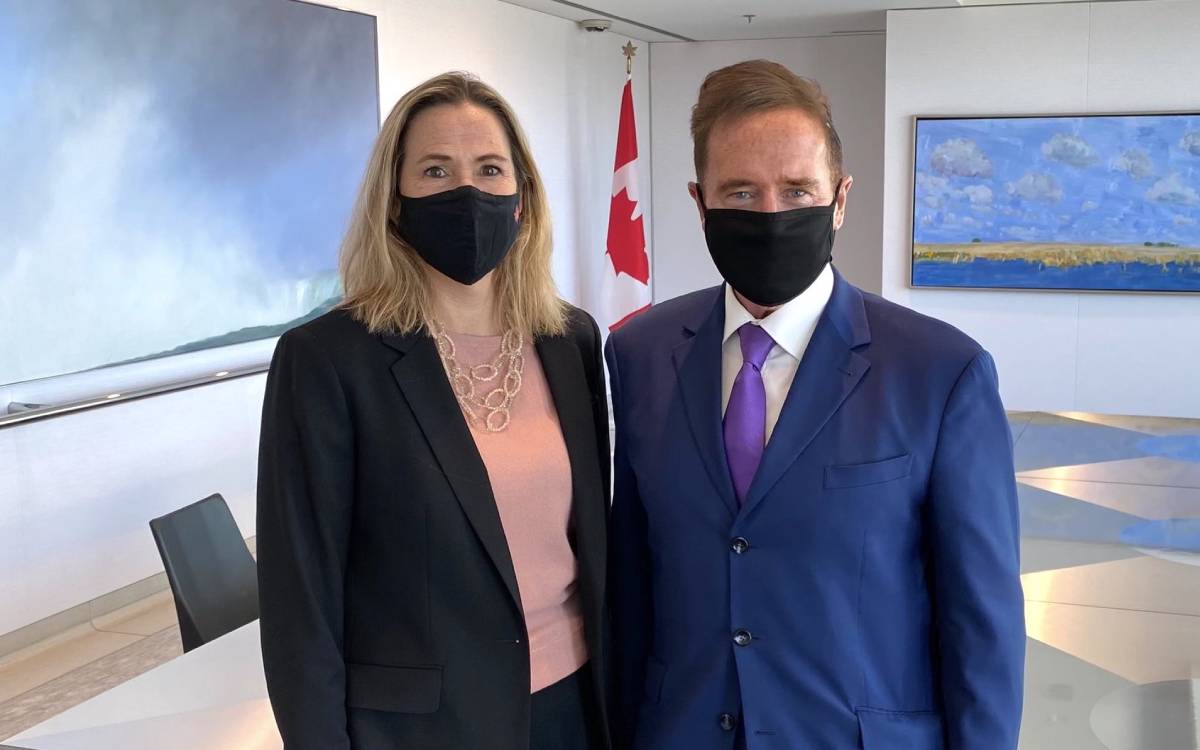 Canada's ambassador to the U.S. Kirsten Hillman (left) and U.S. Representative for New York's 26th congressional district Brian Higgins (right). The pair met on Oct. 27, 2021 to discuss a variety of binational issues, including testing requirements to cross the border. Photo credit: Twitter/Kirsten Hillman
On Monday, Western New York congressman Brian Higgins penned a letter to Canada's ambassador to the U.S. Kirsten Hillman urging the Canadian diplomat to advocate for the removal of COVID-19 testing requirements to enter the country. 
"While both the United States and Canada will understandably require proof of vaccination from each other's citizens to gain entry, only Canada will require a negative COVID-19 test in addition to the aforementioned proof of vaccination at all points of entry," wrote the Buffalo-area Democrat. 
"Recent and credible studies on the efficacy of vaccines have found the risk of transmission and strength of the viral loads in both the alpha and delta variants significantly decreases once an individual receives all doses of an approved vaccine."
Higgins, who has been at the forefront of the battle to reopen the border throughout the pandemic, co-chairing both the Canada-United States Interparliamentary Group and the Congressional Northern Border Caucus, met with Ambassador Hillman to discuss a variety of bilateral issues on Oct. 27.  
In addition to the efficacy of the vaccines, in his follow-up letter to Hillman Higgins pointed out the economic impediment imposed by COVID-19 tests for travellers hoping to traverse the border for short durations on a regular basis. 
"In border communities such as Western New York and Southern Ontario, the local economies depend on the free flow of goods and people across the border, often multiple times per day. The expectation that fully vaccinated Canadians and Americans will be able to afford multiple tests per week for the indefinite future to go about their business ignores the economic reality and is financially unsustainable for working families," wrote Higgins. 
"We can no longer continue subordinating the financial and economic health of our communities and citizens, especially when they have done the right thing, gotten vaccinated, and continue to follow all public health rules and regulations."
Higgins' letter came only days after the Department of Homeland Security (DHS) released further details for non-citizen travellers entering the U.S. at the country's various land and port points of entry. Along with confirming that all entrants must be fully vaccinated and prepared to provide proof of inoculation, officials confirmed that a negative COVID test would not be required to cross the border.
"We are pleased to take another step toward easing travel restrictions at our borders in a manner that strengthens our economy and protects the health and safety of the American public," said DHS secretary Alejandro Mayorkas. "We continue working closely with our international partners to sustainably implement new rules for resuming travel."
Back on the Canadian side of the border, Niagara Falls city council passed a resolution in line with Higgins' request last week, urging the federal government remove its requirement to show a negative PCR test before entering Canada. 
"The Canadian government is continuing to insist that fully vaccinated Canadian and American travelers to Canada pay for a costly and difficult to source molecular COVID-19 (PCR) test in order to return through the land borders," read the resolution.
"This test will continue to make travel between the United States and Canada through the land borders prohibitive due to its high cost and added time, especially for day travelers who make up the vast majority of local visitors using any one of our international bridges into Niagara."
The U.S. opens its land and ferry border crossings to fully vaccinated non-citizens on Nov. 8. Canada opened its borders to fully vaccinated American travellers back on Aug. 9.