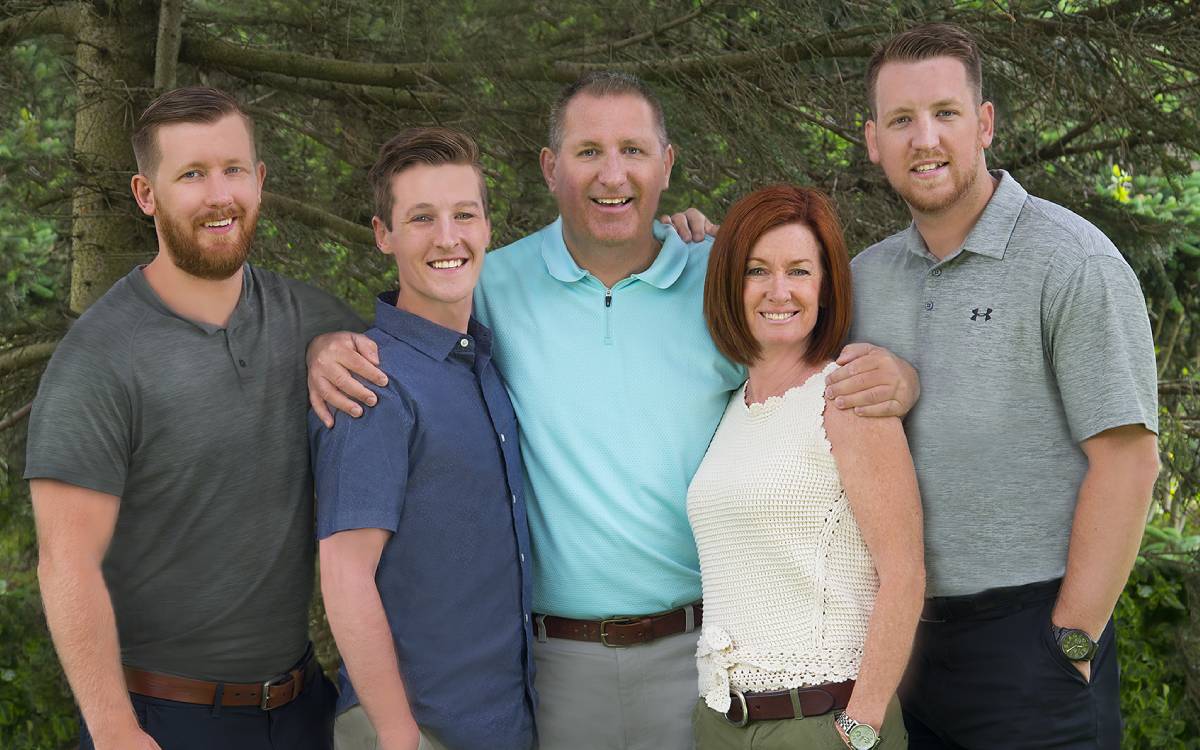 Mayor Bill Steele (centre) with his wife and three sons. Photo credit: WordPress/Bill Steele 
Even though Mayor Bill Steele of Port Colborne has had more than his fair share of talking about the pandemic, it's still top of mind and in the forefront of everything he's done over the past year and a half. "I'm kind of sick and tired about talking about the pandemic." He feels that it's had an impact on every project council has embarked on. "The pandemic really drove everything that we did. We had to move quickly on how to make decisions and how to keep the municipality moving and how to get projects going."
Steele says that the health and safety of his community will always be his top priority, and directly behind that was ensuring that the business community was still successful.
"We created 15-minute pick up spots in our downtown core…when restaurants were able to open last year, the government made changes to the patio rules, we put together very quickly a short application, there was no charge last year or this year for the patios." He believes it was successful in keeping businesses afloat. The city also deferred late penalties for taxes for residents who were unable to pay them, however Mayor Steele had fewer people pay their taxes late during the pandemic than pre-pandemic. "We would normally be anywhere from 15% to 18% in normal times, but during this pandemic we're about 12% to 15% of those who pay their bills late."
Steele believes that Port Colborne has come together to provide for their community. "I think we set the table for COVID in terms of responding as quick as we could to requests from the public and our business community, and quite frankly both council and staff were able to pivot very, very quickly and respond in the best manner." He's also impressed at how local facilities like the library adapted to be able to continue to provide services.
"I've really not been disappointed in anything." 
And when it comes to the staff at the City of Port Colborne, it's safe to say the mayor is more than impressed. "I really believed that we've formed a great team of senior staff here, and they've made the right hires in their departments. We do have the best staff compliment of any municipality in Niagara."
The mayor is also proud of the partnerships that he's made throughout this term, including those with the St. Lawrence Seaway, the marine and rail industries, and fellow municipalities. He's also proud of the on-demand transit system coming to Port Colborne and has enjoyed listening to the new visitors who will come to Port Colborne through the cruise ship industry.
"There are people that don't want to go to Niagara Falls, or the wineries in Niagara-on-the-Lake, because they've done that before…so you need to create onshore excursions for them. The city isn't going to do that, that's where we create the atmosphere for private enterprise to come in."
With regards to the future, Mayor Steele hopes to pick up where he left off prior to the pandemic. His plan for the future includes reducing the cost of wastewater. 
"I'll put my community up against anybody's community. Port Colborne is fabulous to live in. It's a great place to live, it's a great place to raise a family, and it's a great place to retire to."
This is the twelfth and final installment in a series of interviews with each of Niagara's twelve mayors. To read any of the past installments, go here.