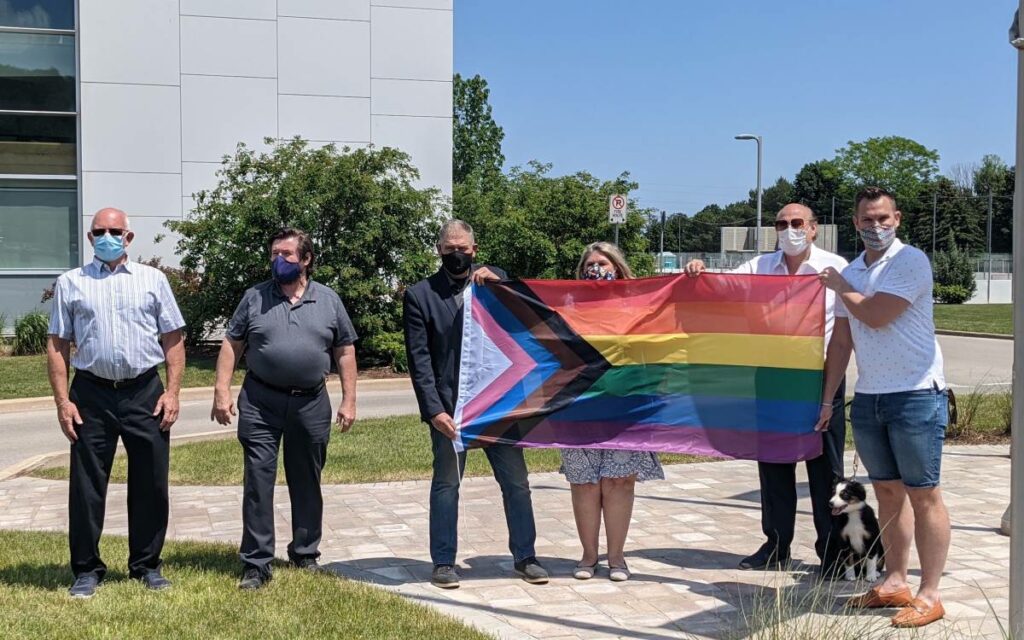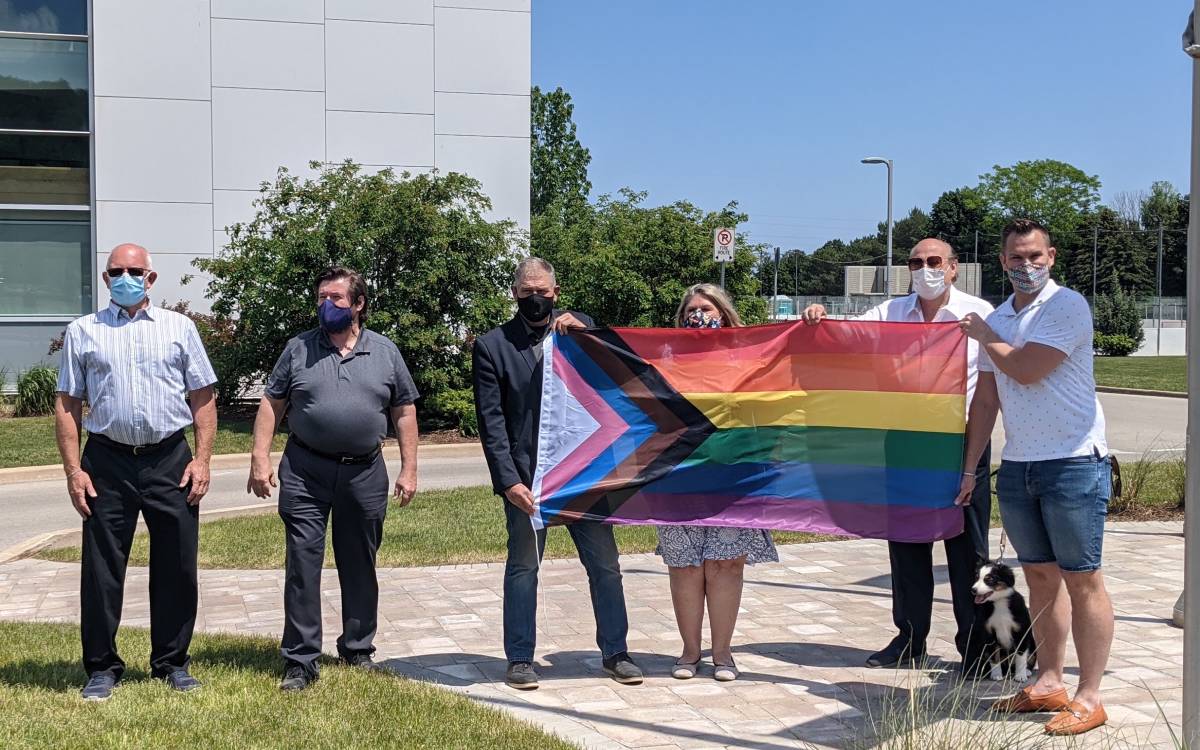 Mayor of Grimsby Jeff Jordan (near centre, third from right) stands with town councillors as they prepare to raise a rainbow flag in honour of Pride Month, June 1, 2021. Photo credit: Town of Grimsby
More than halfway through his first term as mayor of Grimsby, Jeff Jordan maintains an upbeat attitude, looking back on what has been an undoubtably challenging term.
"It's certainly been overall a very positive experience. I really feel that I've been able to, along with Council, do something for all of Grimsby, and move Grimsby forward."
Amongst other things, such as reviewing the ward boundaries and moving forward with the town's strategic plan, Mayor Jordan has worked hard throughout his term to see the new Grimsby hospital, which is set to break ground in early 2022, become a reality.
"I'm really excited that we were able to – myself, and the other west Niagara mayors and councillors – were really able to push this across the goal line". The hospital is a project he plans to continue to push for and work toward over the last year and a half of his term, calling it his number one priority.
While he's experienced success, his term hasn't been immune to the interruptions brought about by the COVID-19 pandemic.
"Certainly, one thing that the pandemic has taught me is that communication is key, and a lot of times a smaller problem will become a much bigger problem by lack of communication," said Jordan.
The mayor described COVID-19 as, "a great disruption to the free flowing of the municipality" and believes we all need to rally around small businesses to ensure their continued success. "It has to be a multi-layered approach to helping small businesses. Right from the actual general public to supporting small businesses and trying to wean themselves off the mega Amazons of the world and trying to shop local."
Yet for many, buying local isn't enough, a point that Jordan realizes.
"Could we do more? Absolutely." He said they are doing what they're able to do, but the town's ability to help is limited. The only source of revenue available to them is tax dollars, which he's aware means that anything they do is paid for by the residents. As a result, like many municipalities, he's looking to the provincial and federal governments for help and is ready to reopen as soon as possible. "I can hardly wait to get back to council meetings where we have the general public in Council."
While the COVID-19 pandemic has certainly taken energy, it hasn't derailed Mayor Jordan's goals. He still has designs on completing a long list of projects in the remaining year and a half of his term, including the GO Station, Niagara On Demand Transit, improvements on Casablanca Boulevard, and a confidential project in the works that is still under lock and key and yet to be announced.
Through all the ongoing activities, Jordan said that his main goal is still helping residents. And while his aspirations may be lofty, they are, at the very least, admirable.
"What Council's striving to do is being open and transparent, and certainly that's something that I've inspired to be…and a voice for the people, and just really being a listener to the public. I pride myself in actually listening to what people have to say."
For his part, he's putting his money where his mouth is. On June 24 from 6:30 to 8:30pm Jordan is hosting a virtual information night. The session will be streamed on the town's website and residents can ask questions direct to the mayor.
Jordan's willingness to listen gets to the heart of what he wants his roughly 30,000 constituents to know.
"I'm an open ear for them, and anything they come to me with I'll do my best to try to solve." Yet as a pragmatist, he also strongly believes in compromises, saying that while not everyone is always going to be happy with the outcome, it's usually the best solution in the end.
"I'm always willing to work with everyone and always willing to think outside of the box."
This is the first installment in a series of interviews with Niagara's various mayors. Look for the second installment of 'In their own words' in next Friday's issue of The Niagara Independent.