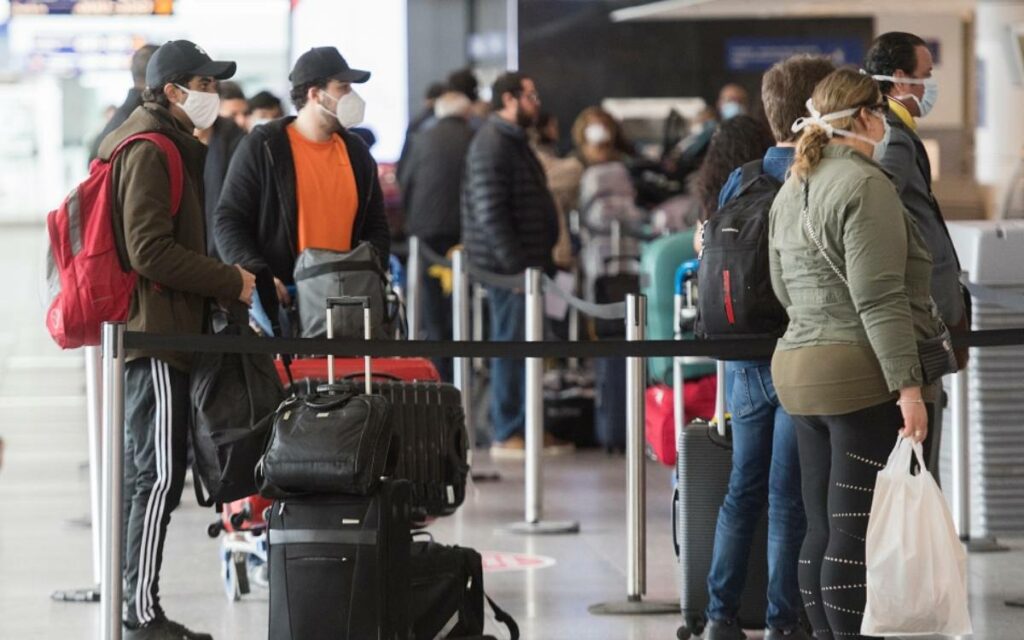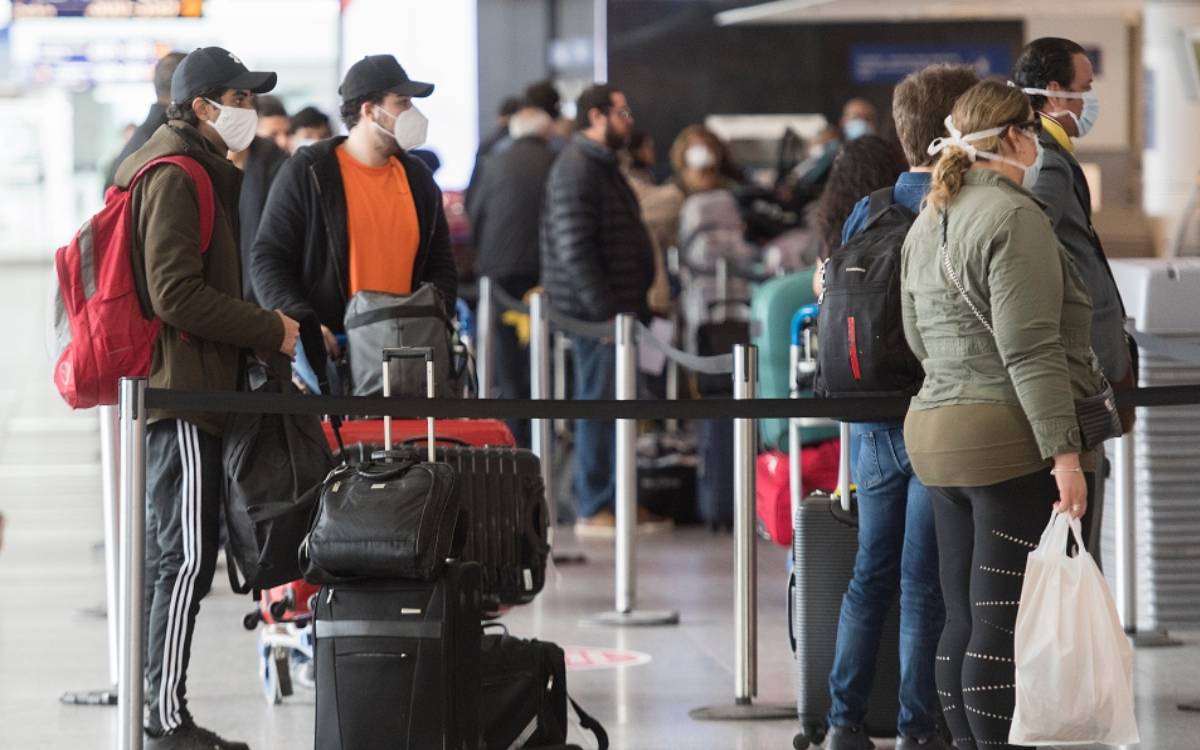 Passengers queue at Montreal-Pierre Elliott Trudeau International Airport. Photo credit: The Canadian Press/Graham Hughes
The race to prevent the spread of new COVID-19 variants continues, with the federal government moving late last week to ban flights to Canada from India and Pakistan. However, their hesitancy to do so is the latest example of the Liberals being resistant to close borders – despite praising countries who have taken that step. With Ontario facing daunting hospitalization and ICU rates, the Trudeau government is being urged to pick up the pace on restricting travel – and on getting more vaccines.
The resurgence of COVID-19 in India, whose government had claimed victory over the epidemic in January, has caught the country off-guard. Harrowing stories have emerged of citizens moving from hospital to hospital, desperate for oxygen tanks that are in short supply. With a daily infection rate around 340,000 and over 2,700 deaths on Saturday alone, the variant poses a dire threat to the country and its citizens.
While Western nations including Canada are stepping up to send medical supplies to assist, many have also closed their borders to travellers from these countries to try and keep the new variant at bay. Canada announced its 30-day ban on passenger flights on Thursday – only after cases of the variant emerged in BC and Quebec. Since the ban, more instances of the variant have also been found in Ontario, stemming from air travel.
While the mutant has taken the Indian government by surprise, Canada's government does not have the same excuse. Data shows passengers arriving from Delhi to Vancouver were COVID positive in notable numbers as early as March 22nd. Health Minister Patty Hajdu herself noted that passengers arriving from India represent 50 per cent of COVID-19 cases resulting from air travel, despite being only 20 per cent of the traffic. In a two week period, 117 international flights arrived in Canada carrying at least one passenger who tested positive for COVID-19 – many of those from India.
The United Kingdom, New Zealand, and France quickly moved to ban travel from India and Pakistan. It was only after political pressure from the opposition, and Premiers Ford and Legault, that our own federal government sluggishly followed suit.
It's not the first time the Trudeau government has been slow to move on border restrictions.
Back in December, the Liberal government imposed a flight ban on the United Kingdom following reports of a more infectious variant across the pond – only after several European countries announced the same. The ban was then lifted just a couple of weeks later, even though the variant was still ripping through the U.K. The "enhanced measures" put in place by the federal government to keep the variant out proved ineffective, with numerous instances of the mutation being found in Canadian COVID-19 cases.
Then in March, the Trudeau government opted not to introduce a ban on travel to Canada from Brazil, despite another new variant having found its way here via British Columbia. B.C. Premier John Horgan even considered enacting unilateral restrictions on flights from Brazil, as the federal government was hesitant to do so. As other countries (including France) put bans in place, the Liberals fell back on their existing ineffective protocols. In fact, they quietly dropped additional screening requirements designed to identify the Brazilian variant altogether mid-April, even as cases were still present.
Even at the outset of the COVID-19 pandemic last year, the Trudeau government was extremely resistant to introduce travel bans on China. While the United States quickly enacted restrictions preventing foreign nationals from entering the country, Canada pushed back – and was praised by China for doing so. While other countries were locking down, Chief Public Health Officer Dr. Theresa Tam noted that travel restrictions can "do more harm than good". Others equated travel bans with xenophobia and racism.
But countries that are praised for their pandemic response by many Canadians did enact serious travel restrictions. Last March, New Zealand banned flights from Iran – the source of their first case. Not long after, they ceased border entry for all non-citizens. Taiwan moved quickly in the early days of the pandemic to halt flights from China; an action that is credited with keeping COVID-19 cases below 1,000 people despite a population of 24 million. Australia, which is often touted by those on the left as being the gold standard of COVID-19 response, still has its borders shuttered, and may not reopen until the fall. Meanwhile, independent modeling data in medical journals including The Lancet suggests border closures instituted at the outset of the pandemic were effective in reducing spread.
Banning travel from certain countries is only part of the equation in keeping the virus at bay. But based on how quickly the Indian B.1.617 variant has found its way into Canada, it is clear that the measures currently being implemented by the federal government aren't enough. Connecting flights from India and Pakistan are not subject to the ban, presenting a significant loophole. Positive COVID-19 cases continue to arrive in Canada despite negative testing requirements needed prior to departure.
Meanwhile, the beleaguered hotel quarantine program is demonstrably lax compared to other countries, where the isolation period is three weeks, rather than Canada's three days. Here, the hotel quarantine requirement can be waived by paying a fine, or by crossing by land at the U.S. border. Whether you support or disapprove of the hotel requirement, neither side can claim it has been effective.
Travel restrictions alone aren't a silver bullet. But measures to prevent new variants of the virus from entering the country should be strongly considered; particularly for travellers coming to Ontario and Quebec, who face strapped healthcare systems. Residents of these provinces are confined to their homes, being asked to make extreme personal sacrifices to prevent further stressing fragile hospitals. It is grating to see air travellers enter the country with comparatively few restrictions.
The reality is that we would not need to be as concerned with shuttering borders were we in a better position on vaccine supply and distribution. Disappointingly, that's another area where government action is summarized best in one word: slow.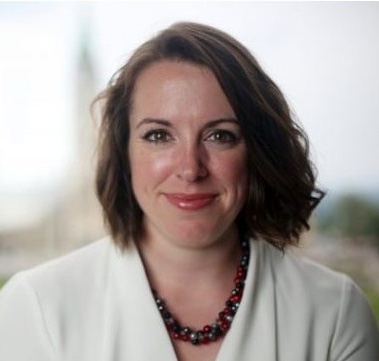 Kate Harrison is the Vice-Chair of Summa Strategies Canada, one of the country's leading public affairs firms. She is a regular political commentator on CTV, CBC, Sirius XM, and other talk radio stations, as well as a contributor to various news outlets. She has been involved in conservative politics for over fifteen years, and an active member of the country's conservative movement.