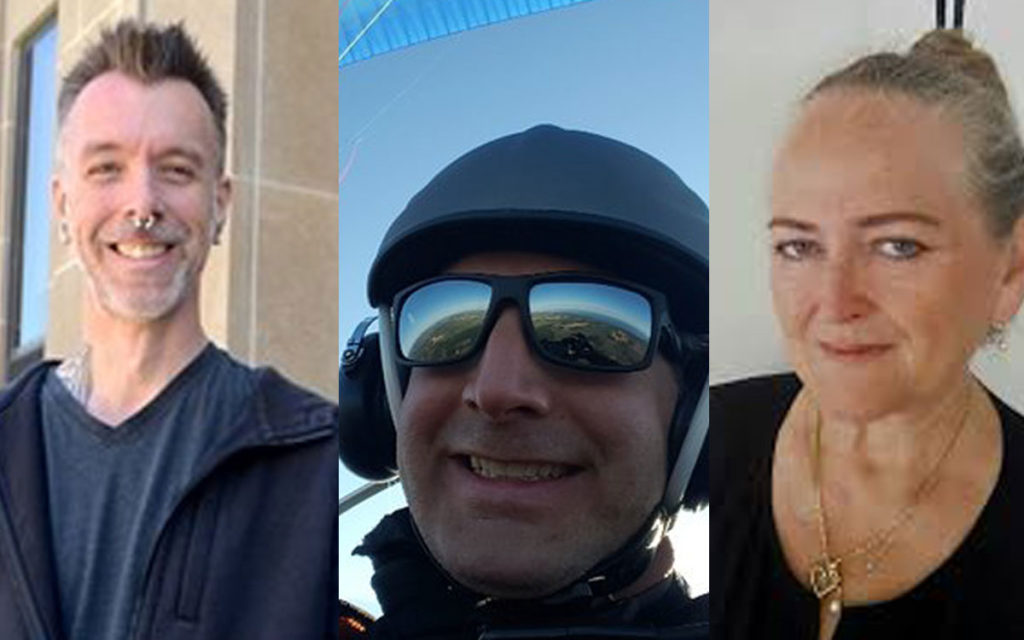 With hundreds of candidates running across Niagara in municipal, regional and school board elections – there are some interesting stories about many of the candidates.  We profile a few below.
Flyboy is back in Welland
In the 2014 municipal election, Wellanders had to look up to see one candidate's 'lawn signs'.  Graham Speck, a businessman – owner of Speck Industries, a communitarian and a Rotarian – had a unique way of getting voters' attention for his 2014 campaign – he hang-glided above the city with his sign visible from the ground trailing behind.  In the 2018 campaign, 'flyboy' is back, this time running for Welland City Council in Ward 5.
Speck finished a close third to Paul Grenier and George Marshall in 2014 for the regional council seat.  This time the University of Guelph Economics Graduate, a hard working, door-knocking, hand-gliding candidate – is running for City Council and so far likes what he sees from his birds-eye view. "I am getting a very good response again this year.  I want to bring my business background and strong fiscal sense to the Council table," Speck said. "The message is having great resonance and I will continue to knock on doors (and fly above them) right up to Election Day."
www.grahamspeck.ca
The "Stick Lady" in Niagara Falls
Anne Radojcic has a very unique trademark. For most of her adult life she has worn her hair in a bun and has had two decorative 'chopsticks' protruding from the bun. "Just a style I have had for over 20 years now. Since I started working with food, first catering with my late mother-in-law Baba Milka Radojcic from the Belleview tavern, then every day in the restaurant," she explains.
"I've been told that lots of kids recognize me over the years because of the look, some call me 'stick lady'," she laughs. "Others will ask their parents: Why does that lady have pencils in her hair?" The look has made it onto her election signs and her election business cards. "Might as well embrace it," she smiles. But Radojcic is a serious business-women and a serious candidate. She owns two Harvey's franchises in the city as well as a mini-putt to name a few of her enterprises. She's also the Treasurer of the Lundy's Lane Business Improvement Association. She's the Vice Chair of the Alzheimer's Society of Niagara, a supporter of the city's food kitchen, a founding member of 100 Women Who Care Charity Club, fundraiser for lifeline humanitarian organization and an active member of her church. "As a business person, I know how to balance a budget, to ensure funds are spent responsibly and how to meet deadlines. I also know how to read a financial statement. I want taxes to remain steady and see city hall do more with the resources it now has."
http://www.annerad4niagarafalls.com/
Tatman runs for Mayor in St. Catharines
In St. Catharines, it's a classic case of "don't judge a book by its cover", as the owner of Sonic Tattoo, Johnny Tischler is making a serious run for the Mayor's seat. He was the first mayoral candidate to file his papers. Tischler is proud to say: "I'm not a politician. I'm a small business owner."
While he may not fit the traditional appearance of what a Mayor "should" look like, the 48 year-old Tischler has done his best to mount a challenge against heavily favoured incumbent Walter Sendzik. He, diplomatically, has publicly stated that he doesn't like the direction the city has been going for several years now.
Sonic Tattoo is one of the longest serving Tattoo shops in Niagara and Tischler says he works closely with the Region's public health department to modernize the industry. Before getting into the tattoo business, the long-time St. Catharines resident worked in the social services sector including positions with St. Catharines Community Living as well as Niagara Support Services.
www.votejohnny.ca