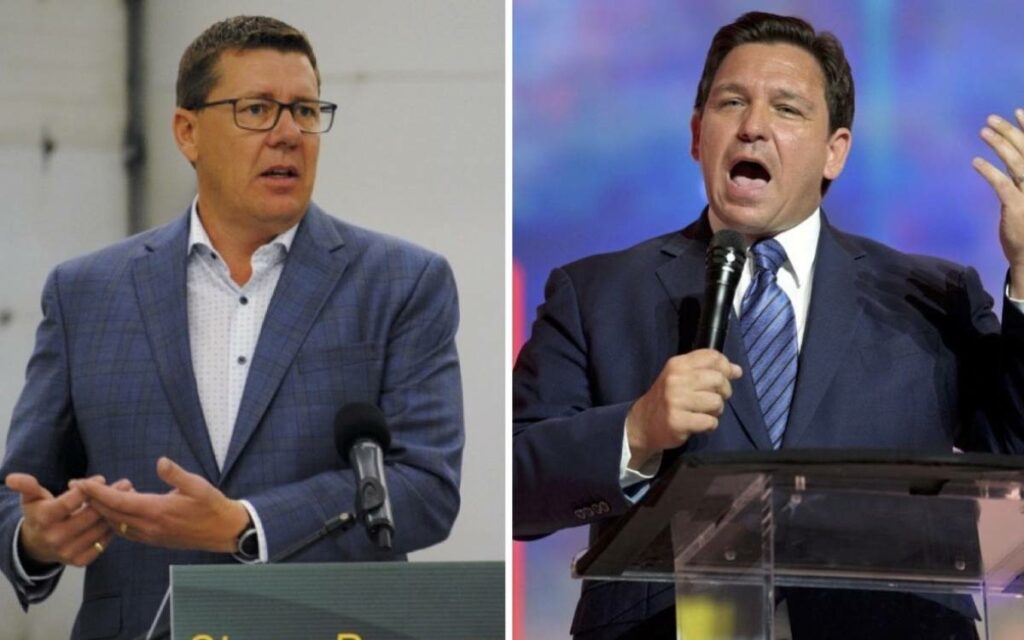 Premier of Saskatchewan Scott Moe (left) and Governor of Florida Ron DeSantis (right). Photo credit: 980 CJME/Lisa Schick and AP/Phelan M. Ebenhack
Florida Governor Ron DeSantis has developed a reputation for pushing back against a range of leftist government policies including Critical Race Theory in the public education system to, most recently, what he calls "woke capital" and the ESG (Environmental, Social and Governance) system that is poised to destabilize the investment community and businesses. 
DeSantis does not just talk a good game, but takes meaningful action. For instance, on the ESG front he has vowed to ban ESG-oriented investment funds from the state's pension plans and is proposing new laws to prevent Florida companies from discriminating against people based on their politics or religion. Although DeSantis hasn't made any commitments yet, some believe he will attempt to become the Republican nominee for the 2024 US election. 
Here in Canada, Saskatchewan Premier Scott Moe has been a leader in challenging the leftist policies of the federal Liberal government, in of course a much more low-key, Canadian manner than US politicians tend to practice. 
Moe has consistently opposed the carbon tax since its inception, participating in legal challenges along with some other provinces. Most recently, Moe has said he will not be implementing the federal policy imposing a requirement to reduce nitrous oxide emissions from fertilizers by 30 per cent by 2030. In reaction to the surprise federal announcement, Moe stated on social media that, "Our response to the federal government's 30 per cent reduction on fertilizer use is 'thanks, but no thanks' for Saskatchewan."  
Other provinces also criticized the federal government's actions, noting how inflexible the Liberals were being and how there was virtually no consultation on this important issue, but Moe was the only premier to date who has stated he will defy the federal policy. In other media interviews, Moe expanded on his position that he was not going to pay any attention to the federal environment minister, Steven Guilbeault, as he considered him to be an "unserious" minister in an "unserious" government. 
Moe expressed concern that the Trudeau government was putting Canada on the path of the EU by endangering Canada's energy and food security. He also noted that he believed the Trudeau government to be a "caretaker government" because of the Liberal minority position propped up by the NDP, and that he was not going to permit a caretaker government to influence his province's oil, gas and agriculture sectors. Pretty strong words from a Canadian provincial premier. What is surprising is that these strong words were not picked up more widely by Canada's mainstream media, as they could be seen as the beginning of a trend of provincial rebellion to federal policies. 
Moe also commented that Saskatchewan was already producing some of the most environmentally sustainable agricultural products in the world, yet was not being given credit for that from the federal government. This can also be said about Canada's oil and gas industry, which is a world leader in technological advances that reduce emissions.  
As the controversy over the fertilizer issue spread, the Trudeau government seemed to attempt to soften the blow by claiming that the reduction was to be applied to emissions, not to the use of fertilizer itself. Yet the farmers that deal with these matters every day said that reducing those emissions could not be accomplished without reducing the amount of fertilizer used, which would mean lower crop yields at a time when Canada's agricultural output is in great demand domestically and internationally. 
The Canadian farming community generally was blindsided by this federal announcement, which seemed to come out of the blue with virtually no consultation of the industries affected. Farmers reacted with shock that the federal government would create another hurdle for the agricultural sector by adding fertilizer restrictions to the already punitive carbon tax, which was originally promoted as the only measure needed to deal with climate concerns. 
The Western Canadian Wheat Growers estimated that this latest policy surprise would cost Saskatchewan $4.6 billion, Alberta almost $3 billion and Manitoba $1.5 billion, and this was just for canola and wheat crops. Farmers' organizations warned that food shortages could well be an outcome of this poorly-conceived Trudeau government policy. 
This dispute will be playing out in the months ahead, and Premier Moe looks to be leading the charge among the provinces. Unlike Florida's DeSantis, Moe does not seem to have any national political ambitions. But continuing to promote sensible policies for his province and Canada as a whole, and pushing back against the ideological, fact-challenged orientation of the current federal government, is always a welcome development from any of Canada's political leaders.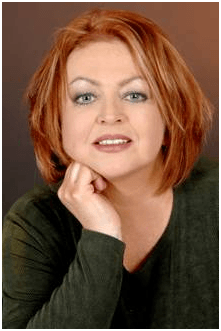 Catherine Swift is President of the Coalition of Concerned Manufacturers & Businesses of Canada (CCMBC). She was previously President of Working Canadians from 2015-2021 & President & CEO of the Canadian Federation of Independent Business (CFIB) from 1995-2014. She was Chief Economist of the CFIB from 1987-1995, Senior Economist with TD Bank from 1983-1987 & held several positions with the federal government from 1976-1983.
She has published numerous articles in journals, magazines & other media on issues such as free trade, finance, entrepreneurship & women business owners. Ms. Swift is a past President of the Empire Club of Canada, a former Director of the CD Howe Institute, the Canadian Youth Business Foundation, SOS Children's Villages, past President of the International Small Business Congress and current Director of the Fraser Institute. She was cited in 2003 & 2012 as one of the most powerful women in Canada by the Women's Executive Network & is a recipient of the Queen's Silver & Gold Jubilee medals.
She has an Honours BA and MA in Economics.