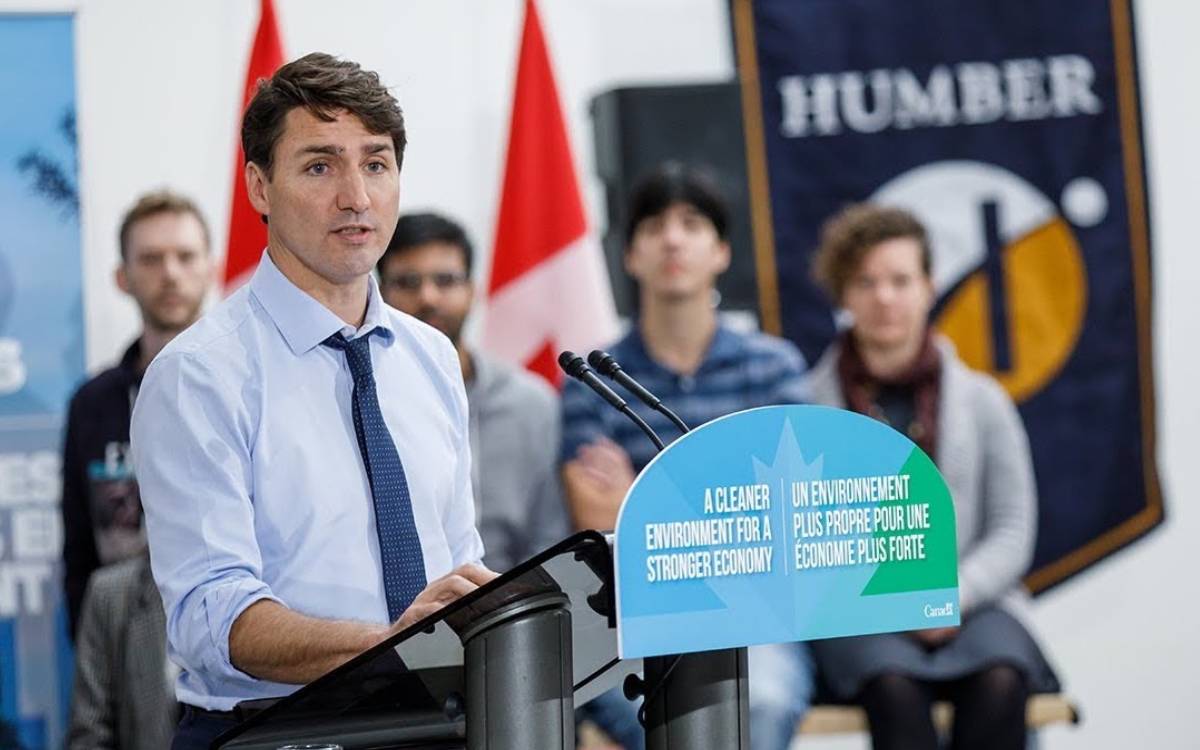 While the Liberals have failed to deliver a net neutral 'price on pollution', let alone actually reduce greenhouse gas emissions, the Conservatives have failed to convince the public that a carbon tax is bad policy. Prime Minister Justin Trudeau (pictured) announces the federal carbon tax at Humber College in Toronto on Oct. 23, 2018. Photo credit: Government of Canada
Well, Conservatives. You were right.
You might have missed it last week with news of the Liberal-NDP pact dominating media coverage, but the Parliamentary Budget Officer (PBO) came out with a report highlighting the impact of the federal carbon tax on household incomes. 
It turns out that for most provinces, including Alberta, Saskatchewan, Manitoba and Ontario, the federal carbon tax isn't in fact net neutral as the Liberals have claimed, but will result in a "net loss". For middle class households, this means a hefty price tag of upwards of thousands of dollars more in additional costs.
So, credit where credit is due. Like with the Liberal-NDP coalition, again, the Conservatives were right. Prices are going to continue to go up, and there won't be sufficient rebates to offset the total cost of the carbon tax.
But should this be considered a win for the Conservatives? 
On one hand, the Liberal carbon tax hasn't actually contributed to a reduction in greenhouse gas emissions, targets the Liberals consistently fail to meet, and has only increased the overall tax burden. But on the other hand, and try as they might, the Conservatives have failed to convince the voting public that the carbon tax is a flawed policy. 
So, if it's bad public policy but the majority of voting Canadians support it, what's a Conservative to do? The truth is that there are virtually no credible policy alternatives in the minds of experts. That leaves only political solutions. 
It's been proven time and again that it is easy to rail against the status quo, and less so to come up with an actual policy solution to the problem. Just ask Erin O'Toole. Attacking the carbon tax without putting a credible solution in the window may lead to scoring cheap points on your opponent, but those don't necessarily translate into votes. In politics, sometimes accepting defeat and moving on is a solution in and of itself (just ask anti-free trade Liberals).
That's one option, and it's an option I know Conservatives hate. 
Another option would be to use a change election, presumably the one expected in 2025, as an opportunity to completely sidestep the climate change question with centrist voters who will be far more concerned with ensuring the current crop of Liberals aren't holding the reins on our economy. 
Once elected, Conservatives have the opportunity to use the power of the government itself to discredit the carbon tax in the minds of voters through an open and transparent review that reveals more information about the effectiveness of the policy and how it contributes to the cost of living in Canada. 
As Canadians are expected to make more and more tough decisions in their personal lives with respect to what they can afford, they deserve to know how much a policy decision is going to cost them. Once there is a public discussion driven by facts about the true cost of the carbon tax, maybe then Canadians will begin to reject the policy in more substantive numbers.
After all, there are no awards for being right in politics, only for good timing and a lot of luck. So, if Conservatives are unwilling to move on, perhaps the cost-of-living crisis is just the opportunity they need to find creative solutions to end the carbon tax debate once and for all. 
Josie Sabatino is a Senior Consultant at Summa Strategies, focused on providing strategic insight and helping clients meet their objectives in an ever changing and complex political and regulatory environment. Prior to joining Summa, Josie spent nearly a decade in political communications and most recently served as the Director of Communications to the Hon. Erin O'Toole, former Leader of the Official Opposition.