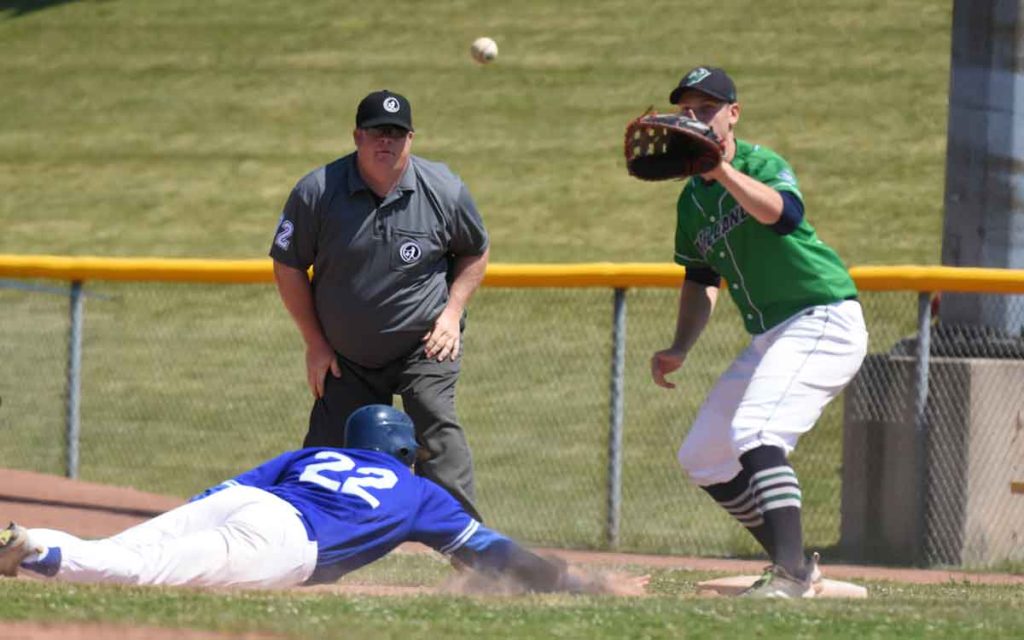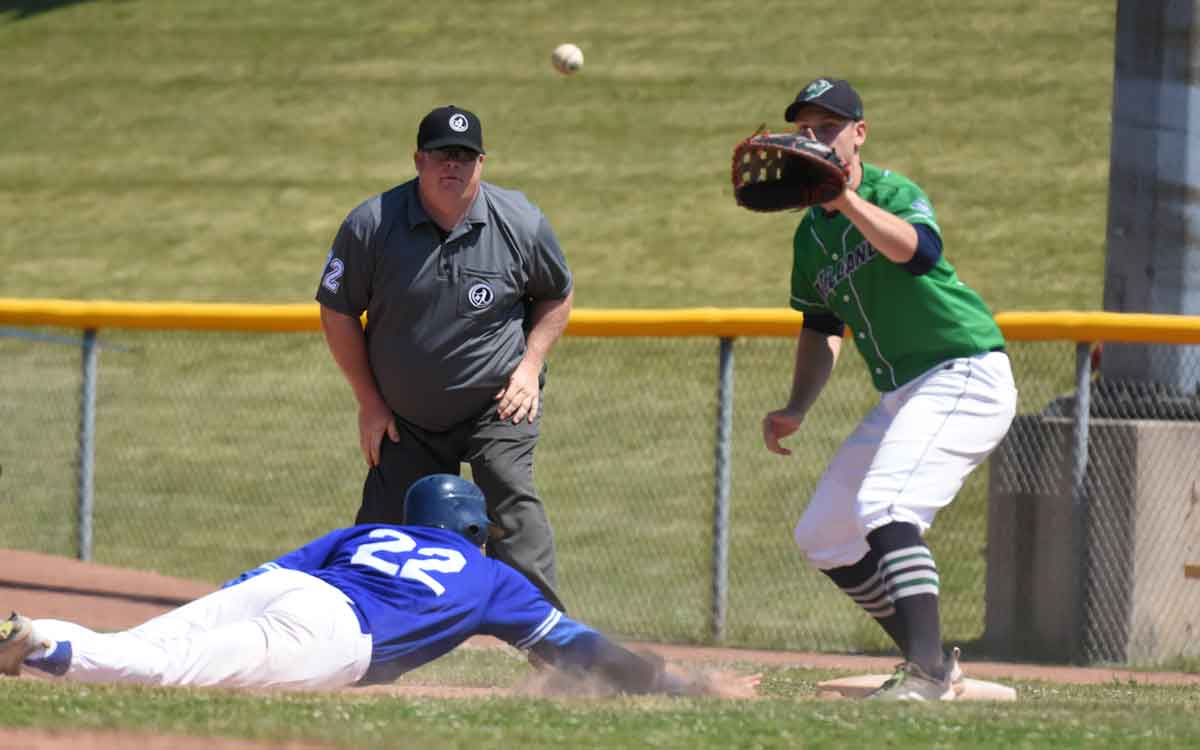 Welland Jackfish attempt to pick off a Guelph Royal player in their July 7 game.
Exceeding expectations. That's how Welland Jackfish President and CEO Ryan Harrison would describe his ball team's inaugural season in the Rose City. Well into the second half of their 36 game regular season schedule the Jackfish are an impressive 14-11 and sit in third place, five games back of first place Barrie Baycats.
"Our goal was to be 18 and 18 this season and knock on wood we should be above that at the end of the year," said Harrison. This past weekend the Jackfish won two and lost one. "We had a big win against Guelph on Saturday as they are right behind us in the standings."
While the play on the field has been impressive for a first year organization it's also what's been happening off the field that has the young baseball executive excited. Attendance has been between 600 and 800 fans per game which is, according to Harrison, "well over what we expected". The season ticket base is at 400 which has been a big plus for the team.
Harrison said he'd like to see the advertising revenue up a bit more but he understands why some businesses are cautious when it comes to spending their marketing dollars with the Jackfish. "Support from local business has been good but I know some have been burned in the past by previous teams so I understand," explained Harrison.  He said the organization expects to grow their partnerships with the Niagara business community over the next few years once the team proves they are successful and not going anywhere.
When asked what the biggest surprise has been so far in the team's first season playing out of the 2,500 seat Welland Stadium, Harrison didn't hesitate on his answer, "The passion of the fans." "We've had games when we were being blown out and the fans stayed to the end cheering for every hit."
Harrison recalled the Father's day game when there was a three-hour rain delay and the vast majority of the fans stayed. "I knew we would have good fans but they are more passionate than I expected."
The team runs game-day promotions every half inning to fans entertained. Harrison said there are die hard baseball fans that are there solely to watch good ball and then there are more casual fans that need to be entertained with promotions and baseball. "We want the field experience to be similar to what you would see with a minor league team in Florida," explained Harrison. He said they are looking at building a large party deck down the first base line for the 2020 season and are also hoping at some point in the future to add a video scoreboard in centrefield.
Harrison gave credit to his players for not only performing well on the field but also getting involved in the community. "People are recognizing our players around town. We have about six living in Welland who came from out of town, plus we have some local players. It's a unique league. We have guys who played professional ball, played Division One college baseball and have been drafted into the major leagues. It's a league where some guys finish their careers and also start their careers."
The Jackfish are at home this Thursday against Hamilton at 7:30 p.m. and on Saturday at 1:05 p.m. versus Toronto. Players will be wearing special edition Welland Pirates jerseys for Saturday's contest. The jerseys will be auctioned off after the game.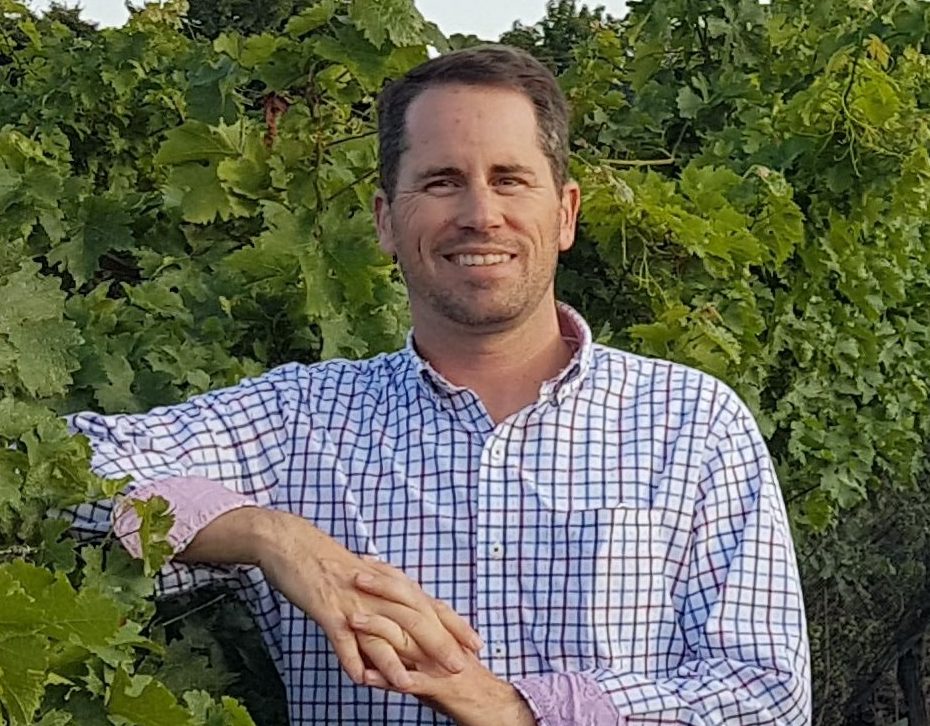 Kevin has spent over two decades as a public relations professional in a variety of sectors including professional sports, the arts, industry and healthcare.  After tiring of the daily commute to Toronto he returned to Niagara and launched The Niagara Independent, an online news source published twice weekly.
He is a graduate of Brock University, Niagara College and the Richard Ivey School of Business. He was named one of Niagara's 40 Under Forty in 2005.
Kevin is most proud of his twin daughters. He is also a triathlete and four-time Ironman finisher.