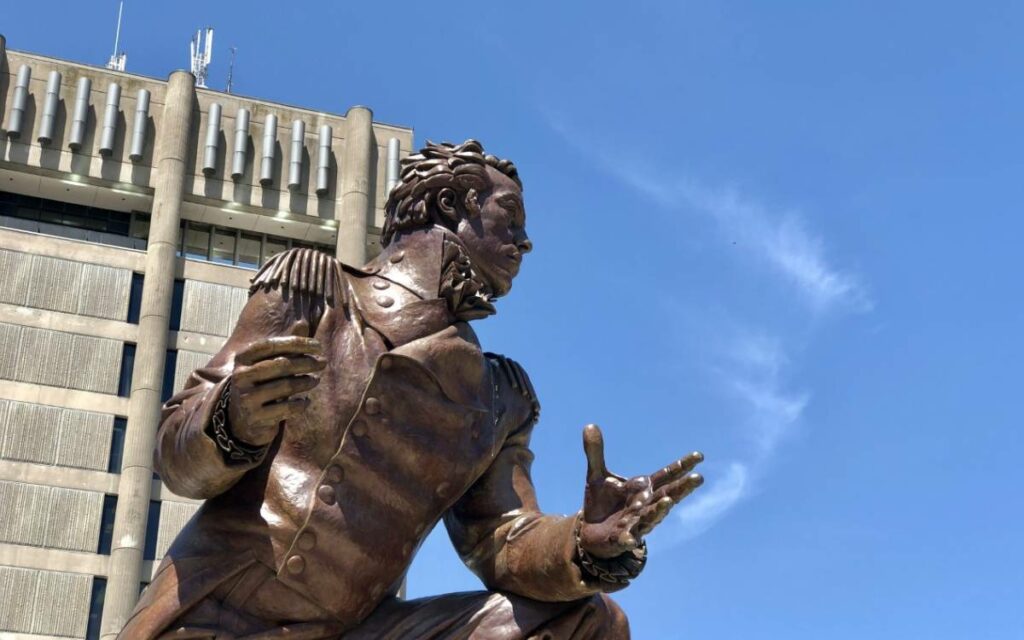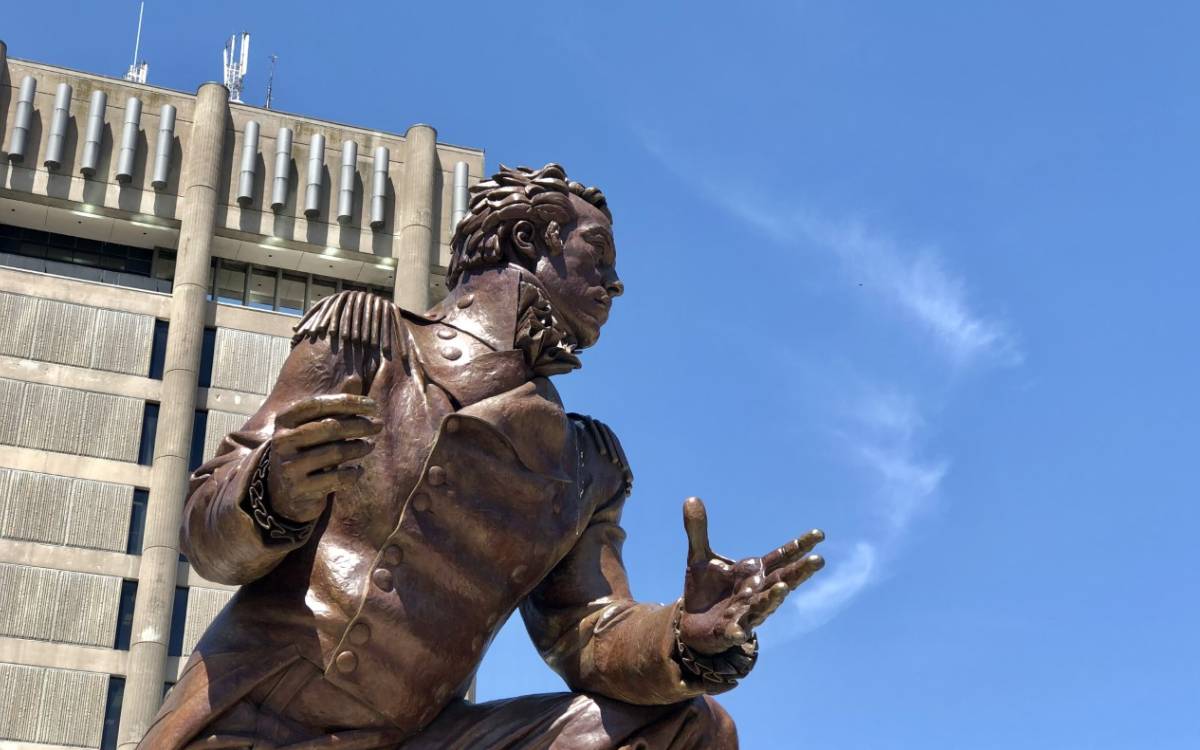 Statue of Sir Isaac Brock in front of Brock University's Arthur Schmon Tower. Photo credit: The Niagara Independent/Nicholas Tibollo
On May 18, Brock University in St. Catharines announced that its president, Gervan Fearon, would be resigning his post, having accepted an offer to become president of George Brown College in Toronto. On the face of it, it's an unusual career move for a top administrator working in the status-obsessed world of academia: Brock is a large public research university, while George Brown is a college that caters mostly to continuing-education students pursuing vocational programs. In their official announcement, university officials explained the move by reference to Fearon's "desire to move back to Toronto." But the move also will allow the outgoing Brock president to escape what is arguably one of Canada's most professionally dysfunctional universities.
In response to various crises and controversies—including the school's mishandling of sexual harassment allegations against a Russian history professor—Brock recently commissioned a third-party investigation of its professional climate. The investigators' 466-page report, delivered in October 2020, indicated that a stunning 62% of Brock faculty and 63% of Brock staff had considered leaving the university during the previous 12 months. And more than a third of faculty and staff said they'd personally observed discriminatory hiring practices. By far and away, the leading type of unjust hiring practice reported was classified under "nepotism/cronyism." By comparison, very few survey respondents told investigators that "racialized identity," "sexual identity," or "gender expression"—the topics that now take center stage in the university's glossy diversity-themed communications—were subjects of concern.
This data is consistent with stories I've heard from the Brock University whistleblowers who've contacted me in recent months, and who've provided me with the internal correspondence and recordings that allowed me to produce two investigative reports for Quillette. These Brock community members feel they have nowhere else to turn with their complaints, and describe a clannish administrative culture under which whistleblowers are ignored or discredited (much as the 2016 complaints of sexual harassment at Brock were similarly downplayed). Indeed, the aforementioned third-party investigators found that only 30% of Brock's surveyed faculty respondents said their opinions are taken seriously by senior administrators.
Interested readers may examine the details of my Quillette investigations here and here, including the primary sources on which I relied for my reporting. But the condensed account is as follows: Members of a Brock committee tasked with "decolonization" and Indigenous empowerment—a group that includes some of the most powerful administrators on campus, such as Academic Provost Lynn Wells and the school's human-rights director—authorized a multi-pronged attack on a whistleblowing social-media account that was reporting unflattering information about the school. This top-down smear campaign included falsely discrediting the social-media feed as racist, and actively seeking to convince the university community that a failure to find and punish the account holder(s) would put everyone at physical risk. Apparently, the school has learned nothing from its previous failed efforts to suppress whistleblowing.
When details of this campaign were reported in my first Quillette article, the committee member who'd led the campaign—vice-provost for Indigenous engagement Robyn Bourgeois—took it as proof that the insidious specter of anti-Indigenous racism extended to her own Indigenous committee: How else to explain why anyone who'd witnessed her unsettling actions would go to the media with their concerns? And so in addition to demanding that the campus be scoured for evidence connected to the original social-media whistleblower, she now is demanding action against this new whistleblower.
Additionally, the school has announced yet another investigation—this one led by Bourgeois, who will personally interview students, curate their recollections, and report them to colleagues—to determine if these events have (as Bourgeois already claimed in her personal social-media postings) created a racist environment at Brock. All of this is being paid for with public funds at a time when Ontario universities are already reeling from the effects of a global pandemic.
Fearon made almost $320,000 in 2020. Bourgeois made more than $130,000. Wells made $109,000. These people are among the most privileged beneficiaries of a Brock hiring and promotion system that the 2020 investigator's report depicts as being rife with self-dealing and cronyism. And these recent disclosures suggest they have little intention of mending their ways. Then again, what incentive do they have to do so? As this most recent case study shows, these officials often are able to simply deflect criticism by presenting themselves as beleaguered champions of social justice. Case in point: When I emailed Brock University with a list of questions related to my second Quillette article, Provost Wells personally responded by indicating that the skeptical tone of my inquiries served to "undermin[e] the work of reconciliation so necessary and important to Canada."
In any kind of normal organization that had lapsed into this sort of dysfunction, the departure of a president might serve as an occasion to clean house and start fresh. Yet Wells herself—who has publicly described Bourgeois as "inspirational" in Brock News, the school's endlessly self-congratulatory PR organ—has now been named the university's interim president. Whatever else may be said about this clique of administrators, they know how to circle the wagons and take care of one another.
Brock has an annual budget of about $370-million, more than three times the operating budget for the city of St. Catharines. With about 20,000 students and 6,000 employees, its total head count roughly equals the population of Fort Erie, Grimsby or Lincoln. If any of these communities were plagued by scandals or bizarre witch hunts of the type Brock's administrators have engineered, the story would make headlines across the province and attract the scrutiny of numerous journalists. But as noted above, universities seem to be held to lower standards.
One reason for this, my reporting on other schools suggests, is that administrators and faculty in smaller media markets tend to circulate in the same socioeconomic circles as the journalists who cover them. These reporters also are beholden to local universities for access to expertise and interview subjects. And so relationships between school communications officials and reporters tend to become quite cozy. In Bourgeois' case, certainly, the CBC coverage could easily be mistaken for Brock News PR, as with a March 21 article titled "Brock's acting vice-provost of Indigenous engagement was harassed on Twitter, committee says." The author of that article was invited to speak alongside Bourgeois at a Brock event. And the two have appeared together on a local podcast. Does this sound like a recipe for objective journalism?
There is another factor, at play, too: As in all large organizations, imposing accountability within university hierarchies requires a system of checks and balances. In the past, this was achieved through the offsetting interests of different constituencies on campus, including students, professors and administrators. But because all of these people now operate in the same ideologically homogenizing digital subcultures, these checks and balances have fallen away. Brock News communicates in the same progressive buzz words and calls to action as one observes on student-run social media. Bourgeois refers to herself as an "activist," and employs the hyper-progressive vernacular one would expect from a faculty member in a modern Women's and Gender Studies department. In the past, university administrators might have felt compelled to push back against the faddish postures of their own students and younger faculty. But in 2021, managerially savvy administrators now simply co-opt them. After all, it's far easier to retweet a bunch of hashtags than actually do the hard work of rooting out real institutional rot.
I don't live in the Niagara Region. And I have no personal connection to Brock University. But when a Niagara Independent editor cold-called me looking for an article, I said yes without much hesitation—because, as far as I know, this publication is the only local outlet that's recently shown any substantial interest in reporting honestly on Brock's problems. I hope other journalists follow its example. In the best case scenario, perhaps even members of Brock's (otherwise quiescent) board of trustees and provincial education officials might rouse themselves. The salaries of Brock's administrators are paid largely with our tax dollars. And it should not be controversial to suggest that they should be held to the same baseline standard of competency and ethical conduct as other powerful and privileged members of our society.
Jonathan Kay is currently Canadian editor at Quillette magazine and columnist for the National Post. His work has appeared in The New Yorker, The New York Times, and Newsweek. He is the author, co-author, and editor of numerous books, including Among the Truthers (2011) and Your Move: What Board Games Teach Us About Life (2019). His forthcoming book, Magic in the Dark: One Family's Century of Adventures in the Movie Business, is set to be released this fall. Kay holds a bachelor's and master's degree in engineering from McGill University, as well as a law degree from Yale.