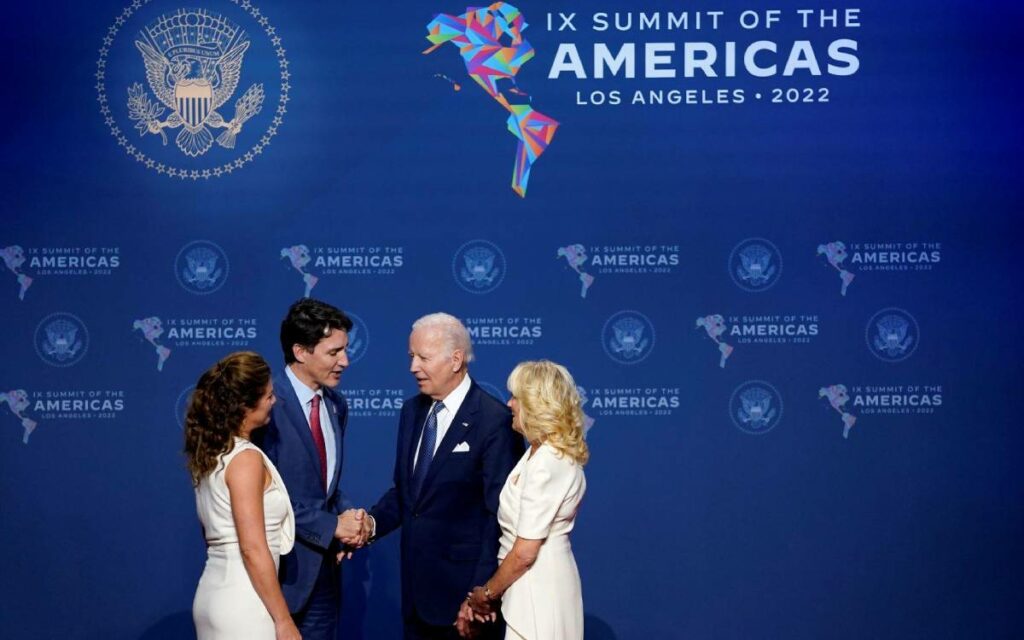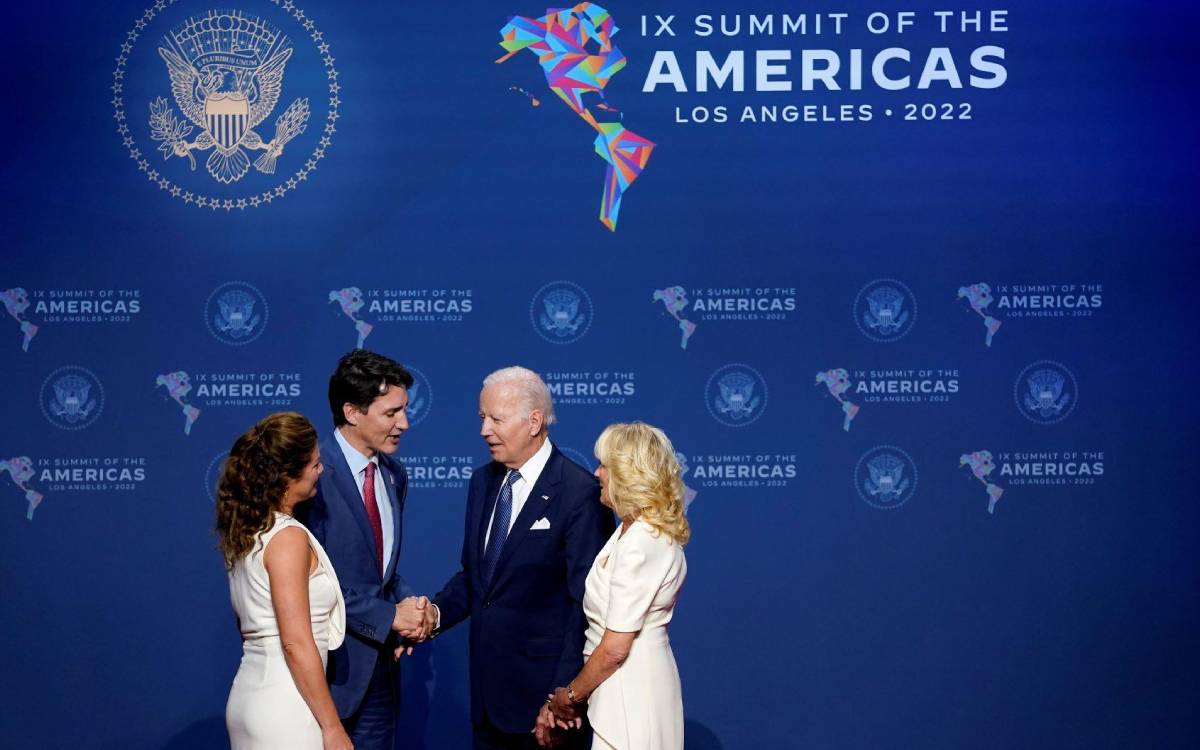 U.S. President Joe Biden and first lady Jill Biden greet Prime Minister Justin Trudeau and wife Sophie Grégoire Trudeau during the Summit of the Americas in Los Angeles, June 8, 2022. Photo credit: AP/Evan Vucci
It's been a busy week on the foreign affairs scene, and one that feels oddly reminiscent of the pre-COVID days. Justin Trudeau kicked off the week by hosting the President of Chile in Ottawa for a day of meetings, followed by a photo-op at a downtown craft brewery. He then took flight en route to NORAD headquarters, before flying to his final destination in Los Angeles to participate in the Summit of Americas.
What is the Summit of Americas, you ask? Well, it's the gathering of the leaders of the Western Hemisphere, and the theme of the ninth Summit hosted by President Joe Biden is "Building a Sustainable, Resilient, and Equitable Future."
Before the four-day event officially kicked off on Monday, the Summit was already wrapped in controversy. Venezuela, Cuba and Nicaragua were rightly left off of the guest list of participating countries. When asked why the United States declined to send these countries an invitation, the White House press secretary said, "we just don't believe dictators should be invited. We don't regret that and the President will stand by his principle." Well said.
Nations like Venezuela, Cuba and Nicaragua are notorious for their sham elections that install left-leaning governments that don't represent the democratic values Western nations uphold. Corruption and human rights violations are among the laundry list of issues plaguing these countries. Perhaps more troubling are the close links these nations have with the Chinese Communist Party.
Both a Chinese and Russian envoy were in attendance for the swearing in of Nicaragua's president in January. Venezuela has borrowed tens of billions of dollars from China over the years. And China remains one of Cuba's largest trading partners. The ties that bind these countries together revolve around heavy economic, military and diplomatic influence. 
One doesn't have to be a foreign policy expert to understand why President Biden chose to conveniently leave these countries off the guest list. In a world increasingly defined by geopolitical conflict, it makes complete sense that world leaders are starting to be picky about the company they keep. 
One can argue that it should have happened sooner. But if the senseless war Russia launched against Ukraine earlier this year has taught us anything, it is that we must relentlessly uphold our democratic principles, and fight against the tyranny that is increasingly emerging as a threat to the rule of law. It is what separates us from the senseless dictatorships that are committing war crimes resulting in the deaths of innocent civilians. 
And a few bad headlines are certainly worth the cost of doing what is right.  
Here in Canada, however, our response continues to be more of the same. When Trudeau was asked about the exclusion this week, he refused to say whether or not he supported the decision. Instead, the Prime Minister said that while some of the hemisphere's countries are "less like-minded" than others, they all share a number of serious challenges, including migration pressures, climate change and recovering fully from the COVID-19 pandemic.
Canada sure is back. For Trudeau, building a sustainable, resilient, and equitable future is a come one, come all affair. Instead of standing up for what is right on the world stage, the Prime Minister continues to prove that he is just not ready.
Josie Sabatino is a Senior Consultant at Summa Strategies, focused on providing strategic insight and helping clients meet their objectives in an ever changing and complex political and regulatory environment. Prior to joining Summa, Josie spent nearly a decade in political communications and most recently served as the Director of Communications to the Hon. Erin O'Toole, former Leader of the Official Opposition.