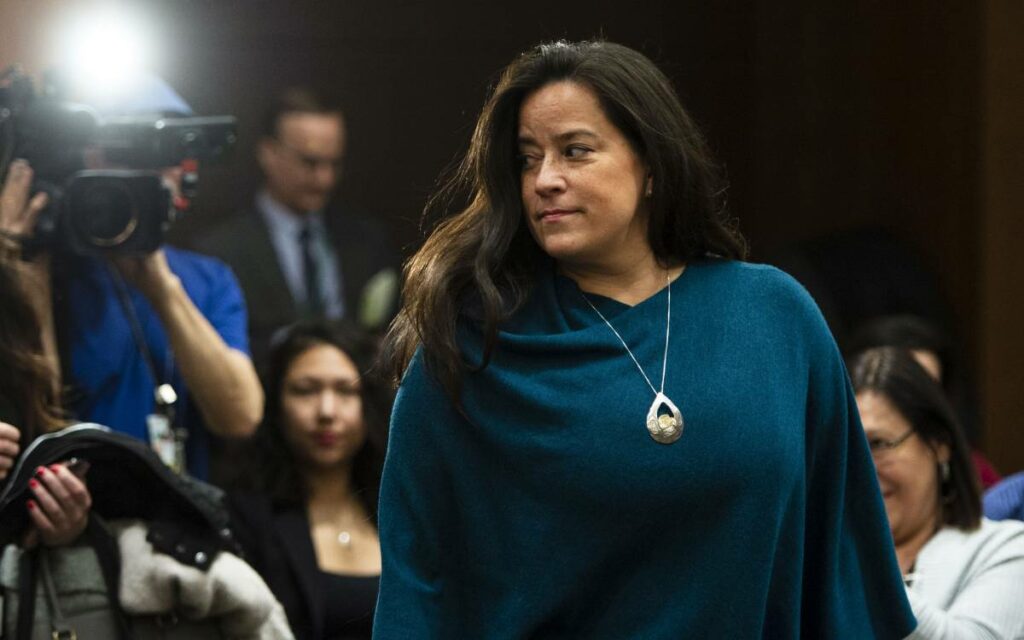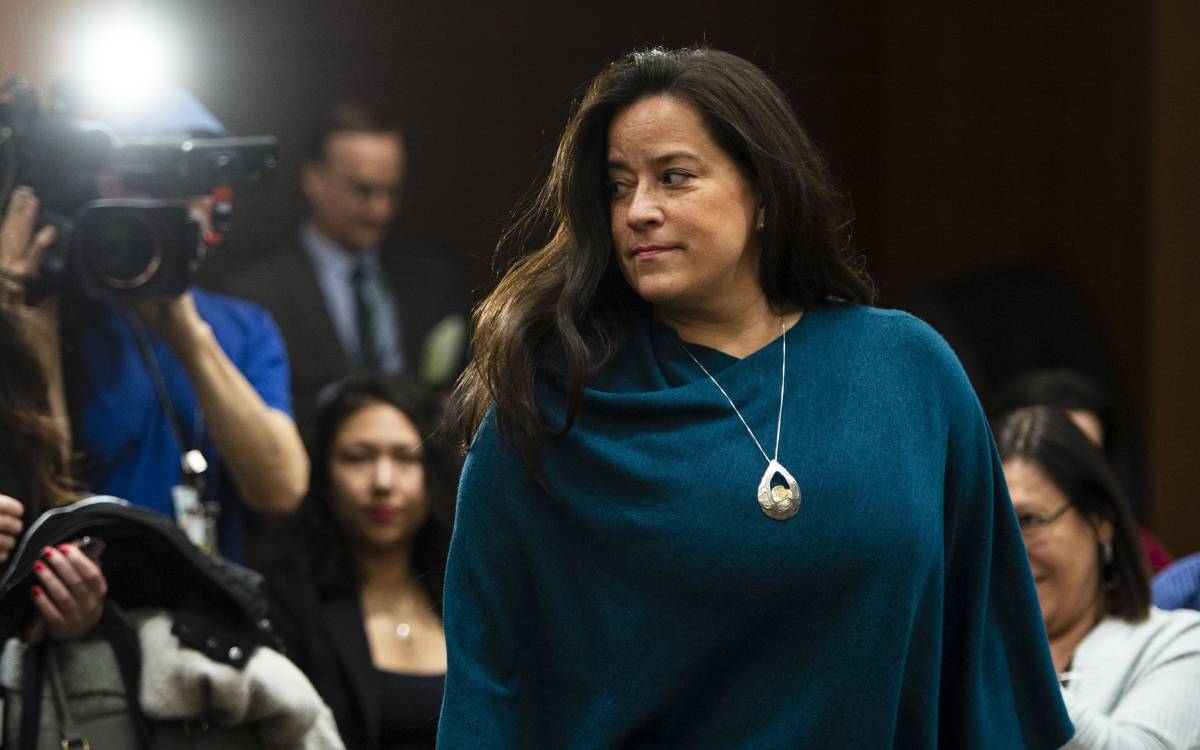 Former Minister of Justice and Attorney General of Canada Jody Wilson-Raybould appears before the Justice Committee on Parliament Hill, February 27, 2019. Last week, the maltreated MP from Vancouver Granville announced she would not be seeking re-election in the next federal campaign due, in part, to Parliament becoming "more and more toxic and ineffective" under the Trudeau government. Photo credit: The Canadian Press/Sean Kilpatrick
Justin Trudeau's flagrant disrespect for Parliament and Canada's parliamentary traditions is purposefully creating a constitutional fog in the country. His government's repeated abuses of power are undermining the authority of our parliamentary institutions, eroding the very foundation of the country's democratic principles and practices. As MP Jody Wilson-Raybould assessed when she announced that she would not run again for Parliament, much has changed for the worst in the six years Justin Trudeau has been in office. 
The government's recent unprecedented move to take the Speaker of the House of Commons to court to challenge the supremacy of Parliament's legislative authority is an indication of the extent to which PM Trudeau desires unfettered authority. In the history of our country, never has there been a government that has blatantly defied Parliament – and attempted to overturn it. Yet, in the case of the Trudeau government's desire to conceal the coronavirus activities in the National Microbiology Laboratory in Winnipeg, parliamentarian principles and MPs democratic rights are being trampled. 
Last month the House of Commons ordered the Trudeau government to hand over unredacted documents from the Winnipeg lab that related to the research and firing of two scientists with Communist China ties. When the government declined to forward the requested files to MPs, it was held in contempt of Parliament. Then Public Health Agency of Canada president, Iain Stewart, defied MPs and he too was found in contempt. The government followed this by launching a lawsuit against the Speaker to have a court of law block any parliamentarian order to produce the documents.
Aside from leaving many unanswered questions about the joint Canada-China coronavirus research, the government's extraordinary step to sue the head officer of the House of Commons raises multiple issues about elected representatives' rights to hold to account a prime minister and his cabinet.
Steve Chaplin, former senior parliamentary counsel for the House of Commons, explained in a CBC interview the very crux of the matter, "Parliamentary privilege is constitutional and the privileges and the whole Westminster system of government, where the government is accountable to Parliament for everything that it does, is part of that system…It's not the court's business to step into it, and for the government to ask the courts to do it violates the Bill of Rights of 1689."
As it stands today, the Trudeau government will continue to defy and delay and when the prime minister calls the election all demands for documents will be considered dissolved, requiring MPs to reintroduce the motions in the next Parliament. And should this all unfold as suggested, Trudeau's subversive tactics will have thwarted Canadian democratic rights.
One of the primary functions of Parliament – its fiduciary duties to oversee government spending – has been disrupted in the last six years. The rights of parliamentarians to oversee government spending dates back to 1215 and the signing of the Magna Carta. However, the Trudeau government has found ways around the budgetary process to take at will from the public purse.
In June 2018, ignoring due process, a majority Trudeau government voted itself $7 billion to spend as it saw fit, without any necessary report to parliament until sometime after the 2019 federal election. Through the pandemic, the Trudeau cabinet was given free rein to spend what was needed to respond to the health crisis (resulting in the largest per-capita spending spree in the world). This government also went two years between federal budgets, without reporting its expenditures or it fiscal plans to parliamentarians.
Following its 2021 federal budget, the government found ways to sidestep expenditure reviews. Remarkably, more than $41.4 billion in spending occurred without MPs' review – and this included an additional $17.1 billion of supplementary spending estimates.
Parliamentary Budget Officer Yves Giroux was very concerned about the lack of review, "The power of the purse resides with the House of Commons…It's a lot of money. Those are big-spending departments. And the fact that they (MPs) are not even showing up on a principal duty, it's got to be symbolic of something that the system is completely broken."
This disfunction has allowed the Liberals to operate without repercussions. The recent Ottawa mischief that Liberal MPs are attempting to sweep under the rug has Justin Trudeau's childhood friend Tom Pitfield being siphoned millions of taxpayers' dollars to assist Liberal MPs with their voter databases. Pitfield is a senior Liberal campaign strategist who is being paid by the Liberal Party of Canada – but he is also providing database management services for MPs' constituency work.
Much like the We Charity scandal, the Liberals have employed procedural tactics to avoid closer scrutiny of their misdeeds in pilfering the public purse for their own benefit. So, the failure of MPs to conduct traditional parliamentary reviews of government expenditures has essentially amounted to giving Justin Trudeau and his ministers a blank cheque.
Another cherished cornerstone in our country's democracy is being dislodged by Justin Trudeau and his careless regard for the sanctity of the Canadian Charter of Rights. In May, Quebec premier Francois Legault introduced legislation that will bring sweeping measures to reinforce the French language within the province. He also pronounced his intention to rewrite certain sections of the Canadian Constitution that would assert La Belle Province as a sovereign "nation." The premier will guarantee his measures with the use of the notwithstanding clause.
This direct affront to Canada's Charter of Rights and established principles of bilingualism was met with approval by the PM. Trudeau stated it is "perfectly legitimate" for Quebec to unilaterally rewrite the section of the Canadian Constitution pertaining to its province.
The PM's cavalier approach has been criticized from all sides – including by former PM Jean Chretien's chief of staff Eddie Goldstein, who fears Trudeau is prying open a pandora's box. Goldstein penned a scathing Globe and Mail editorial of PM Trudeau's constitutional gambit, opening with, "Institutional memory is a fundamental prerequisite to good government." (This sentence exposes the core issue with our PM: Trudeau has no regard for the country's institutions and, therefore, is proving a wholly inadequate steward of the Canadian state.)
The PM's disrespect displayed for Parliament, MPs' rights, the Charter, and our constitution are all too regular. Justin Trudeau repeatedly debases Canada's democratic institutions suggesting we are a country built on "a system of colonialism, discrimination, of systemic racism in all our institutions." His actions and narrative have emboldened those who wish to question the legitimacy of Canada's seat of government, and of the country itself.
As a final word, consider a widely respected MP's recent observation on the current condition of Canada's Parliament. Last week former Justice Minister Jody Wilson-Raybould announced she will not seek re-election and she was specific on her reasons for departing the Ottawa scene: "From my seat in the last six years, I have noticed a change in Parliament, a regression…It has become more and more toxic and ineffective while simultaneously marginalizing individuals from certain backgrounds. Federal politics is, in my view, increasingly a disgraceful triumph of harmful partisanship over substantive action."
"Dismembering Canada" – Justin Trudeau and the making of his post-national state – is part of a five part series looking at Canada's current finances, justice system, democratic institutions, resource economy and traditional alliances.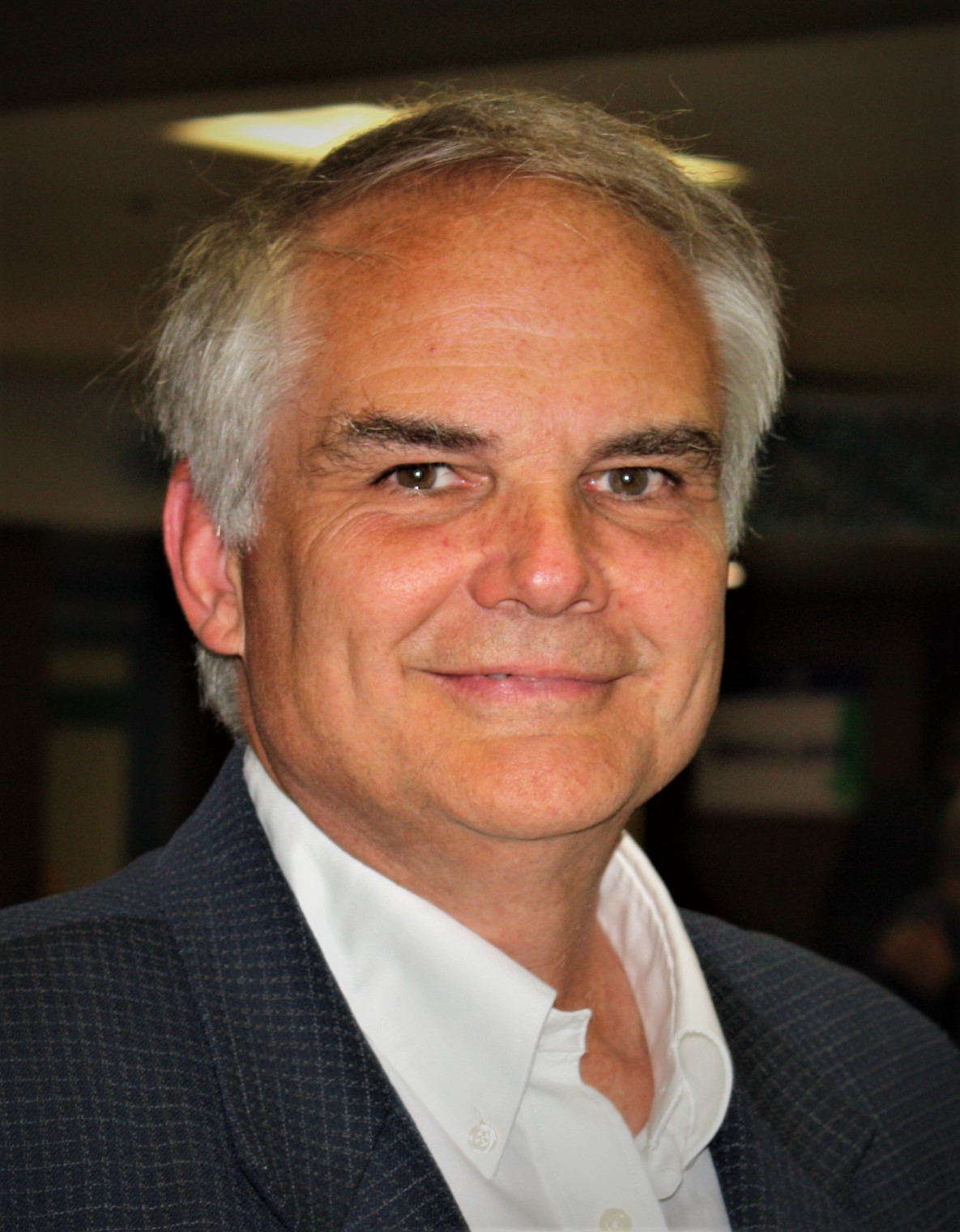 Chris George is an advocate, government relations advisor, and writer/copy editor. As president of a public relations firm established in 1994, Chris provides discreet counsel, tactical advice and management skills to CEOs/Presidents, Boards of Directors and senior executive teams in executing public and government relations campaigns and managing issues. Prior to this PR/GR career, Chris spent seven years on Parliament Hill on staffs of Cabinet Ministers and MPs. He has served in senior campaign positions for electoral and advocacy campaigns at every level of government. Today, Chris resides in Almonte, Ontario where he and his wife manage www.cgacommunications.com. Contact Chris at chrisg.george@gmail.com.