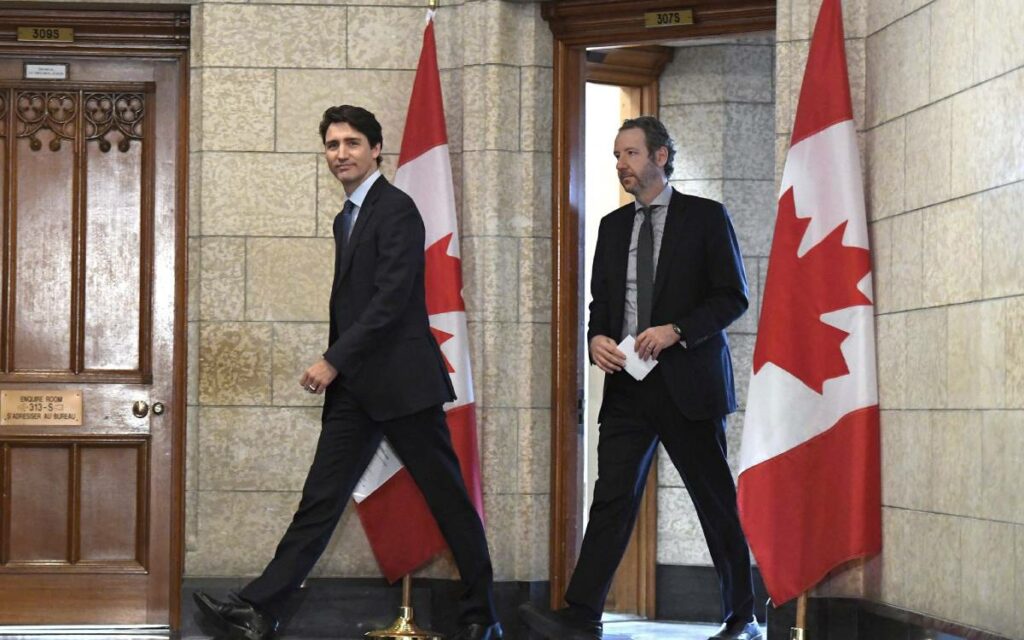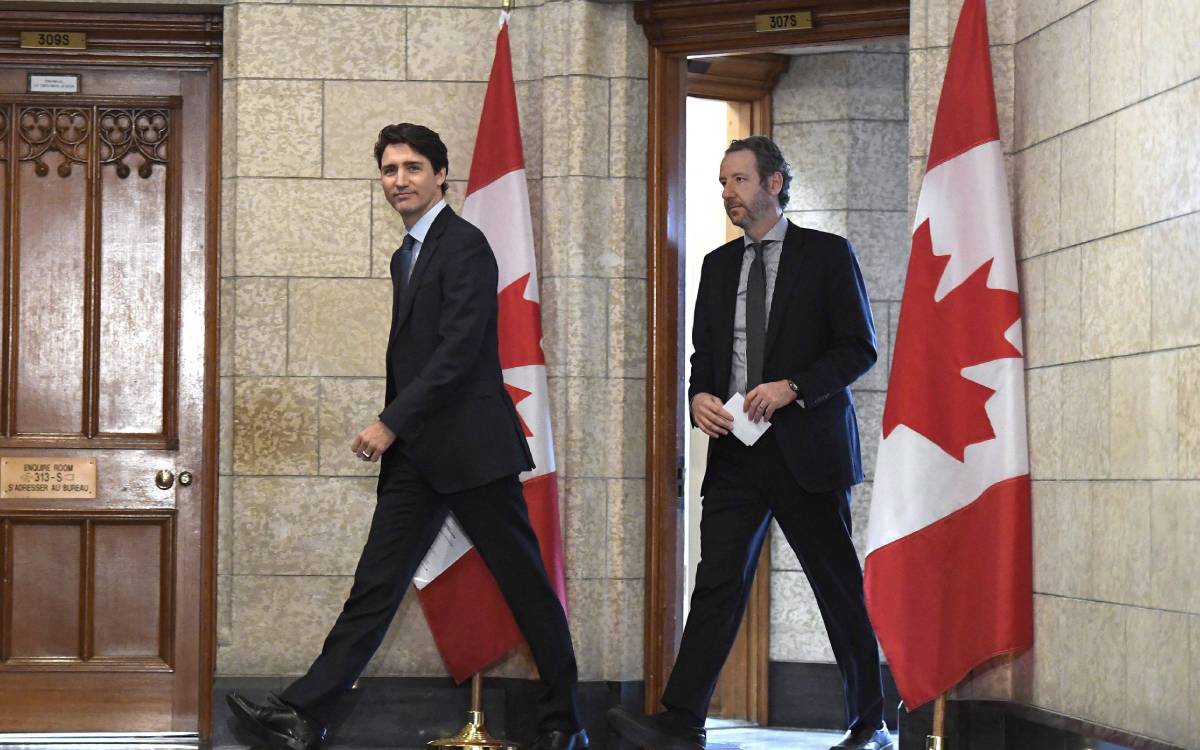 Prime Minister Justin Trudeau and best friend, confidant, and top advisor Gerald Butts attend an emergency cabinet meeting in April 2018. Photo credit: The Canadian Press/Justin Tang


The Trudeau government's scandalous record with respect to our country's courts and rule of law has greatly undermined both the independence and impartiality of the Canadian judiciary. 
The prime minister and his political operatives – including ministers of the Crown – have governed as if they are above the law. From manhandling the attorney general of Canada to politicizing the selection of judges, Justin Trudeau's purposeful manipulation of the country's rule of law has diminished Canada's respected courts and legal traditions. His government's flagrant miscarriages of justice are, in fact, eroding one of the fundamental underpinnings of our nation. 
The Trudeau government's most egregious affront to justice was its pressure applied on Jody Wilson Raybould when she served as Canada's most-senior judicial officer. As the country's attorney general and minister of justice, Wilson-Raybould was callously harassed and ultimately shuffled from her position when she refused the PMO directives to politically interfere in criminal proceedings against a Liberal-friendly multinational engineering firm.   
As substantiated in a federal ethics commission report on the affair, the PMO wanted Canada's attorney general to direct prosecutors to make a "deferred prosecution agreement" so that SNC-Lavalin could avoid trial on $130 million bribery and fraud charges in relation to contracts in Libya. In short, Minister Wilson-Raybould was told to deal a "get out of jail free" card. 
When Wilson-Raybould would not follow the PMO instructions, she was shuffled and then slurred by PMO staffers. When she complained about being pushed out, Trudeau dropped her from cabinet and then had Liberal MPs exile her from their caucus. The parliamentary fireworks prompted a MP inquiry, an ethics commission inquiry, and the resignations of both PM Trudeau's BFF and loyal lieutenant Gerald Butts, and Privy Council clerk Michael Wernick. 
SNC-Lavalin ultimately had its day in court – and was found guilty as charged of bribery, fraud, and laundering the proceeds of crime. Even though this conviction was to have resulted in a 10-year ban from federal contracts, the Trudeau government gave SNC-Lavalin a special plea-bargain and continued to contract its favoured Quebec firm. In the 18 months following its conviction, SNC-Lavalin was awarded 142 government contracts with a combined worth of about $25 million. Then last year it was awarded a sole-sourced $150 million pandemic contract to design and deliver mobile health units. 
While the assault on Canada's Attorney General Office was being publicly revealed, behind closed doors another explosive judicial scandal was detonating – Canadians were about to learn more about the wrongful and politically vindicative prosecution of Vice-Admiral Mark Norman. 
As second-in-command of the Canadian Forces, in fall 2015 Mark Norman was charged by the Trudeau government with breach of trust for leaking cabinet defence secrets on shipbuilding contracts. Norman's defense claimed political interference by the PM and his inner circle and the Department of National Defence. 
For years Vice-Admiral Mark Norman was stuck in a legal quagmire that sullied his reputation, dishonouring his career and character. It was the same cast of PMO operatives involved in the SNC-Lavalin scandal – Butts and Wernick – who were managing the legal fight against Norman. 
As it was, at every turn, the federal Department of Justice played games that stonewalled Norman's defence lawyers. Then, at the eleventh hour, as the courtroom showdown was about to commence, the Crown prosecutors folded their case and the charges against the vice-admiral were stayed. Norman was given an undisclosed sum of money to keep his mouth shut. 
When news of the non-disclosure settlement deal broke, Liberal backroom strategist Warren Kinsella stated: "As in the LavScam case (SNC-Lavalin), criminal prosecutions must always be independent of politics. If the likes of Trudeau can use the criminal justice system to reward friends (like SNC-Lavalin) and punish enemies (like Norman), we will have fully become a totalitarian regime. We are no longer a true democracy."
Jocelyn Bamford, founder of the Coalition of Concerned Manufacturers and Businesses of Canada, framed the issue this way, "After Norman, we need to ask what's happening to our country. Is it just me, or does the whole thing suggest to others that we are becoming something of a banana republic?"
It's a good question. Both the SNC-Lavalin and Norman scandals raise serious concerns about a person's expectation for fair treatment in our Canadian legal system. Most disturbing is the fact that to this day our federal government (from the PM and PMO staff through to ministers, MPs, Crown prosecutors and senior government mandarins) has refused to explain, justify or otherwise account for what has happened. It is Kafkaesque.
On another disturbing judicial matter, this week news broke that justice minister David Lametti had appointed four more Liberal Party donors to positions of federal judges. This news is, in fact, an on-going saga for the Trudeau government. 
In early 2020, the Globe and Mail uncovered a partisan federal Liberal network that vetted and selected judicial appointments, with weighted consideration given to their Liberal Party pedigree. Ministers, PMO staff, MPs (including St. Catharines MP Chris Bittle) and party operatives were all caught up in this clandestine operation that was established shortly after Justin Trudeau took office. 
By appointing capital "L" Liberal-minded judges, this Trudeau government intends to impose in the courts its progressive mindset for years into the future. It is remarkable that since November 2015, more than 475 judges have been appointed with the Trudeau government's judicial application process – and very few have had any type of public scrutiny. 
In a recent Hill Times opinion piece, Supreme Court Chief Justice Richard Wagner reminded Canadians that it is important to maintain a clear separation of the PM and Cabinet, its legislators, and the country's judiciary. "The equilibrium of all three branches of government is what gives us our vibrant democracy, strong rule of law, and robust protections for people's rights and freedoms. Judicial independence is critical to the balance," wrote Chief Justice Wagner.
Clearly, continuing to politicize the selection of judges is sure to test Canadians' trust in an independent and impartial judiciary. And as witnessed in the Jody Wilson-Raybould-SNC-Lavalin scandal and the mock-prosecution of Mark Norman, this government's blatant disregard for the country's justice system has the potential to shatter Canadians' confidence in it. 
Given Justin Trudeau's abstraction of our country's judiciary, Canadians may wish to reflect on English statesman Sir Francis Bacon's insight: "If we do not maintain justice, justice will not maintain us."
"Dismembering Canada" – Justin Trudeau and the making of his post-national state – is part of a five part series looking at Canada's current finances, justice system, democratic institutions, resource economy and traditional alliances.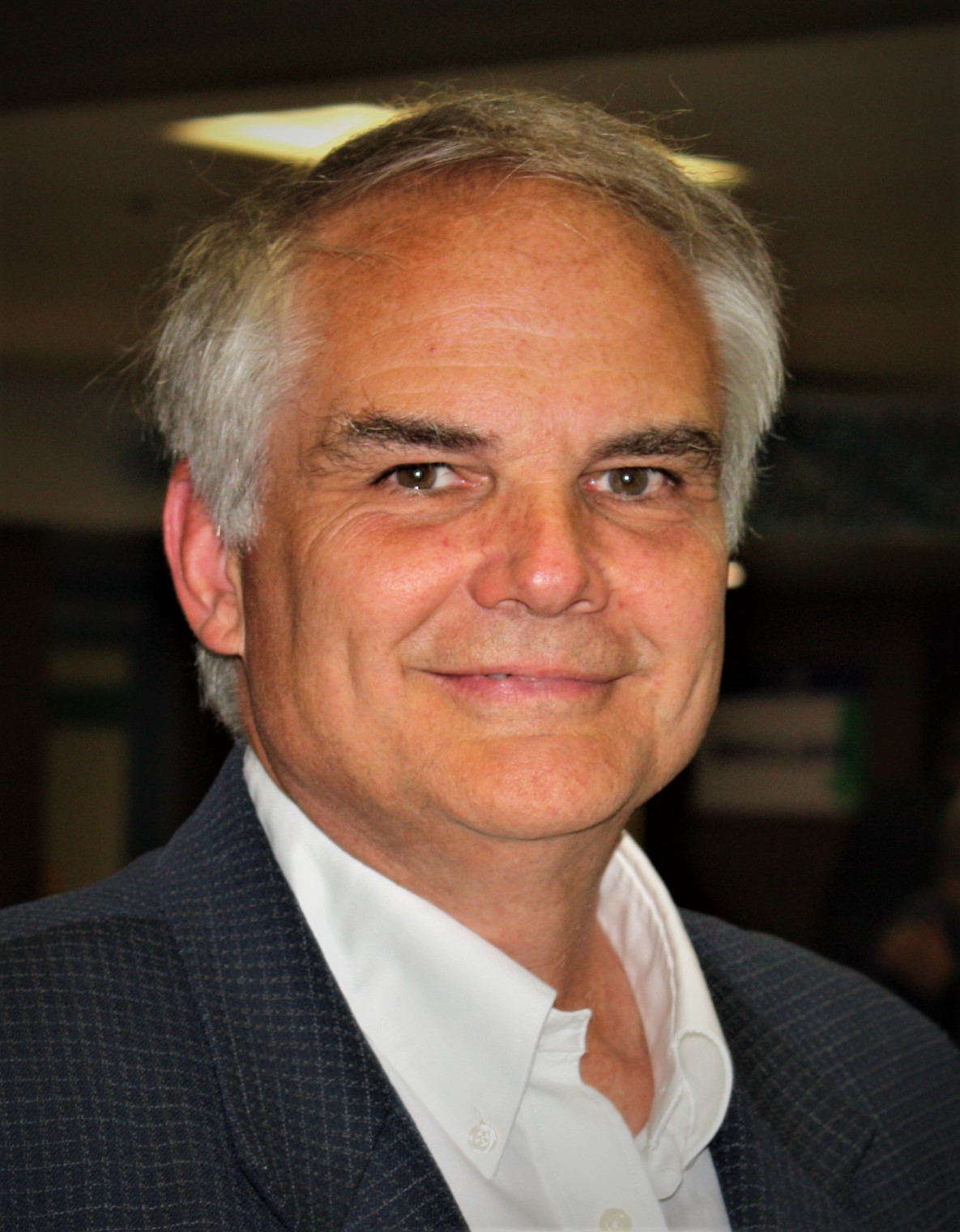 Chris George is an advocate, government relations advisor, and writer/copy editor. As president of a public relations firm established in 1994, Chris provides discreet counsel, tactical advice and management skills to CEOs/Presidents, Boards of Directors and senior executive teams in executing public and government relations campaigns and managing issues. Prior to this PR/GR career, Chris spent seven years on Parliament Hill on staffs of Cabinet Ministers and MPs. He has served in senior campaign positions for electoral and advocacy campaigns at every level of government. Today, Chris resides in Almonte, Ontario where he and his wife manage www.cgacommunications.com. Contact Chris at chrisg.george@gmail.com.