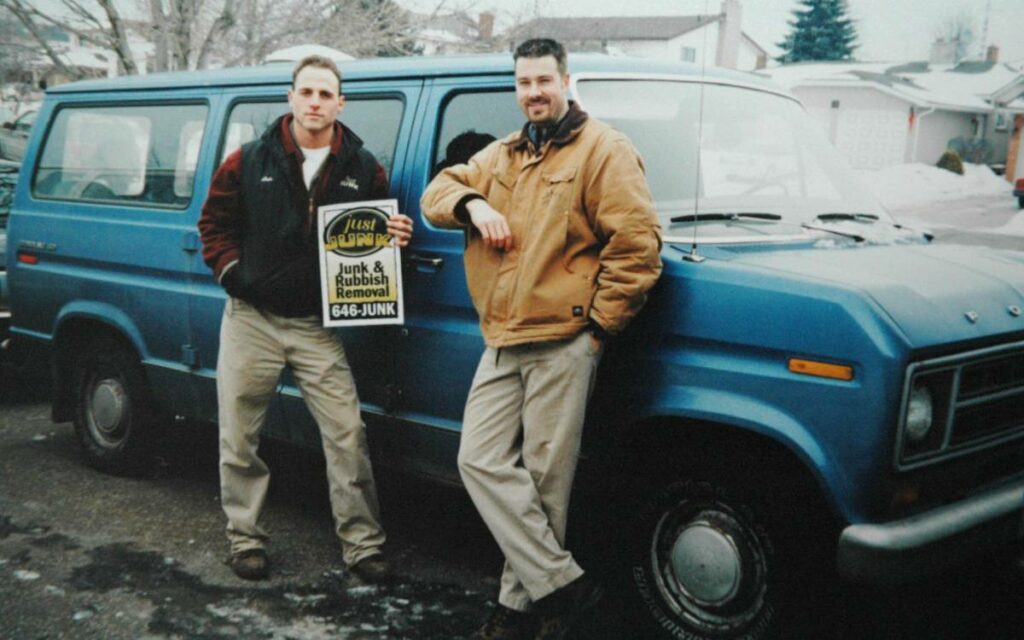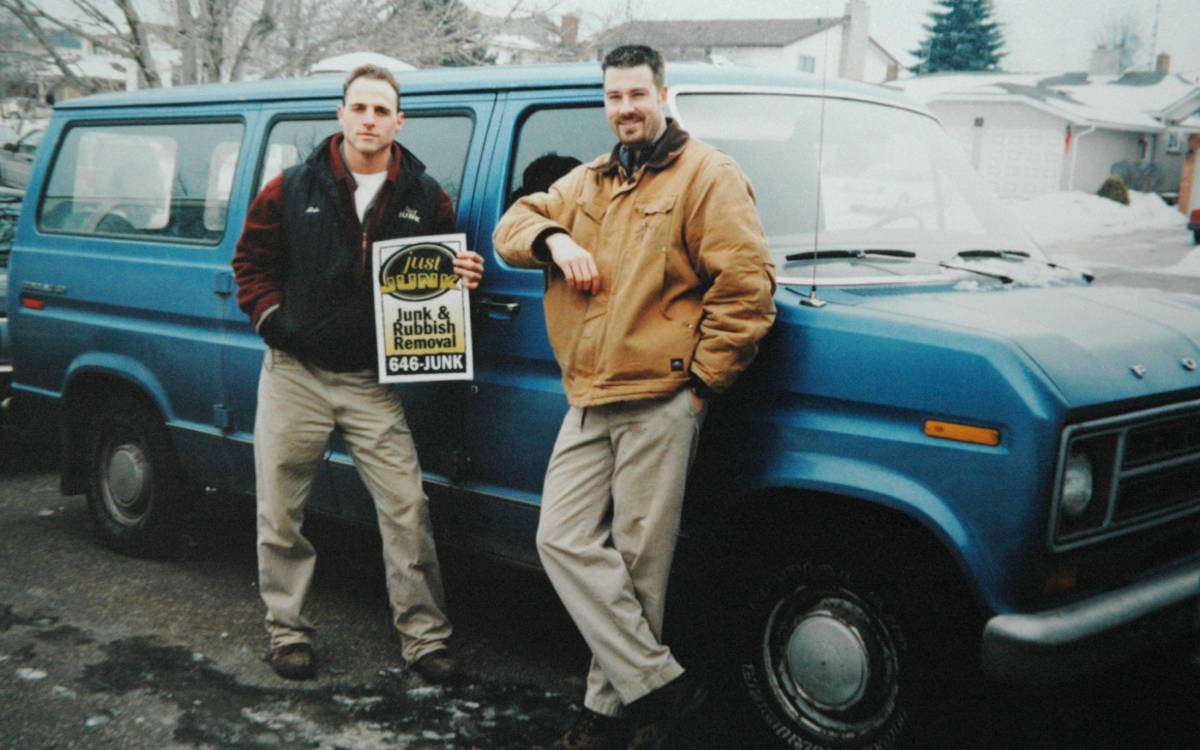 Mike Thorne (left) stands in front of the used Ford Econoline that he purchased for $500 nearly two decades ago. The van served as JUSTJUNK's first disposal vehicle. Photo credit: Mike Thorne
Mike Thorne ruminated on the expression "one man's junk is another man's treasure" and figured that there might also be treasure in simply moving the junk.
Starting out with no assets and a borrowed cargo van in 2004, Thorne has grown his business, JUSTJUNK, to 54 franchise territories from Halifax to Vancouver, and now oversees a multi-million-dollar junk juggernaut from corporate offices on Hanover Drive in St. Catharines.
He grew up in the Garden City and attended high school at Sir Winston Churchill, before continuing his education at Queen's University in Kingston, earning a degree in economics.
"I was 23 years old, working for Bell Canada in downtown Toronto," he recalled. "My boss asked me to figure out how to get rid of a lot of old furniture and cubicles that had been stored in the building since the 1970s. I tried to find companies that would remove the items, but could only connect with large waste management operations, and they wouldn't physically come in and dispose of the stuff."
That was his Eureka moment.
Thorne views time as a precious commodity, and recognized that baby boomers were suffering junk overload, with garages and basements overflowing with a lifetime's worth of stuff they needed to downsize.
"It hit me that millions of manufacturers are churning out products every single day for homes and businesses, and at some point, the old and outdated stuff will need to be moved, disposed of, recycled, donated. I recognized this was a huge opportunity." He ended up leaving his job and moving back to St. Catharines to write a business plan and see if the concept of moving junk could be profitable.
He placed a small ad in the St. Catharines Standard, offering to declutter homes for a fee. The message was simple: you call, we haul. Within 24 hours, he had almost a dozen phone calls.
He worked on building a pricing model and the necessary infrastructure. His first hurdle was that he didn't own a vehicle, so he borrowed a van from one of his parents' friends. "I would drive around and pack stuff into the van, and take it to Walker Industries' landfill site, or to the local Goodwill store if it was re-useable."
What did his friends think of his new career path?
"My parents were supportive, but I took some major ribbing from my peers. I left a good, secure job at Bell, after all. But I just felt I worked way too hard to dedicate the rest of my life toiling away for another company, as opposed to dedicating my time and energy to building my own business. And that's what definitely inspired me to want to start from scratch."
Nobody at the time had really tried to create a national brand or professionalize the industry, said Thorne, who admitted it was difficult convincing a lot of people who didn't fully understand the service model he was creating.
As for start-up capital, he didn't plead for a line of credit at a bank (he had no collateral, no assets), or hit up his parents. His first purchase was a used Ford Econoline van for $500.
"Honestly, I was too embarrassed to be seen driving around in it, so I didn't even put the business name on the side of the van…it wasn't the image that I wanted to portray," he recalled. The old Econoline was soon at full capacity, so Thorne bought another used Ford van, pretty much identical to the first.
The first four years in St. Catharines involved hauling junk during the day, and revising the business model at night, trying to discover a successful formula that could be replicated outside of Niagara. "I wrote marketing materials and operations manuals, always with an eye to corporate expansion," said Thorne.
He settled on a franchise model, because it was easily scalable, with significant profit potential, and didn't require a major outlay of cash on his part. Franchisees pay an upfront fee for the rights to a particular territory, and in return receive various support services from the franchisor to make them successful.
The first franchise went to Don Freeman of Burlington, Ontario in 2007. "I was actually nervous about franchising at the time, because I just didn't feel we were ready," said Thorne. "But Don, who had a family business background, gave me some words of wisdom. He said 'Mike, even if you worked on this for another year, you're never going to feel completely ready. I'm willing to be flexible and work with you.' So, we moved ahead."
It was critical to Thorne that the first couple expansions were successful, because future franchise owners were going to talk to the initial franchisees to assess the business's credibility.
As a private company, Thorne doesn't have to publicly disclose financial data, but he asserts that "we're perhaps one of the only franchising organizations in Canada where 100 per cent of our franchisees have been successful. We've never had a failed franchisee."
The website 'The Franchise Mall' estimates that the investment required to open a JUSTJUNK franchise is $80,000, plus an initial franchise license fee of $16,000.
From the head office in St. Catharines, Thorne handles advertising strategies and all phone calls on behalf of franchise owners across the country. "Every job that's booked online through our customer service centre is accessed by the franchise owners through our in-house software, that includes metrics and reports," he said. "Franchise owners are primarily responsible for finding great employees, then coaching and training those employees to be able to go out and service the customers and meet all the different key performance indicators that we have set."
The Niagara region is a corporately-owned location. Before introducing a new concept to the franchisees, Thorne tests it in the local market. St. Catharines operations manager Wade Preston, who has been with the company for six years, said that he moves somewhere between 800 and 1,200 tons of material a year, from Grimsby to Fort Erie. Charges are based on volume by cubic yard, not by weight, or staff time. The minimum billing is $99 for one cubic yard and goes up incrementally from there. A typical company vehicle holds 15 cubic yards, at $589 per load.
Approximately 60 per cent of the haul is directed to charities. Most used furniture is dropped off at the Niagara Furniture Bank in downtown St. Catharines, while clothing and houseware products go to the Salvation Army. Metal and electronics are recycled.
JUSTJUNK has hauled some strange stuff over the years, including unexploded World War Two shells, an 800-pound bank vault door, 2,000 pounds of Jack Daniels whisky bottles, farm equipment, a magician's trunk, and rare books. There was even a skeleton from a medical office that had been used for training interns in the 1990s. JUSTJUNK donated the skeleton to the kinesiology department at McMaster University in Hamilton.
The company has won numerous accolades, winning several awards of excellence from the Canadian Franchise Association. Thorne has been the recipient of the Chamber of Commerce New Business of the Year Award, along with a Top 40 Under 40 honour.
Thorne's advice for budding entrepreneurs?
"Always put emphasis on the variables that can fast-forward the growth of your company," he said. "Focus on the things that truly matter. We've broken our business down into hundreds of different metrics and know that if we can make commitments to certain metrics, and increase the conversion percentage, it will have the greatest overall business impact."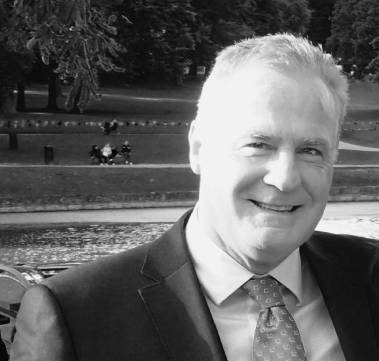 Don Rickers' career in education spanned over three decades, and included stints as a teacher, student recruiter, coach, boarding school housemaster, enrollment management director, and headmaster. He has travelled extensively and visited hundreds of schools around the globe, and served for almost ten years on the governing committee of the Association of Boarding Schools based in Washington, DC. Now a member of the Canadian Association of Journalists, his freelance articles have been featured in newspapers, blogs, and educational journals. A former national team lacrosse player, he holds a masters degree from Brock University, and is a member of the board of directors of the South Niagara Rowing Club. He resides in Fonthill.