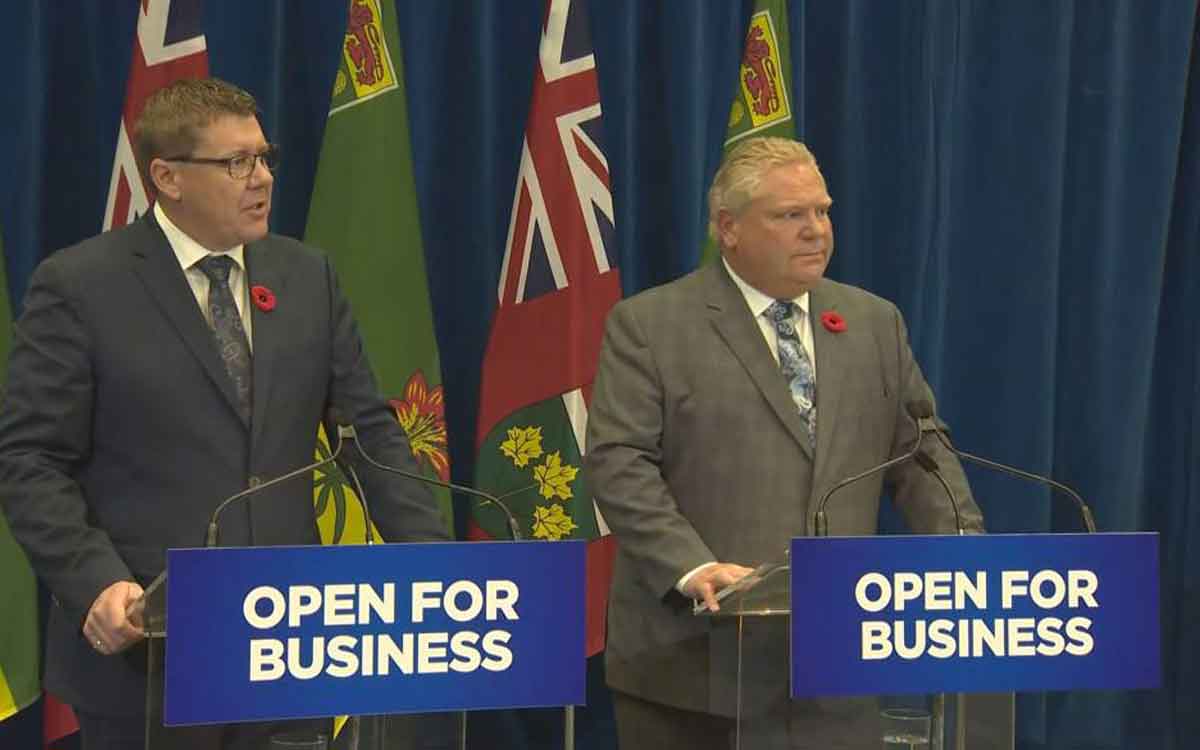 From left: Saskatchewan Premier Scott Moe and Ontario Premier Doug Ford unveiled different plans for reopening the economy given their respective provinces have experienced very different situations. Photo: Screenshot
There is a meme circulating that shows a two-lane highway through a flat wheat field with the caption, "Saskatchewan, social distancing since 1905."
The date refers to when the province, more associated with wheat than people, joined confederation. And anyone who has driven through Saskatchewan recently can tell you there hasn't been a population boom.
Regardless, Premier Scott Moe's province has faired better than most during the COVID-19 response. In fact the numbers in Saskatchewan – as of yesterday morning – were 383 COVID cases and six deaths. This is in a population roughly the size of Ottawa on a landmass the size of Ottawa to Windsor – actually a little larger.
So with that in mind it makes total sense that Steven Del Duca, the newly anointed Ontario Liberal leader, would compare Ontario's reopening plan to that of Saskatchewan. It makes total sense because Mr. Del Duca has only one mode and that is to criticise – so let's give it to him back a little.
If he had a real plan for reopening the economy, he should start explaining it by telling us why his government let 55 million N-95 masks go rotten under their watch. The same masks recommended following the SARS outbreak in 2003 to protect the province in case of another pandemic.
I'm not making this up, On March 9, 2020, Global News reported:
"Ontario, which includes Canada's largest city Toronto, said in 2007 it would buy 55 million N95 masks and other medical supplies to prepare for future epidemics. A report by the province's auditor general, completed in December 2017, found that more than 80 percent of that stockpile had expired."
Sorry I exaggerated, only 80 per cent of the 55 million masks went rotten. This of course has lead Premier Doug Ford to beg and borrow for masks and even pick up and transport them to health care workers himself.
So when Mr. Del Duca starts talking about a plan for future potential outbreaks, pardon me, but I don't want him in charge.
As for re-opening Ontario and why we are not following the lead of Saskatchewan, well, that's pretty apparent too.
You see many people are comparing the oodles of programs various governments are doling out in response to COVID, to building a plane in mid-air. It is an apt description.
An apt description of opening the economy back up may be like doing a 1,000-piece puzzle without the benefit of a picture of the finished product.
Further, there are 11 enigmatologists building puzzles all at the same time. Circling these people who have more than a passing fancy to puzzles are critics asking them why they are doing things different than their neighbour.
As for Premier Ford, his strategy is based on something too many politicians are ignoring – science and the recommendation of health professionals.
Here is the basic gist of the plan. New cases need to go down for two to four weeks before the various segments of the economy open up.
Sadly, as we saw on Thursday, cases may go down however deaths from the virus may still be increasing. This is essentially due to the deaths are related to when there were higher numbers of new cases. Two weeks or so from now the deaths will no doubt be lower to coincide with the lower positive tests.
To correspond with the dropping number of positive tests the government will open up segments of the economy. There are not specific segments – only high level groups – as procedures and health targets need to be in place in order for the parts of the economy to open up.
The rationale behind Mr. Ford rolling out his plan is to prepare Ontario businesses so they are able to open up when the restrictions come off. All businesses should be following this example and be making the necessary arrangements so they are able to re-open.
All, that is, other than sports teams and concert venues. It is clear from the premier's words that such activities may be lost for the summer.
Other businesses, like restaurants and work sites, need to take a hard look at continued social distancing and cleaning procedures. We have already seen this in other countries that have begun to re-open, right down to the separators in Italian restaurants – those in Italy, not Buca on King West in Toronto.
So there it is. The Premier wants the economy to open up and in order to do that he needs scientific and medical evidence to do so.
Even once he has that evidence parts of the economy will open up so long as it is done safely and with the understanding a second wave could occur if people don't take the right precautions.
It won't be like the neighbours to the north that open up rural but not urban, because people will travel. It won't be like the province to the west that are setting dates that are being seen as hard dates, because the natural social distancing has lessoned the impact of the virus. I doubt these are hard dates by the way.
And it will still, until the first step is taken, be vague.
So nothing like the clear directives that were given to the Ontario Liberal Government following the SARS outbreak. The same directives that saw the province spend money buying 55 million N-95 masks only to let them rot.
And still nothing like the 2017 Auditor General report that pointed out 80 per cent of the masks were no good. Yet nothing was done to replenish the province's stocks.
The reopening will be vague until it isn't. The puzzle will come clearer once we get closer to the dates.
Until we do Premier Ford and his team are providing hope by telling people to prepare and providing a level of certainty by relying on experts.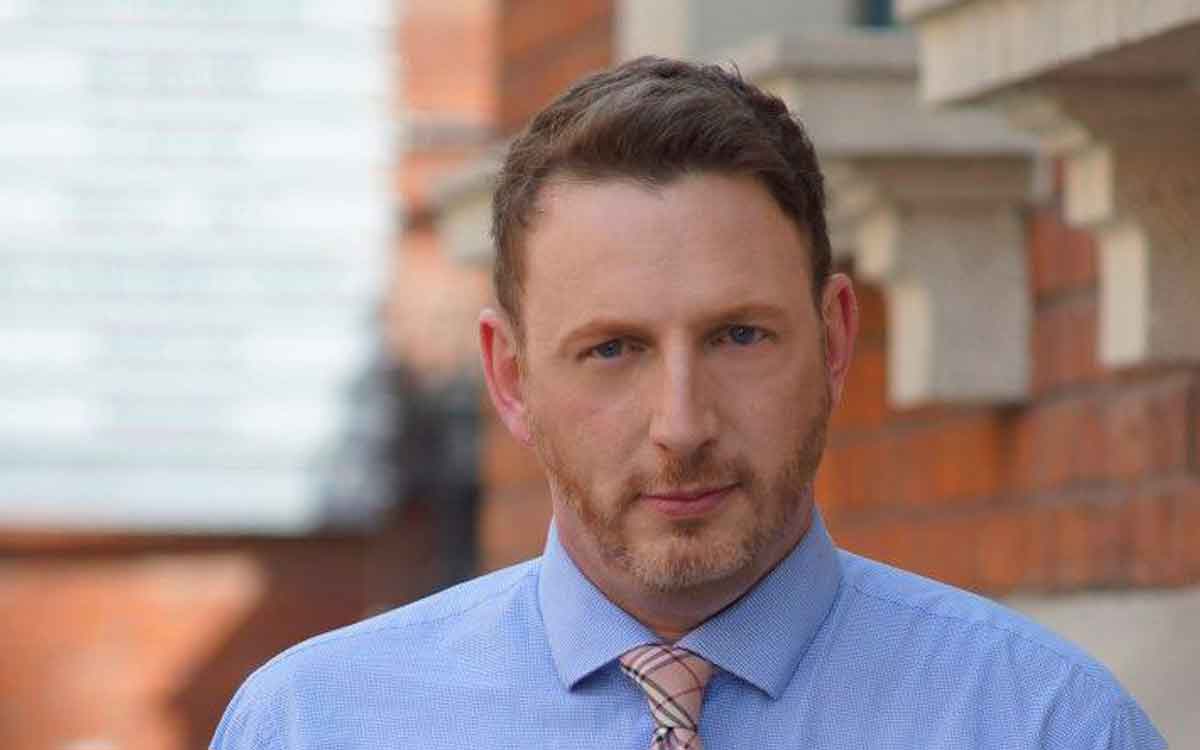 Kelly Harris is Principal of Harris Public Affairs. He is a regular commentator on Global News Radio 640. He has spent the last decade working with Canada's credit unions and served as Director on the Board of the Canadian Credit Union Association. An internationally published journalist, he has held senior positions in the Gordon Campbell government in British Columbia and Tim Hudak's opposition at Queen's Park. An avid traveller, cyclist, member of Bills Mafia and die-hard fan of the Toronto Maple Leafs.