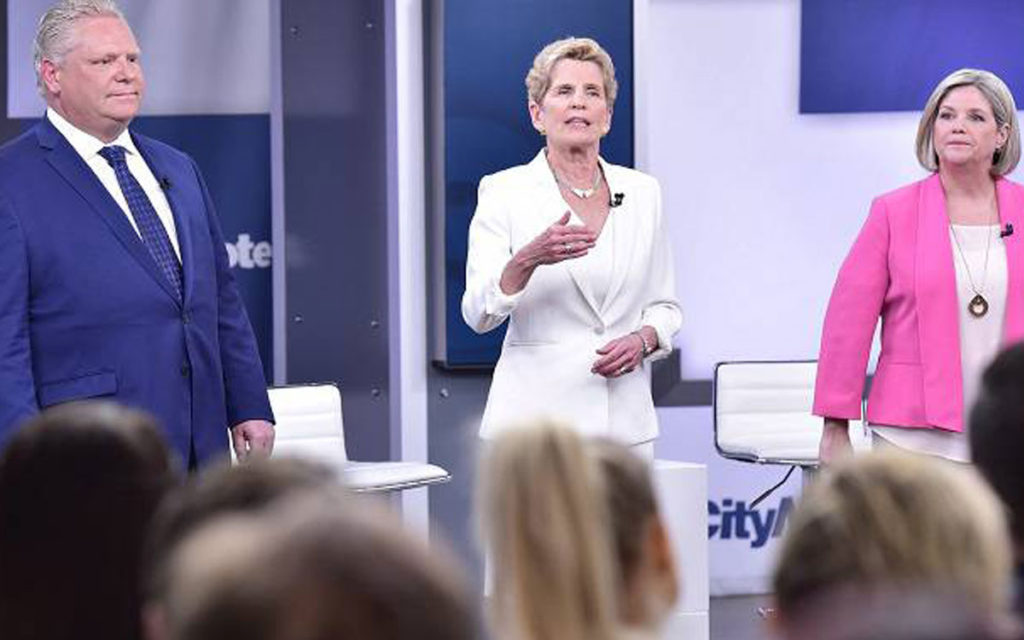 From left: PC leader Doug Ford, Liberal leader Kathleen Wynne and NDP leader Andrea Horwath
Rather than tell you who won or who lost, The Niagara Independent staff watched the first Ontario election leaders' debate and picked out a few interesting and fun sections of the debate and have reprinted them here – in their own words.
The Only Niagara Mention
Ford – "I am announcing today that we're putting in $5 billion dollars into new subways, relief lines, two-way GO all the way to Niagara Falls."
On how to control High Home Prices
Horwath – "Young people can't even imagine buying into the neighbourhood that they were raised in if they were raised in Toronto.  In fact, that's starting to happen across the GTHA.  People are not able to afford to buy, to rent, they can't afford their childcare, they can't afford to get their prescriptions filled, they can't go to the dentist …"
Wynne – "This is a real challenge that particularly young people are facing not just across the GTA but beyond … we put in place our foreign buyers tax and expanded rent control to all buildings …"
Ford – "It's unaffordable the houses, in Toronto over a million dollars.  My daughter went to Milton, the townhouses are between $750,000 and $900,000 – that is absolutely ridiculous.  We have to create more supply.  We have to make sure we cut the regulations and timeframe that it cost the developers – it takes three years before they can even start to build so guess who's paying for that extra cost?"
On Hydro
Wynne – "We had a problem with brownouts, blackouts – we rebuilt the system that cost a lot of money – we now spread the cost over a longer period of time and gave people a 25% reduction …"
Horwath – "After you gave them a 300% increase Kathleen!"  "We can own more of and pay less for our hydro with change for the better."
Ford – "We're gonna get rid of the six million dollar man and all of his cronies on the board that had a back room deal …"
Best Exchange
With help from Auditors and front-line workers, Ford says because of his experience finding $1 billion in efficiencies at the City of Toronto, he will be able to find 4% at the province.  The others say he can't.
Horwath – "Why don't you have the guts to tell people what your cuts are gonna look like – what's in store?"
Ford – "Andrea, I'm glad that you believe that Ms. Wynne has run this province as efficiently as possible…"
Horwath – Laughing "That's certainly not what I said … (laughing again) … but I don't think we have to go from this to that."
Ford – "Not one single person will lose their job."
Closing Comments
Wynne – "We've got a perspective on my right here (motioning to Ford) that is about cutting, what he's calling efficiencies … We've got some magical thinking on my left here (motioning to Horwath) about how things can just magically happen without actually having the policy that is going to make it work …"
Horwath – "I'm glad folks had a chance to tune in to see just exactly what's in store in the campaign.  While Mr. Ford and Ms. Wynne fought about whose gonna make the worst Premier in Ontario, I think this election is our opportunity to do something completely different."
Ford – "I'm gonna make sure we run a government that respects the taxpayers – you know me, I'm for the little guy.  My priorities are clear.  I'm gonna make sure that we reduce the wait lines at hospitals, that we put money back in your pocket, clean up the hydro mess and make sure we reduce taxes.  We will create a government for the people.  We will bring accountability, transparency and integrity back to the great taxpayers of Ontario."