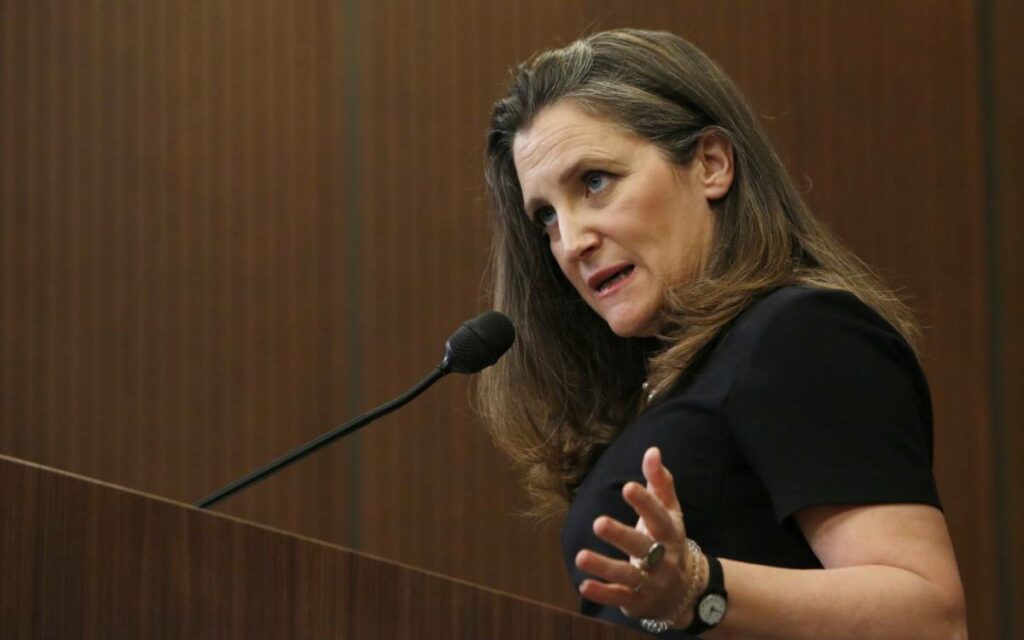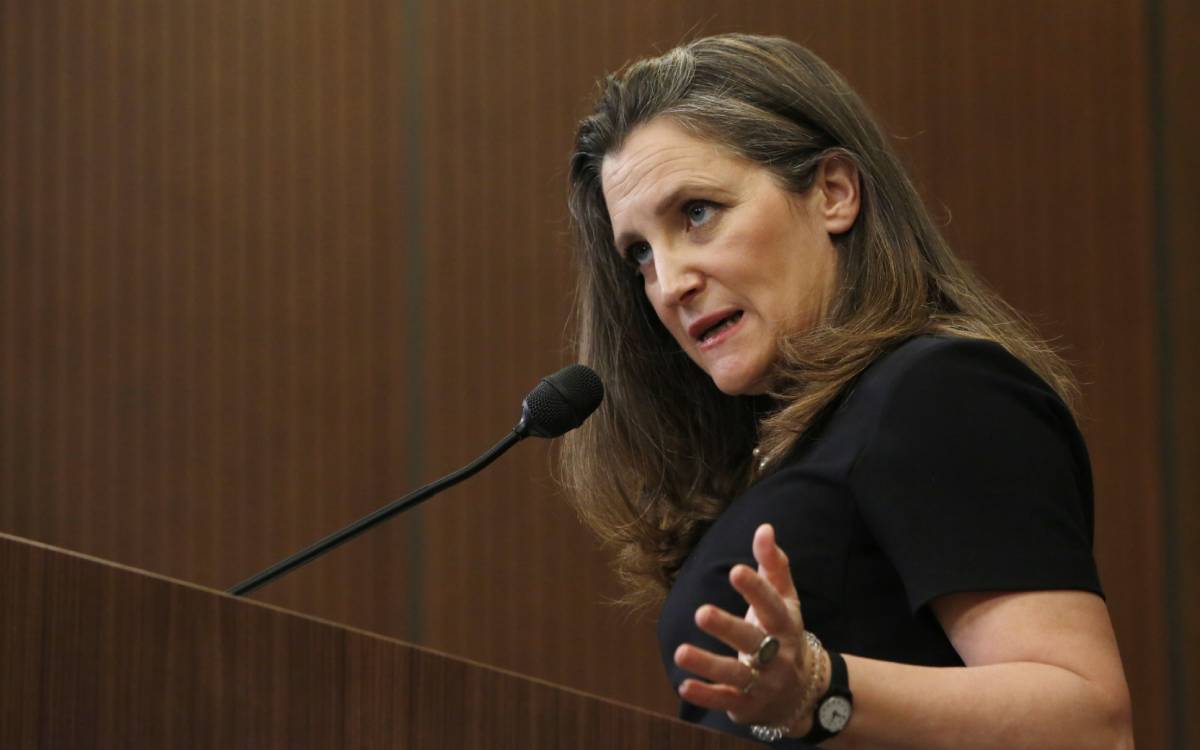 Minister of Finance Chrystia Freeland. Photo credit: Bloomberg/David Kawai
Yesterday, in a prime-time speech that felt more like a State of the Union address, Finance Minister Chrystia Freeland ditched the glitz and glamour of the downtown lunch circuit to speak directly to Canadians. In her opening lines, she acknowledged that the government has made mistakes.
Freeland went on to say record levels of spending on part of the federal government contributed to the onset of the cost-of-living crisis we are seeing, stifling economic growth and slowing our country's productivity.
Having acknowledged fault, Minister Freeland went on to say that she has spent the last several months consulting directly with industry and Canadians from coast to coast to coast, and as such, the federal government was prepared to take direct action to deal with inflation levels not seen in thirty years. This would start with a freeze on the Liberal carbon tax, as a first and necessary action to provide immediate help for Canadians.
Just kidding.
Without further ado, here is what really happened. In a crowded room on Bay Street over lunch, Freeland espoused the Liberal track record on the economy, and how in her view, the Liberals have made life more affordable for Canadians. Instead of putting forward a new plan to deal with the realities of an economy that hangs on the edge of a cliff, the finance minister spoke of measures announced in previous budgets.
Nothing says you are the voice of the middle class quite like delivering a speech in downtown Toronto where a single table costs upwards of a thousand dollars. Nowhere in the lengthy speech was there mention of new measures to address a rapidly evolving situation and provide much needed relief to Canadians at the gas pumps or grocery store. And there was certainly no acknowledgement of how Liberal policies have contributed to our current economic situation.
While it can be argued that inflation does have global roots, such as supply chain backlogs and Russia's war against Ukraine, there are domestic solutions that can be taken to ease pressures on Canadian consumers.
Both the Conservatives and the NDP have called for the government to act.
The Conservatives have asked the Liberal government to temporarily suspend the GST collection on gas and diesel, freeze the carbon tax, and eliminate tariffs on fertilizer, to provide immediate relief for Canadians.
And the NDP have pitched an excess profit tax to be imposed on big corporations.
We can debate the merits of these very different solutions to the problem, but the fact of the matter remains that the Liberals are the only party that has the power to implement change, and they themselves have not provided a single new or innovative idea about how to address this unfolding economic situation.
If you need another proof point that demonstrates this lack of leadership, the minister of tourism had this to say when asked in Question Period to provide help at the gas pumps – "I know the Conservatives do not like it that we have been delivering for Canadians for seven years. I know it offends their sensibility, but the reality is that in our budget we have dental care for Canadian families, a doubling of support through the first-time homebuyer's credit, a multi-generational home renovation tax, and 500 bucks to those concerned with housing affordability."
The Liberals should get good and comfortable with their talking points on inflation, because the problem is unlikely to go away anytime soon. In fact, with the Bank of Canada set to hike interest rates further, this inflation crisis is set to become a full-blown cost-of-living crisis. And unlike the Leaside Liberals who frequent the downtown Toronto speaker circuit where Minister Freeland chose to communicate her "plan", ordinary Canadians are likely to have plenty of questions at the doorstep come election time.
Josie Sabatino is a Senior Consultant at Summa Strategies, focused on providing strategic insight and helping clients meet their objectives in an ever changing and complex political and regulatory environment. Prior to joining Summa, Josie spent nearly a decade in political communications and most recently served as the Director of Communications to the Hon. Erin O'Toole, former Leader of the Official Opposition.