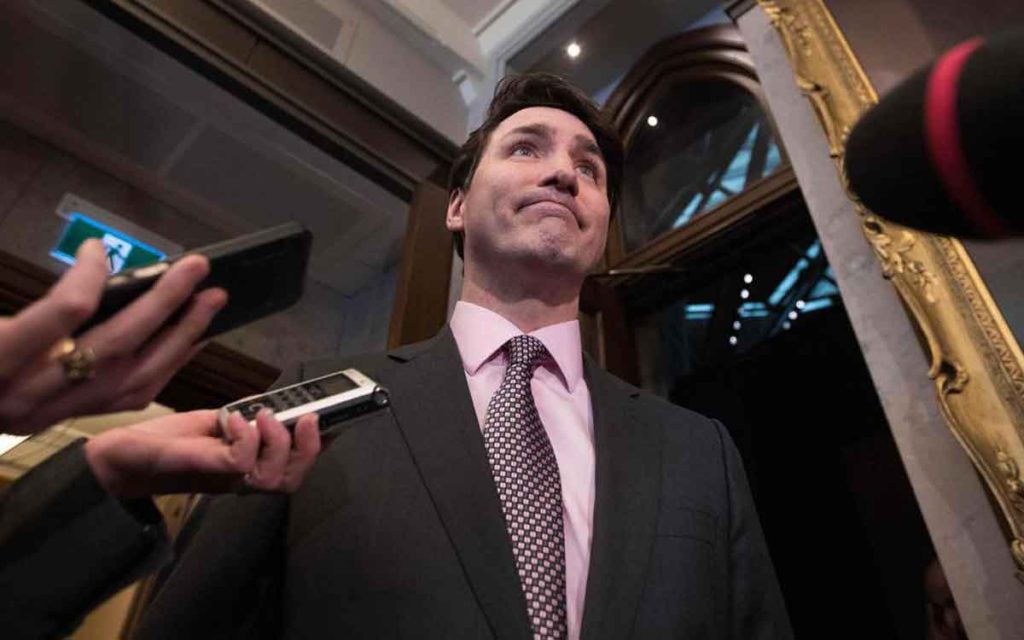 Since news first broke about the SNC-Lavalin scandal back in February – a scandal that has seen accusations of political interference, obstruction of justice, and ties to foreign dictatorships – Prime Minister Trudeau has been castigated by the media, political opponents, and Canadian electors of every stripe.
From the Maclean's cover dubbing him "The Imposter", to the opinion polls exposing his sinking popularity, it hasn't been a good month for the three-time member from Papineau.
Expectedly, opposition leaders and his typical antagonists have taken their fair share of shots. However, more interesting is what traditional Grits and fans of the prime minister have said thus far.
Many have taken Trudeau to task for his handling of the affair, while others have defended him.
Below is a sample of comments made by prominent national and local Liberals – MPs, candidates, staffers, and longtime supporters – in their own words on the SNC-Lavalin scandal and the prime minister's conduct.
National Liberals
JANE PHILPOTT
Liberal MP for Markham—Stouffville. Former Minister of Indigenous Services and Minister of Health. Resigned as President of the Treasury Board in the wake of the SNC-Lavalin scandal.
"The solemn principles at stake are the independence and integrity of our justice system. It is a fundamental doctrine of the rule of law that our Attorney General should not be subjected to political pressure or interference regarding the exercise of her prosecutorial discretion in criminal cases. Sadly, I have lost confidence in how the government has dealt with this matter and in how it has responded to the issues raised."

          – Jane Philpott, via Letter to the Prime Minister on March 4, 2019
CELINA CAESAR-CHAVANNES
Liberal MP for Whitby. Parliamentary Secretary to Trudeau from 2015 to 2017. Caesar-Chavannes claims the prime minister became hostile with her when she informed him that she was leaving politics amid the SNC-Lavalin crisis.
"He was yelling. He was yelling that I didn't appreciate him, that he'd given me so much."
"I went to him, I said, 'Look I know our last conversation wasn't the greatest but …,' and at that point I stopped talking because I realized he was angry."
"Again, I was met with hostility. This stare-down … then him stomping out of the room without a word."
– Celina Caesar-Chavannes, via The Globe and Mail on March 8, 2019
WARREN KINSELLA
Longtime federal and provincial Liberal campaign strategist. Former staffer to Jean Chrétien. Past Liberal candidate.
"This is corruption at the highest levels of government."
– Warren Kinsella, via Twitter on February 7, 2019
"One day, everyone is going to look back on this mess and say: @JustinTrudeau was playing checkers, but @Puglaas [Jody Wilson-Raybould] was always playing chess. She was (and is) very, very strategic."
– Warren Kinsella, via Twitter on February 19, 2019

"We could be witnessing the end of this government, folks."
– Warren Kinsella, via Twitter on February 27, 2019

"Trudeau's greatest talent, you see, is acting. He is an expert at radiating sincerity and emotion. But at his [March 7] press conference, he had all the conviction of an al-Qaida hostage reading a statement about the evils of the West. This was a historic moment, and Trudeau needed to convince us. He didn't."
– Warren Kinsella, via the Toronto Sun on March 13, 2019

STEPHEN LEDREW
President of the Liberal Party of Canada from 1998 to 2003.
"One of the most bizarre things about the Liberal SNC-Lavalin scandal is that the PM, as always, touts transparency, and does the opposite."
– Stephen LeDrew, via the National Post on February 22, 2019
"Justin Trudeau should resign over SNC-Lavalin."

– Stephen LeDrew, via the National Post on March 1, 2019
MARC KEALEY
Former advisor to Liberal Prime Minister John Turner and Liberal Ontario Premier David Peterson.
"What this entire 'interference' episode demonstrates is that the absence of serious legal scrutiny over legislation and acts of Government, like those we are witnessing about the SNC Lavalin 'scandal', should comprise not just an institutional practice BUT a strict adherence to the rule of law. The Government is now ensconced in the political fallout from its lack of adherence to that rule. And it appears it is paying a huge price for the practice as well."
– Mark Kealey, via the Niagara Independent on March 5, 2019
Local Liberals
Recent comments on the SNC-Lavalin affair from prominent local Liberals.
DEBBIE ZIMMERMAN
Former federal Liberal candidate in Niagara West—Glanbrook. Long-time supporter and donor to the Liberal Party.
"The focus is now on Trudeau. And what did he really say, and what did he really do? And again, Gerald Butts is a credible, very top senior individual – in terms of being in his cabinet – I've met him, very credible. There's way more to this story than we're getting and I think we need to make sure that we open that door."
– Debbie Zimmerman, via CKTB 610 on March 5, 2019
CHRIS BITTLE
Liberal MP for St. Catharines. Deputy Leader of the Government in the House of Commons.
"He [Trudeau] didn't cross any lines."
– Chris Bittle, via the St. Catharines Standard on February 28, 2019
"At the end of the day, two people can go into a meeting: one person can believe that the conversations were inappropriate, and the other person may believe that it was appropriate. I think we have that distinction here."
"It was incumbent on her [Jody Wilson-Raybould] to bring that matter forward … if there was a truly final decision, that should have been in writing or communicated to the prime minister or the cabinet."
– Chris Bittle, via CKTB 610 on March 1, 2019
When asked by the Globe and Mail if he thinks the prime minister put inappropriate pressure on Jody Wilson-Raybould, Bittle left no room for uncertainly: "no".
When asked if he believes an outside review of the situation is required, Bittle again answered in the negative.
– Via the The Globe and Mail on March 1, 2019
VANCE BADAWEY
Liberal MP for Niagara Centre.
"I have great respect for the Prime Minister, Ms. Philpott, and Ms. Wilson-Raybould, and am focused on ensuring Niagara is much better off than it was pre-2015."
– Vance Badaway, via The Globe and Mail on March 5, 2019