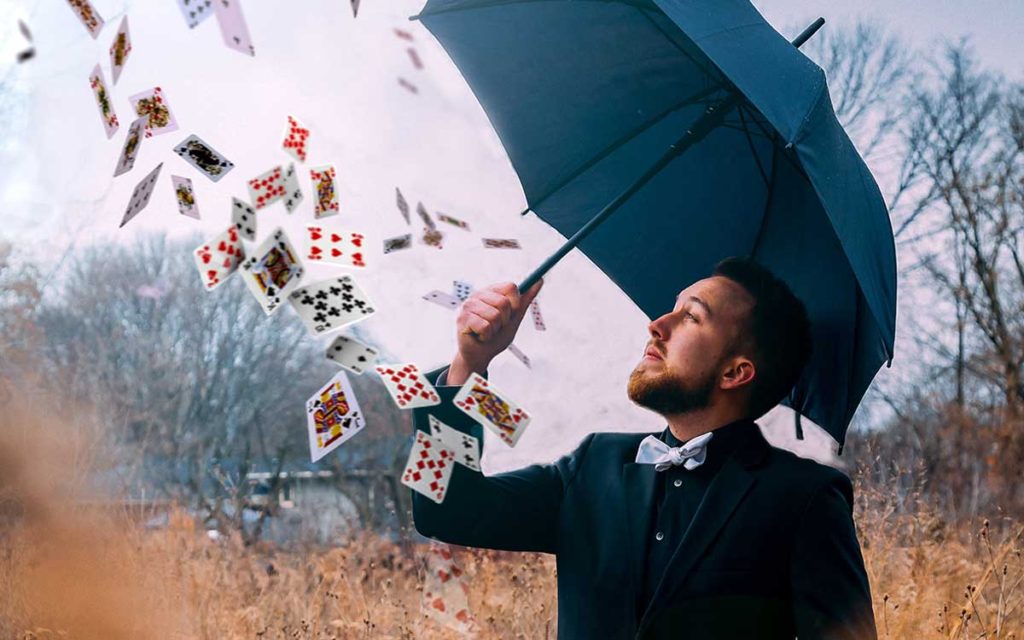 The popularity of magic may be at an all-time high. With the superstardom of people like David Blaine, Chris Angel and of course the legendary Penn and Teller taking up residency in Las Vegas as well as numerous Netflix shows featuring magicians and illusionists, it's big business that generates millions.
Niagara's Alex Kazam was five years old when he first met a magician at his local library. It was an encounter that would set him on a career path that has been truly magical.
Kazam moved to Niagara when he was 12 years old and other than a couple of short-term stays in Toronto, he has called this region his home the majority of his life. He got his first magic kit when he was six and growing up he was constantly reading magic books and watching VHS tapes of magicians. "The stop and rewind buttons were my friends," said Kazam. He did his first show in grade five when his teacher, who noticed her student's talents, asked him to perform in front of the class. His first paid gig was at the Chippewa Conservation area. It was a half hour show for the kids who were there camping with their families.
Kazam met his first real magician, Danny Z, at the age of 12 and the veteran magic man took Kazam under his wing, especially on the business side. Kazam said he remembers Danny Z telling him early on, "Between you and me kid, you're the better magician but I make more money."
Mostly self-taught, Kazam has other hobbies like photography and he studied languages in school. He tries not to have his craft consume his life. "Anything I can do to get away from magic I do because it's only going to help my magic be more powerful," he explains.
He says his magical talents became a self-sustaining business by the time he was 16 when a server at Boston Pizza in St. Catharines saw him doing card tricks at a table for his buddies. The server told the manager and after an audition he was hired to perform his magic for patrons at their tables. Performing at restaurants became his bread and butter. "I was a horrible business person," admits Kazam. "I was finishing university and would just not show up." He ended up walking away from magic for about four years.
Eventually Kazam decided to come back to what he loves and when he returned to magic he branded himself a "mystery artist". "It leaves people to wonder, which is good." He's performed in large theatres, small venues and of course restaurants. He prefers the more intimate shows. "I've never been drawn to the big illusions, the big productions," he said. "I want to entertain the world but it is hard to do four or five people at a time."
Kazam has appeared on MTV, CBC and had a brief appearance on American's got Talent, but probably his most memorable television experience was with a show he didn't actually end up appearing on.  David Letterman hated magicians with the exception of Penn and Teller. But Kazam was determined to get Letterman to like him. As a teenager he rode a unicycle from Niagara Falls all the way to the Ed Sullivan Theatre in New York City, home of the Late Show. The producers had him as a standby and if one of the other guests was a no-show then Kazam would get the break of a lifetime and make an appearance on the most watched late night television show. Unfortunately both guests showed. But all was not lost. Kazam did a few magic tricks for one of the guests. That guest was Donald Trump.
As for the future, Kazam is more than busy with corporate appearances, theatre shows and events. He continues to make appearances at Niagara eateries as well. He has also started teaching his craft, is developing a course, writes skits for YouTube and has travelled all over the world. He continues to work on a different way to deliver entertainment. "It's not about what you do but how you do it," he explained. He knows the popularity of magic will rise and fall as it has over the years. With Netflix, YouTube and talent shows on major TV networks, magic has never been more popular but Kazam doesn't worry about the market becoming oversaturated and his profession becoming too trendy, "my craft has been around for 2,000 years at least."
He says it's time to think bigger. "It's challenging to entertain people nowadays because people's attention spans are so short." But it's a quote from the great Steve Martin that pushes Kazam to always improve, "Be so good they can't ignore you".
To see some of Alex's work visit his website at thealexkazam.com