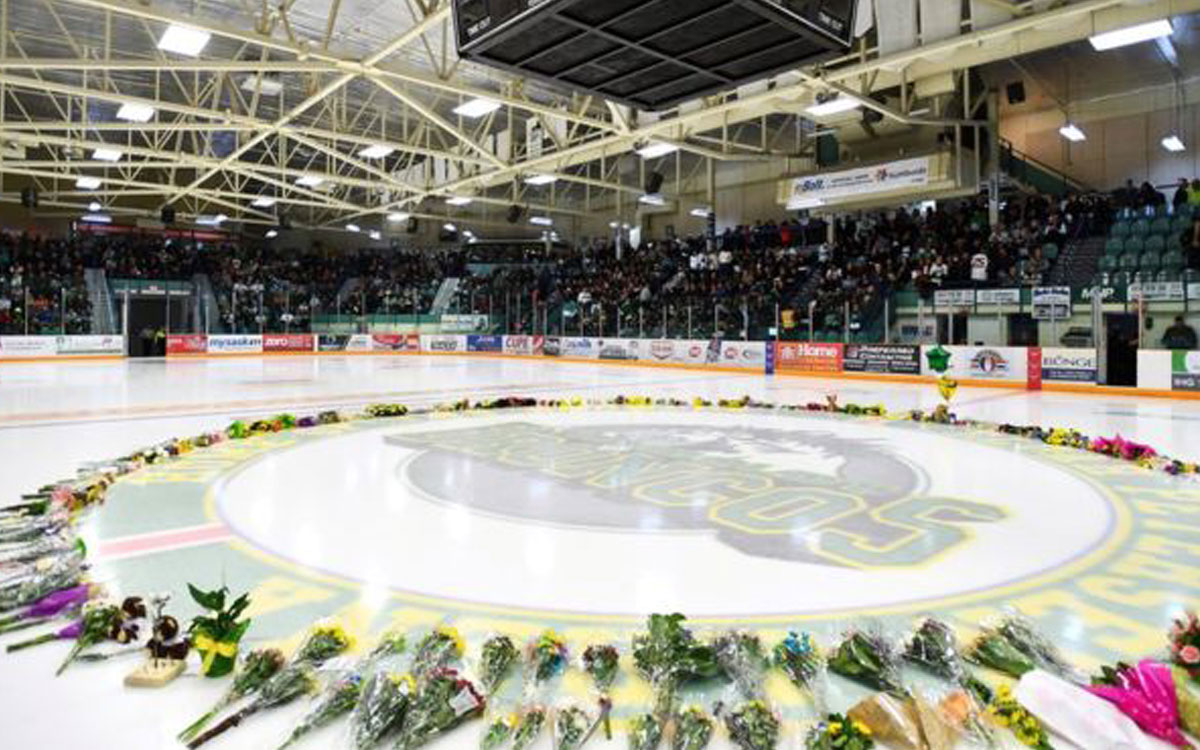 Niagara IceDogs team pastor, Moe Gillard, did a lot of reflecting over the weekend in the wake of the horrific bus crash that claimed the lives of 15 players, coaches and staff of the Humboldt Broncos Junior A hockey team in Saskatchewan.
While watching the Sunday evening's service, one of the comments that the Bronco's team chaplain made resonated with Pastor Moe, as he's affectionately known by the IceDogs' players and staff. "Their chaplain, Sean Brandow, said that while the players play for the name on the front of their hockey jersey, he prays for the name on the back," said Pastor Gillard.
The Ice Dogs' team pastor said each name represents a player and a family and while he realizes that he might not pray with every player, he will pray for every player.  "I could not imagine such a tragedy happening to our team, and I pray that the Niagara IceDogs will never know such an experience."
The team's owner Bill Burke said the news of the bus crash broke his heart. "They were beautiful young men chasing their dream. It's just so sad," said Burke. He said it is a fear that is in the back of his mind and his wife (and team President) Denise's, particularly when the IceDogs depart on the long northern Ontario road-trip to cities like Sudbury and Sault Ste. Marie. "Sometimes our guys leave the Sault at 10:30 p.m. after a game and don't get back to St. Catharines until 7 a.m. the next day."
Burke said his players look at the photos of the Broncos' players and see themselves. He added that the bus is like their dressing room where friendships are formed, and a lot of team-bonding takes place.
Before last night's playoff game versus the Hamilton Bulldogs, public address announcer Rod Mawhood spoke to the tragedy and asked for a moment of silence from the capacity crowd. "It's during tragic times like this that you realize how hockey, and sports in general, brings communities together. "It's about human lives, it's not about hockey," said Mawhood.
Pastor Gillard said that he reminds the IceDog players several times each season that 'Life is bigger than hockey.'  "I will cheer each player on as they pursue their dream to play hockey at the highest level, and I will also encourage them to keep things in a proper perspective," he said.  Pastor Gillard noted that during his 11 years in his role as team Pastor, the Ontario Hockey League has suffered a number of tragedies through the loss of the lives of some of its players.  "It was amazing how deep the connectedness was between the players on our team and these young men who had died.  Somewhere along the line, someone had played on a team with or against one of these players."
Of course, it's not just the local OHL team that travels to games during the often snowy nights of the hockey season. Paul Allan, President of the Niagara North Stars AAA hockey program said that you still worry about families driving individually to games. The organization has 150 families representing kids from Novice to Midget age groups. They take a team bus to tournaments in cities like Chicago and Pittsburgh, as well as to league games in Owen Sound. "We are in this for recreation and skill development," said Allan. "A tragedy like this really puts things into perspective."
The St. Catharines Jr. B Falcons are the only team in their league that takes a bus to every game, no matter the distance, G.M Frank Girhiny points out. "We do it from a team-bonding perspective, but also because we don't want the kids driving themselves to the games." Girhiny's son plays for the Erie Otters, a team that has the heaviest travel schedule in the OHL. He said it was a tough weekend watching coverage of the Humboldt tragedy. "Both the OHL and the junior B leagues are very good at putting safety first and will cancel a game to avoid teams travelling in bad weather."
Ice Dog's academic advisor, Tim Tope, interacts with most of the team daily at Governor Simcoe high school. He says a tragedy like Humboldt is made even more painful because this time of year a lot of the kids are looking forward to going home to see their families. "They're 16 and 17-year-old kids and they miss home, especially this time of year," said Tope. "I know that the kids that survived will have a very difficult road ahead as these players become very tight. They arrive in a city to play hockey and don't know anyone, and they quickly become best friends," Tope explained.
Perhaps Father Gillard sums it up best, "In the midst of this horror, the hockey community from east to west and the furthest point north, is sharing in this great loss; and at the same time, they are reaching out to support the Humboldt Broncos extended family and community."