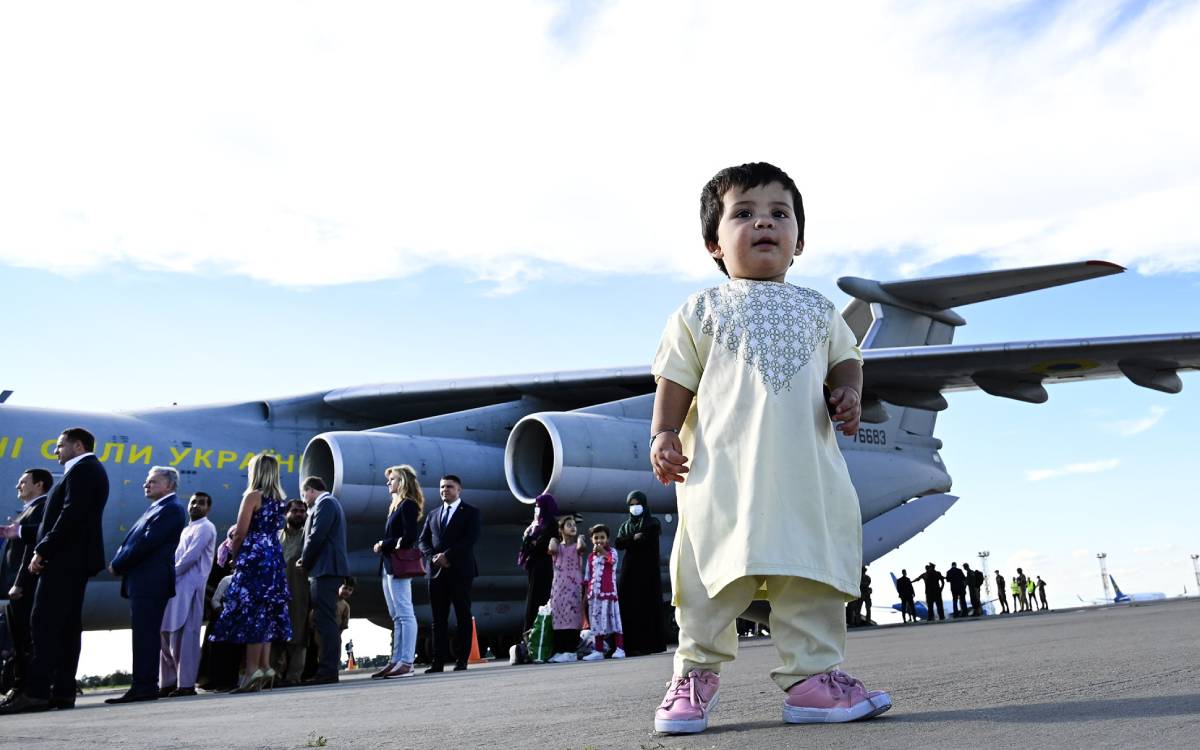 The daughter of one of the Afghan translators who helped Canada during the War in Afghanistan stands on the tarmac in Kyiv, Ukraine on Aug. 28, 2021. After several failed missions to bring the Canada-bound translators and their families to safety, Ukrainian special forces successfully escorted the group – 19 in all – on foot through Taliban-controlled checkpoints to Kabul airport, and eventually out of country. Photo credit: Twitter/President Volodymyr Zelensky
Mere hours after a suicide bombing took the lives of hundreds outside the airport in Kabul, including 13 American service members, Ukrainian forces left the relative safety of the airport barricades to escort Afghans bound for Canada on foot through Taliban-controlled checkpoints.  
The daring mission, coordinated by Ukraine's military, President Volodymyr Zelensky, and The Globe and Mail, saw multiple Afghan translators and their families who worked for Canada in recent years successfully transported onto the airfield and eventually out of country. 
As The Globe reported on Sunday, "after making it into the airport, the 19 Afghans were put onto a military cargo aircraft – which was stationed in Kabul as part of Ukraine's little-known contribution to the NATO-led effort in the country – and flown to Islamabad along with a group of other Afghans the Ukrainians had rescued previously. In the Pakistani capital, they were transferred onto a chartered commercial plane that carried the group to Ukraine". 
The operation took place one day after the last Canadian plane departed Kabul, leaving behind some 1,250 Canadian citizens and permanent residents, in addition to hundreds of Afghan support staff who helped Canada in its mission in Afghanistan. 
The fact that Ukraine would put its own soldiers in grave danger to save the lives of Canada's allies was a surprise to some. However, many were far from taken aback, including local federal election candidate Krystina Waler. 
In Niagara, few residents, let alone current candidates, know more about Canadian-Ukrainian relations than the St. Catharines Conservative Party challenger.
Waler, herself of Ukrainian heritage, has spent several years in Ukraine conducting humanitarian work: helping disadvantaged and orphaned children prepare for life outside of residential institutions, delivering tens of thousands of pairs of shoes to people in need, and coordinating key surgical services for civilians and military personnel caught up in the war in eastern Ukraine.  
In fact, Waler was in-country when the prelude to the Revolution of Dignity began in late 2013. 
"I happened to be in the country at that time and I had actually met with Minister John Baird, who was Minister of Foreign Affairs, and spoke to him about the issues the Ukrainian people were facing and how they felt," Waler said in an interview with The Niagara Independent. "Then, in February of 2014 I was invited to be part of his delegation back to Ukraine once the revolution had ended and the president fled the country."
Baird's delegation effectively marked the start of the tightening of Canadian-Ukrainian relations. 
When asked why Ukrainians would put themselves in harm's way to rescue allies bound for Canada, Waler said Canadians have done and continue to do the same for them as part of Operation Unifier. 
"[Canada's military] performed a huge service by helping Ukrainians feel like they weren't alone: standing by them, working with them, putting themselves in danger in some circumstances."
Since 2014-15, Canada has provided around $700 million in financial assistance to Ukraine and deployed 200 troops on a rotational basis to help train Ukrainian soldiers against Russian-backed forces in eastern Ukraine. 
"Time and time again the message from the average Ukrainian – from the taxi driver all the way up to the president – is that Canada has been the one country that's been there for us and stood beside us and we won't forget that."
"In terms of the special forces, at least the ones I've spoken to, they want to do everything they can to show Canada their support."
But as incredible and gracious as last Friday's Ukrainian rescue mission in Kabul was, its necessity demonstrated the work left undone by the Trudeau government. 
When asked if Trudeau and his team could have done more to help our Afghan allies during the withdrawal, Waler was unequivocal. 
"Yes – these are people who made great sacrifices to help both the Canadian Armed Forces and foreign correspondents."
"I wish that the Trudeau government had been less focused on calling an election and more focused on helping our allies and friends make it to safety. They knew that the situation in Afghanistan was deteriorating, and yet they still chose to go to an election."