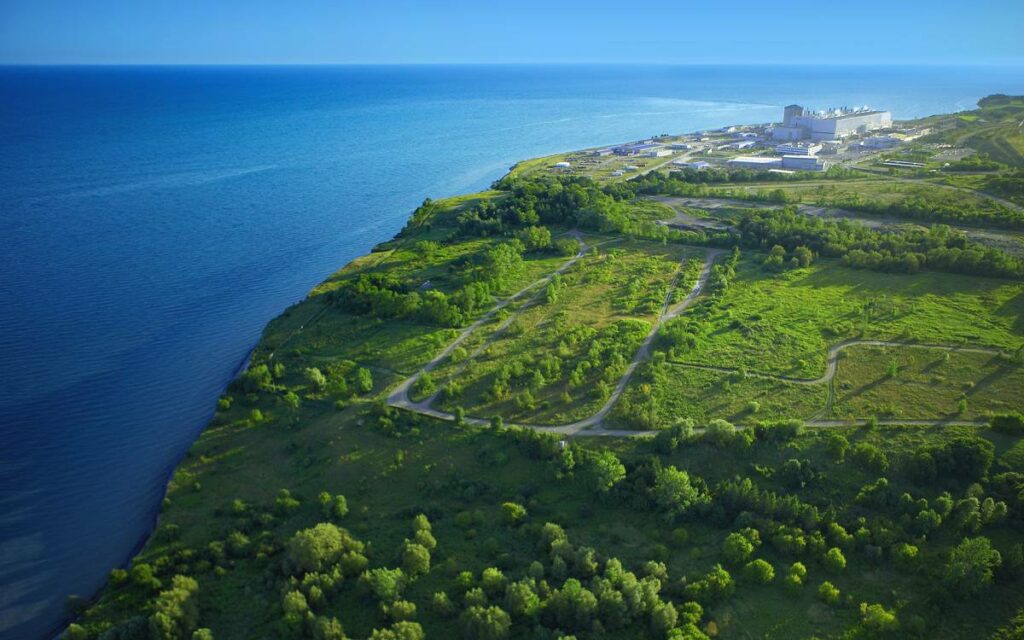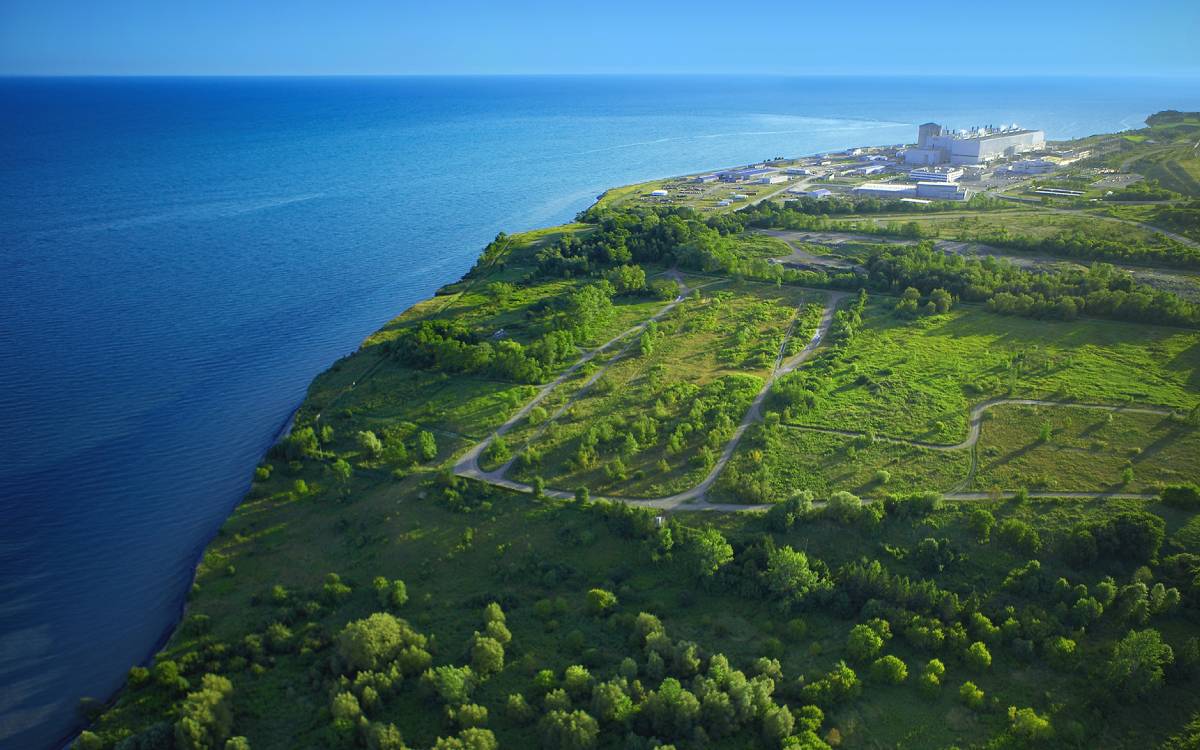 Niagara Falls-based E.S. Fox Limited is set to commence work on the first phase of site preparation and support infrastructure for OPG's Darlington New Nuclear Project later this year. Site location pictured. Photo credit: OPG
In December 2021, it was revealed that Ontario Power Generation (OPG) struck a deal with GE Hitachi Nuclear Energy to deploy a small modular reactor (SMR) at the Darlington Nuclear Generating Station in Durham Region, the only site in Canada currently licensed for a new nuclear build. 
Referred to as the "next generation of nuclear", SMRs use fission reaction to provide reliable, carbon-free electricity, but with a much smaller land footprint than traditional reactors.
A single SMR of about 300 megawatts in size can power 300,000 homes and prevent between 0.3 megatonnes (MT) to 2 MT of carbon dioxide emissions per year, depending on where it is located and what kind of power it is displacing.
The new Darlington reactor will be the country's first-ever commercial, grid-scale SMR. 
On Thursday, it was announced that the project would get underway later this year, with local fabricator and constructor E.S. Fox Limited selected to complete the first phase of site preparation and support infrastructure.
"This early work sets the stage for deployment of the type of clean, safe new electricity generation Ontario needs as demand begins to rise due to electrification," said OPG president and CEO Ken Hartwick. 
"We look forward to seeing the site begin to take shape, with help from trusted partner E.S. Fox, as OPG paves the way for the next generation of nuclear power in Ontario."
Headquartered in Niagara Falls, with full-service regional offices around Ontario, E.S. Fox is recognized as Canada's preeminent multi-trade industrial, commercial, institutional and energy fabricator and constructor. 
The company brings a wealth of experience servicing nuclear sites to the project.
"We are proud to partner together with OPG as early work begins for the planned Darlington Small Modular Reactor," said E.S. Fox president Spencer Fox. "We are honoured to be a part of this project and look forward to breaking ground and laying the foundation for OPG to safely set new standards in the global nuclear power generation industry for the benefit of all Ontarians."
Preparatory infrastructure work under the $32 million contract will include bringing services to the site: water, electrical power, information technology, and roads.
"The world is watching Ontario when it comes to SMRs," said Minister of Energy Todd Smith. "I look forward to seeing the progress made by E.S. Fox and OPG as we prepare to deploy Canada's first grid-scale SMR. This project will create good jobs and clean energy while cementing our reputation as a global hub for nuclear technology and SMR expertise."
Early site preparation is expected to begin later this year, when OPG receives necessary permits and regulatory approvals. Further regulatory approvals are required, through the Canadian Nuclear Safety Commission, before any SMR construction work can begin.
The current target completion date for the new Darlington SMR is sometime in 2028. Once complete, it will be Ontario's first new nuclear build in over three decades.