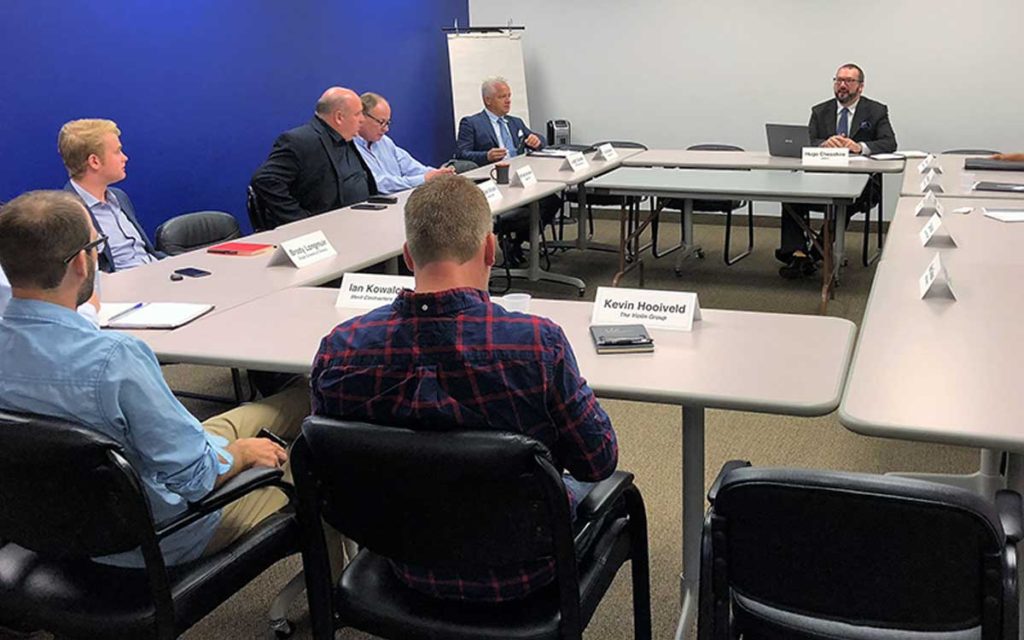 Niagara West MP Dean Allison meets with business leaders at a roundtable hosted by the Greater Niagara Chamber of Commerce.
Over the last month, Conservative Party MPs have been meeting with business leaders, labour groups, and employees across the country to discuss the impact of Canada's decreasingly friendly economic relationship with the U.S.
On June 1, President Donald Trump imposed a 25% tariff on imported steel and a 10% tariff on incoming aluminum.
Despite a feeble attempt to remedy the situation, Prime Minister Justin Trudeau was unable to secure an exemption from the duties: unwittingly launching Canada into a trade war with the U.S.
"People have major concerns", said Conservative MP for Niagara West, Dean Allison. "Companies are worried about going out of business, as well as the ripple effect to come".
Allison, who serves as Shadow Minister for International Trade, is one of seven Conservative MPs traveling around Canada on the "Defend Local Jobs" Tour.
The series of roundtable discussions are part of the Official Opposition's attempt to listen to and learn from Canadian workers and small business owners regarding how to best approach the uncertainty ahead.
Allison, alongside Conservative MP for Niagara Falls and current Justice Critic for the federal Opposition, Rob Nicholson, hosted three meetings with Niagara area businesses on Tuesday and Wednesday.
"Small business creates the lion's share of jobs. They cannot keep up and compete with these tariffs in place. We need to find them some sort of deal", said Allison.
After Trudeau's unsuccessful negotiation with the Trump administration, Canada implemented $16.6 billion dollars worth of retaliatory tariffs on U.S. imports on July 1.
The tit-for-tat reprisal, although lauded by some politicians, will likely inconvenience the average Canadian far more than it could ever perturb the $20 trillion dollar American economy.
For instance, some U.S. suppliers that sell to Canadian retailers will raise their rates to combat the additional duty. Those retailers will then be forced to increase their in-store prices (lest they layoff employees or cease operations): making a washing machine or lawn mower more expensive for local consumers.
To help companies caught in the crossfire, the Liberal government promised business owners $2 billion dollars in financial aid.
The promise, however, appears to have been "a $2 billion dollar photo-op".
"Not a single company that I've spoken to has received access to the relief fund", said Allison. "Where is the money going?"
According to the Niagara West MP, Trudeau and the Liberals do not seem to recognize the grave long-term effect that dragging their feet to broker a deal could have.
"The government must be held accountable [for its lack of urgency]. We are in for a world of devastation if this issue is not taken care of quickly. In fact, if something is not done soon, Canada could be heading toward a recession".
Allison and his Conservative colleagues continue their roundtable tour next week, when they travel west to British Columbia.