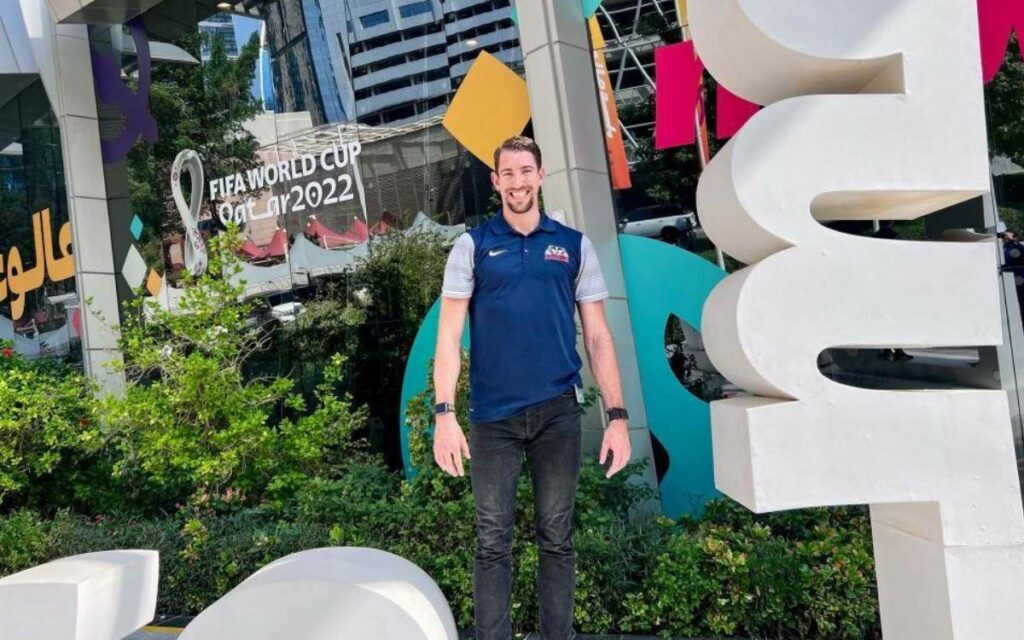 Former Brock Badger is Logistics Site Manager in Qatar. Supplied photo. 
Tyler Harrison has quickly taken his love of baseball to the soccer pitch.
The former Brock Badger baseball player, and Sports Management student, has been in Qatar since last year preparing for and working the 2022 World Cup. 
Harrison was actually working for the Niagara Canada Summer Games before leaving for Qatar. He unfortunately lost his job here in Niagara through the pandemic. 
"I landed the job through connections with someone I was working with at the Canada Summer Games who was actually working remotely in Qatar," said Harrison recently on the Niagara Sports Report on Newstalk 610 CKTB.
"I had my first zoom interview in January of 2021 and arrived here (Qatar) in June of 2021."
Harrison's general love and understanding of sports led to him wanting more, and not necessarily playing a particular sport. 
"I think the excitement around the events for a fan – I was really engaged and interested in learning about," Harrison explained.
"It's not just the field of play that someone has to be focused on. There's a lot of different things that go into making up a sporting or major event. Whether that's security, whether that's transportation, whether that's cultural activities, that's kind of where I was interested in learning more, and that's what brought me here to Qatar.
I'm working with approximately 10 to 15 different functional areas making sure they have what they require."
Harrison has seen the country of Qatar change dramatically over the last 18 months as construction ensued until the opening day, and kickoff at the World Cup. 
As for the much publicized laws and rules in the Arab country, Harrison offered this:
"It's just a change, I would say. You do have to respect the culture here. It is a learning curve I had taken some time to adapt, but they are very, very, welcoming."
The fandom Harrison has experienced in Qatar is nothing he's seen before. And he admits the New York Yankees may have a fan base that spans the globe, but nothing compares to football (soccer) fans. 
"I do have a true appreciation for those countries who it's their religion. It's something that they eat, sleep and breathe," said Harrison, who has worked with individuals from over 40 countries around the world, but is pulling for Brazil now that Canada is out of the tournament because of friends he's made from the South American country while working the World Cup.
Harrison also had an opportunity to work with and for Canada Soccer, as part of their family and friends program, through the World Cup Group Stage. 
One experience still gives him chills when he speaks of it. 
"Singing the national anthem at the top of my lungs was really, really, neat.
It's (this year's World Cup) been very beautiful to be a part of."
Harrison isn't the only Niagara connection working the World Cup. Niagara Falls native, and former FIFA and World Cup official, Joe Fletcher is the Referee Expert on TSN.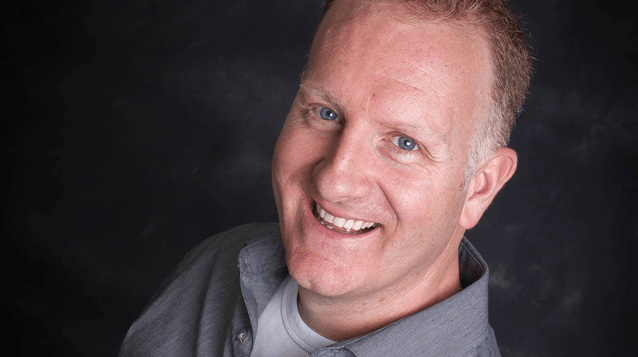 Rod Mawhood is a lifelong Niagara native who has had the pleasure of working in all three mediums – Radio, Print and TV – for over 20 years. His first announcing gig was with the then St. Catharines Stompers. Since then he's worked in radio and TV in Toronto, and currently is the announcer for the Niagara IceDogs and Niagara River Lions.
Rod also covers the Buffalo Bills for FOX Sports and the Buffalo Sabres for NBC Sports.