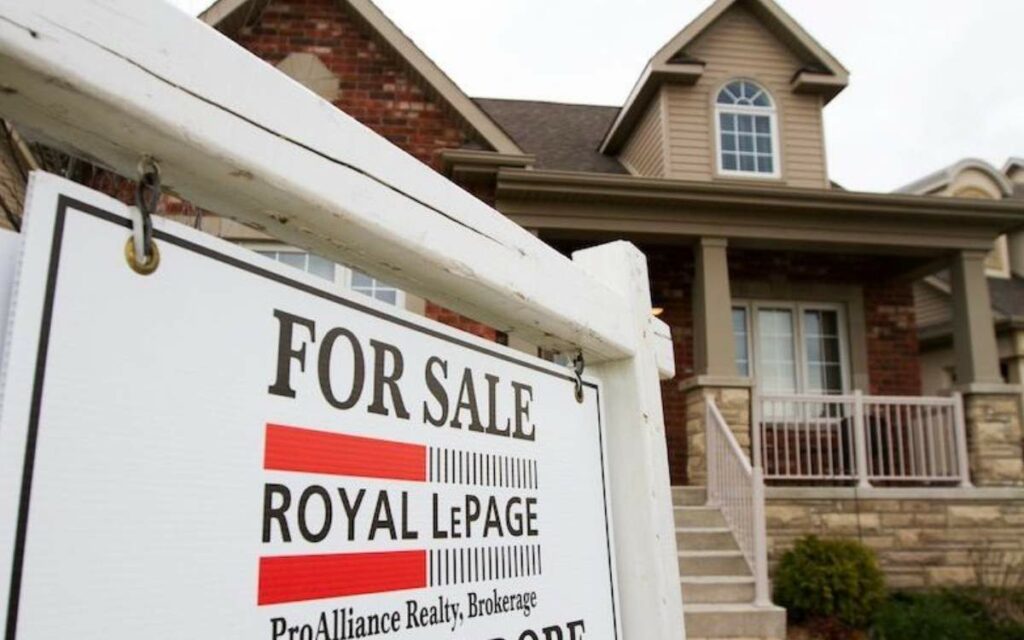 Photo credit: The Canadian Press/Lars Hagberg
For the second month in a row, the month-over-month decrease in local housing prices continued its halt to near zero, as the Housing Price Index (HPI) composite benchmark for the Niagara Association of Realtors (NAR) catchment area fell a negligible 0.25 per cent from $629,100 in January to $627,500 in February. 
The month previous the HPI dipped a mere 0.4 per cent. 
The three months before that it fell between 1.3 and 1.7 per cent, while the three months prior the local HPI dropped far more rapidly, falling between 3.7 and 4.9 per cent every 30 days. 
"We can see as well that home values are holding steady at roughly the same as (they were) in January 2023," said Amy Layton, president of the NAR board of directors. "Looking back year over year, we will continue to see larger differences in these numbers as the market did not begin to level out until late in the second quarter of 2022."
On a year-over-year basis, the local HPI was down 22.3 per cent last month versus February 2022. 
The Bank of Canada made its first interest rate hike in March of last year – the very next month prices started to drop and haven't stopped since. 
But now nearly a year later, the market appears to have stabilized and may even be readying for growth again. 
"As forecasted, the Niagara Region has begun to spring back as month over month sales are up, the number of listings is up and the average days on market has decreased slightly," said Layton. 
In terms of number of sales, last month saw an almost 50 per cent jump from January. 
In total, 449 properties exchanges hands in February, up from 302 in January, and 275 in December. 
In regard to how long it took for properties to sell, the average number of days on the market also decreased from 57 to 48 month over month.
Prices actually increased in half of the NAR's 10 market areas. 
Niagara Falls, Pelham, Thorold, Welland, and West Lincoln all saw their monthly HPI rise in February, with the latter two jumping 3.6 and 2.9 per cent, respectively. 
Prices dropped in Fort Erie, Lincoln, Niagara-on-the-Lake, Port Colborne/Wainfleet, and St. Catharines. 
Fort Erie and Port Colborne/Wainfleet, the region's two most affordable municipalities, saw their respective HPIs fall 2.8 and 2.4 per cent. 
Calculated using a sophisticated statistical model that considers a home's quantitative and qualitative features, HPI provides a more stable price indicator than average prices, as it tracks changes to 'middle-of-the-range' or 'typical' homes and excludes extreme high-end and low-end properties.
The HPI composite benchmark property for Niagara is currently a 1,259 square foot single detached home between 51 to 99 years old on municipal sewers with three bedrooms, two full bathrooms, forced air, and natural gas. 
The Niagara Association of Realtors service area excludes Grimsby and certain parts of West Lincoln. Those locations are included in statistics provided by the Realtors Association of Hamilton-Burlington.