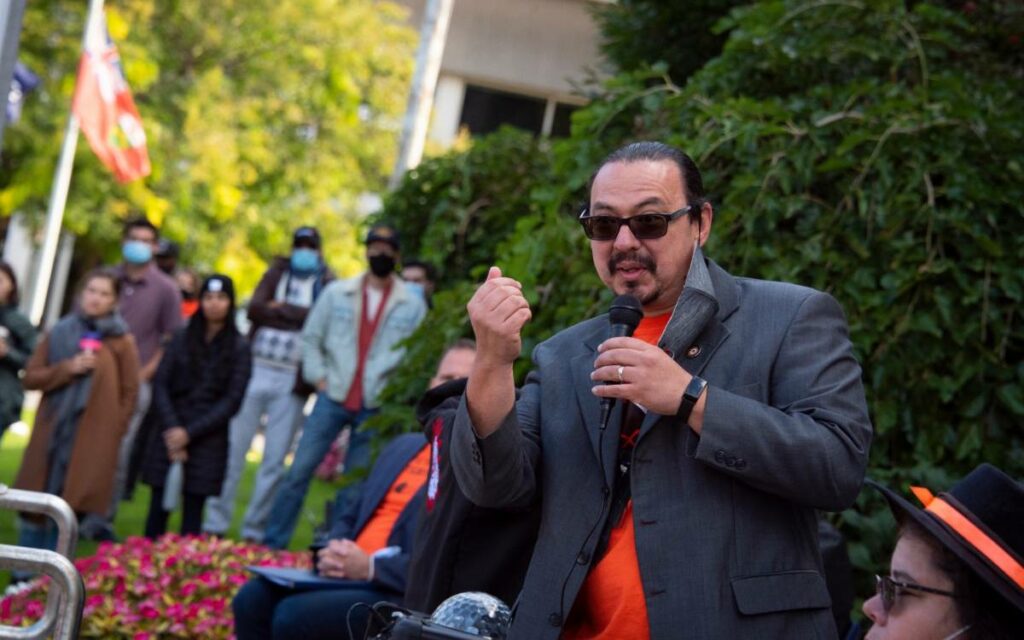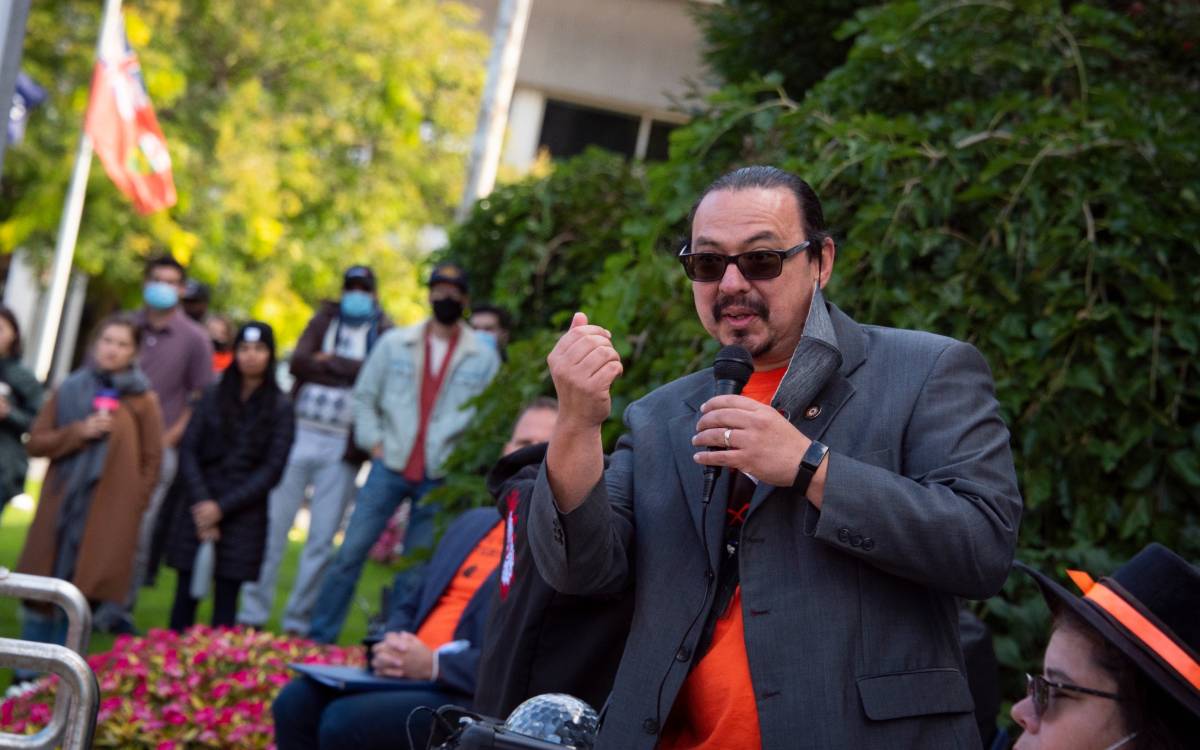 Karl Dockstader, executive director of the Niagara Regional Native Centre and co-host of the radio show 'One Dish, One Mic', emcees a National Day of Truth and Reconciliation event in front of St. Catharines city hall, Sept. 30, 2021. Photo credit: Twitter/City of St. Catharines
Last Thursday, Canada marked the first National Day of Truth and Reconciliation to honour the lost children and survivors of residential schools.
In Niagara, public ceremonies were held at schools, city halls and cultural centres across the region. The Niagara Regional Native Centre, for example, held an event featuring numerous Indigenous voices on the steps of city hall in St. Catharines. While, the Fort Erie Native Friendship Centre hosted two days of teachings and storytelling, including a healing walk to town hall.
Unfortunately, as many Canadians were commemorating the country's first-ever National Day of Truth and Reconciliation, Prime Minister Justin Trudeau was spending the historic occasion with family in Tofino, B.C. 
As opposed to attending a ceremony with survivors near the site of the former residential school in Kamloops – an event he was invited to by Chief Rosanne Casimir of the Tk'emlúps te Secwépemc First Nation multiple times  – Mr. Trudeau decided to take a beach vacation just hours to the west. 
In a statement from the Native Women's Association of Canada (NWAC), CEO Lynne Groulx said the decision to travel to Tofino on the first-ever National Day of Truth and Reconciliation was just "more proof" Mr. Trudeau does not actually care about Indigenous rights and issues.
"It is almost as if he checked off one of the Calls to Action of the TRC [Truth and Reconciliation Commission] by declaring the statutory holiday, and then wiped his hands and said 'job done, let's move on,'" commented Groulx. 
President of the Union of B.C. Indian Chiefs Grand Chief Stewart Phillip said that Trudeau's beach vacation was a "slap in the face" to residential school survivors. 
"Given the fact this is a nationally recognized holiday in regards to truth and reconciliation, it would have been appropriate for the prime minister to fully acknowledge this day," said Phillip. "Rather than do that, he has chosen to turn his back on the historical significance of today and hide out in Tofino."
Closer to home in Niagara, local Indigenous leader and current executive director of the Niagara Regional Native Centre (NRNC) Karl Dockstader called Trudeau's decision "appalling".
Speaking on his weekly NewsTalk 610 CKTB radio show 'One Dish, One Mic' on Saturday, Dockstader said he couldn't even find humour in the situation. 
"I don't even have jokes left in me for how poor of a decision it was," said Dockstader. "[He] really just took the attention off of Indigenous voices and put it squarely back on himself." 
"Why should we as First Nations people believe Trudeau ever after this? I'm at the point where I don't see him as a functionable prime minister anymore…there's no excuse for this oversight." 
Dockstader, who emceed the NRNC truth and reconciliation event in front of St. Catharines city hall on September 30, talked about the cruel irony of Trudeau flying over the Tk'emlúps te Secwépemc First Nation commemoration in Kamloops, B.C., with participants thinking the prime minister was coming to see them, only to have him bypass the event for the beaches of Tofino.  
"Can you imagine how heartbreaking it was for the leaders to find out that the prime minister was steps away and chose to do nothing?" 
To hold Canada's leadership to account, Dockstader concluded that listeners, specifically non-Indigenous people, should "put some pressure on [their] local politicians, particularly if they're Liberals". 
Neither Niagara Centre Liberal MP Vance Badawey, who is himself Indigenous of Metis heritage, nor St. Catharines Liberal MP Chris Bittle responded to request for comment from The Niagara Independent.