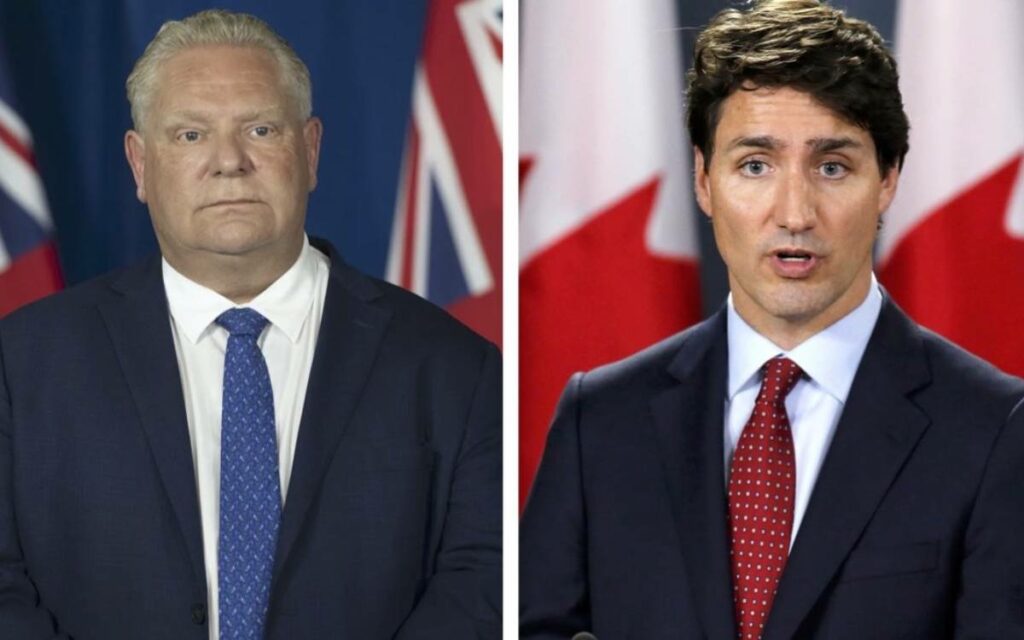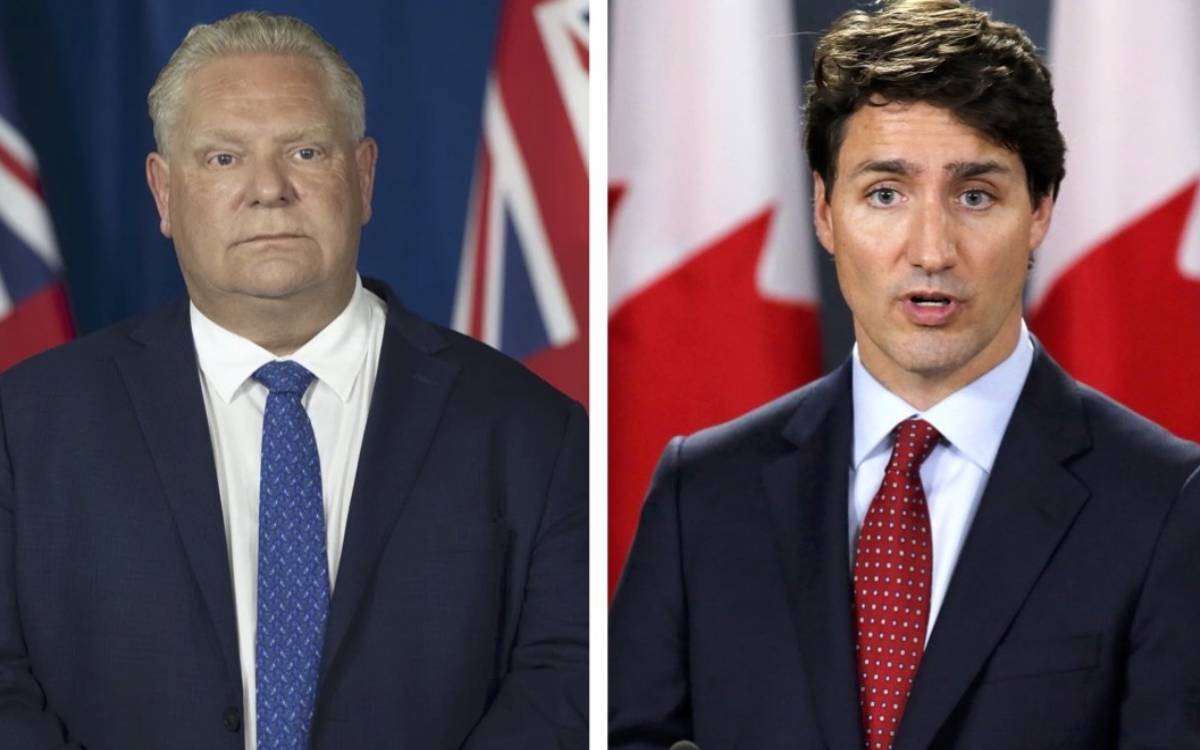 Conservative MP for Niagara West Dean Allison was not pleased by Premier Ford's recent decision to reinstate a number of COVID-19-related restrictions. However, the seven-time member of parliament said that Prime Minister Trudeau (right) and his government can take away the main issue used to justify reinstating lockdown measures by adequately funding healthcare. Photo credit: The Canadian Press/Frank Gunn and AP/Patrick Doyle 
When the Ford government announced the reinstitution of certain provincial restrictions Monday, it was met by an unbalanced blend of pushback and reluctant praise. 
Many thought the premier went too far, some thought not far enough; while very few thought he hit the mark just right. 
Firmly in the former cohort, Conservative MP for Niagara West Dean Allison said that another lockdown is not the answer. 
"We can't get to zero-COVID," Allison told The Niagara Independent in an interview earlier this week. "I said back over a year ago we're going to have to learn to live with this." 
Allison said that it's simply not practical to keep shuttering businesses and limiting essential services for a virus that waxes and wanes like COVID-19.
"It was two weeks to flatten the curve – and now we'll be heading into year three of this soon. You can't shut down the economy and pull kids out of school every time there's an issue."
"Quite frankly," said Allison, "small business cannot survive much more of this…this is patently unfair."
"Locking people down and giving them subsidies is not what small businesses want – they want certainty."
Allison, who was first elected to parliament in 2004, said that "without question" the health and safety of the public must be of primary importance, but that wellness extends beyond mere prevention of infection.   
"One of the greatest causalities of this pandemic has been mental health," said Allison. "Not just in adults, but children as well. Think about kids who look forward to playing sports, for example, and then their leagues are shut down, their games are cancelled. This has been very hard on our young people." 
Allison also pointed to increases in addiction, thoughts of suicide, and suicide as indicators of an incomplete governmental approach. 
In terms of what can be done outside of lockdowns and further vaccination – which Allison supports, but maintains should be a choice – the seven-time MP from Niagara West said we need to invest in more "early-stage interventions", such as monoclonal antibody treatment. 
"I don't care what they are, as long as they've been proven to work. But the challenge is most people don't have access to any at the moment." 
Currently, access to early-stage therapeutic treatments for COVID-19 is severely limited across the province. However, the recent success of Ontario's first monoclonal antibody treatment clinic at St. Joseph's Healthcare Hamilton could mean wider use of the therapy moving forward. 
Administered to patients intravenously, monoclonal antibodies are lab-made proteins that attach to the spike protein of COVID-19 to stop the virus from infecting healthy cells. Initial studies show that early-stage monoclonal antibody therapy reduces hospitalization by 71 per cent and reduces death by 70 per cent in high-risk COVID-positive patients.
"All these things are tools in a tool kit – we need to use everything at our disposal."
But at the end of the day, the Conservative MP said more needs to be done at the federal level to prevent the possibility (necessity) of future lockdowns, given that the main reason for the latest round of restrictions provided by the province was to "blunt transmission and prevent hospitals from becoming overwhelmed."
"It comes down to proper funding for hospitals and healthcare," said Allison. "Just look at where we're at in terms of ICU capacity." 
Allison pointed to U.S. states like Illinois and Pennsylvania, which have comparable populations of 12.6 and 13 million, respectively, yet have "two to three times the ICU capacity" as Ontario, a province of 14.8 million. 
"Over the last couple of years, the fed [Trudeau government] was handing out tons of money," said Allison. "They should have been looking at funding to help build up hospital capacity."
Indeed, the prime minister was roundly criticized by the provinces and wider healthcare community when the 2021 Liberal budget failed to increase health transfer payments anywhere near an acceptable level, despite rapidly increasing demands and strain. 
"I hold the feds to account for that," concluded Allison. "They have not resourced the provinces adequately to get the job done."