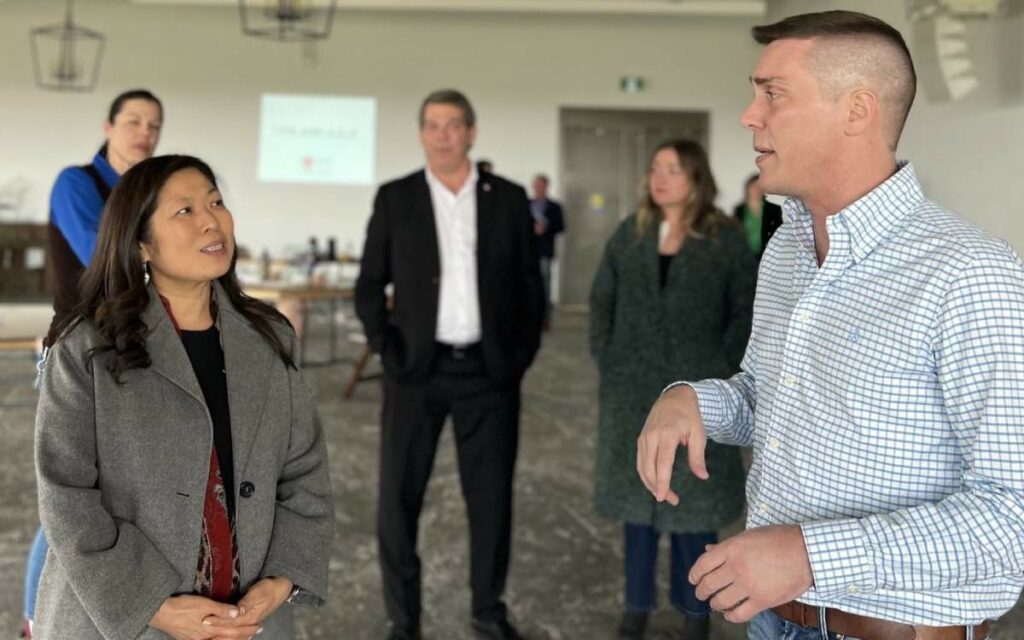 Canada's minister responsible for trade and economic development Mary Ng (pictured, left, at Ravine Vineyard) was in town last Thursday to tout the federal government's recent budget. Photo credit: Twitter/Mary Ng
Mary Ng, federal Minister of International Trade, Export Promotion, Small Business and Economic Development, visited Niagara on Thursday, April 6. Alongside fellow Liberal MPs Chris Bittle and Vance Badawey, Ng toured Niagara-on-the-Lake's Ravine Vineyard, stopped by a few St. Catharines shops, and touted the government's Budget 2023 approach to supporting small business.
"Budget 2023 caps the excise duties on beer, spirits and wine at 2% to help breweries and wine growers support and create good jobs in their communities," Ng shared in a recent social media post. The Niagara Independent reached out to Ng's office for further comment but did not receive a response as of press time.
Tony Baldinelli serves as the Member of Parliament for Niagara Falls, Niagara-on-the-Lake, and Fort Erie. He sat down with The Niagara Independent following Ng's visit and had a lot to say about the minister's government, their budget, and plans for Canada's future. 
"What we're seeing is the latest example of a Liberal minister travelling the country, trying to promote the budget while the government has not done anything to help hard working Canadians, who are simply trying to get ahead," Baldinelli said.
"They had a key opportunity to take practical steps to end the war on work and lower taxes for workers, to end the inflationary deficits that are driving up the costs of goods and services and to remove the gatekeepers to increase the building of homes for Canadians, and they haven't delivered."
In her fall economic statement, Finance Minister Chrystia Freeland stated that her fiscal anchor would be decreasing Canada's debt to GDP ratio. Debt to GDP ratio is projected, however, to grow larger this year. 
"Last fall, the Finance Minister predicted a $4.5 billion budgetary surplus for 2027-28," Baldinelli explained. "Now, in Budget 2023, it is projecting a $14 billion deficit for the same period. At those numbers, in five years' time, we'll be paying $50 billion a year in interest payments to service the national debt."
Baldinelli, who previously served as the Conservatives' manufacturing and export critic, and now serves as shadow minister for tourism under Pierre Poilievre, is also concerned by the approach the government is taking on supporting the grape and wine industry and ensuring tourism recovery, both of which are pivotal to the health of the local economy.
"Where is the commitment to renewing the grape and wine replacement program?", the Niagara Falls MP asked. "In 2006, the excise exemption for 100 per cent Canadian made wines, brought forth by the previous Conservative government, helped to double the size of the national wine industry. When this government took power nearly eight years ago, we warned them that ending this exemption would have a negative impact. Nevertheless, they did so in 2017 by introducing an escalator clause on alcohol, resulting in a WTO challenge from Australia for unfair trade policies, which Canada lost."
"The government has to now provide relief through a replacement program," he added. "They provided $166 million for two years through this grape/wine replacement program, however, the program has not yet been extended, and it expired last November. Last year's budget showed this government would be generating $390 million over five years by now taxing our grape and wine sector. So, where are those funds going?"
Baldinelli says that there are similar trends being observed in the tourism industry. 
"After delivering $500 million over two years for tourism recovery, the government is now saying it will provide $108 million over the next three, which will be distributed through seven regional development agencies," he shared. "When you look into the actual breakdown, however, you only see $18 million, $38 million and $38 million accounted for… that adds up to $94 million. So, what about the other $14 (million)?" 
"Plus, there is no mention of Indigenous tourism spending in this year's budget."
In regard to taxing carbon, Baldinelli believes that the approach by the Liberal government is deeply flawed. 
"Since they were elected, emissions have not gone down. So, forgive Canadians for being skeptical when, starting on April 1st, they are expected to pay even more at the pump. This is not seen by Canadians as an environmental strategy… it is a tax policy." 
"They talk about how the tax is rebatable, yet, according to the government's own Parliamentary Budget Officer, the carbon tax will cost the average Canadian family between $402 and $847 in 2023, even after the rebates. Their plan is not an environmental policy, it is simply a tax policy designed to feed their spending frenzy."
Finally, Baldinelli sees the housing crisis as among the most critical issues facing Canada, and in need of urgent addressing. "The Canadian Mortgage and Housing Corporation says we need 3.5 million more homes built than projected if we want to restore affordability", he said. "In the US, they only require 5 million more homes with a population that is ten times the size of our own. We have the lowest housing units per 1,000 residents of any G7 country. This is completely unacceptable."
Baldinelli says that his Conservative Party will have three demands for the government when Parliament resumes next week. 
"They need to end the war on work through lowering taxes on Canadians. They must get their inflationary deficits that are driving up costs on everything from food to energy under control. And, they have to remove the gatekeepers and increase the building of homes for Canadians."
Note to readers: Minister Ng's office proactively reached to The Niagara Independent for an interview before the minister's visit. The Niagara Independent accepted the invitation, only to have the interview delayed and eventually cancelled by the minister's office. An assurance to provide written responses to questions supplied by The Niagara Independent subsequently went unfulfilled by publication time.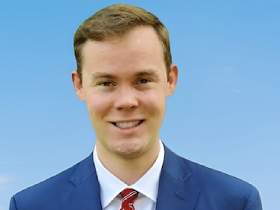 Nick Redekop completed his Honours Bachelor of Arts Degree in Labour Studies at Brock University. He has previously served in municipal and federal politics. In his free time, Nick enjoys following sports, taking part in outdoor activities, and reading biographies. Nick resides in Niagara Falls