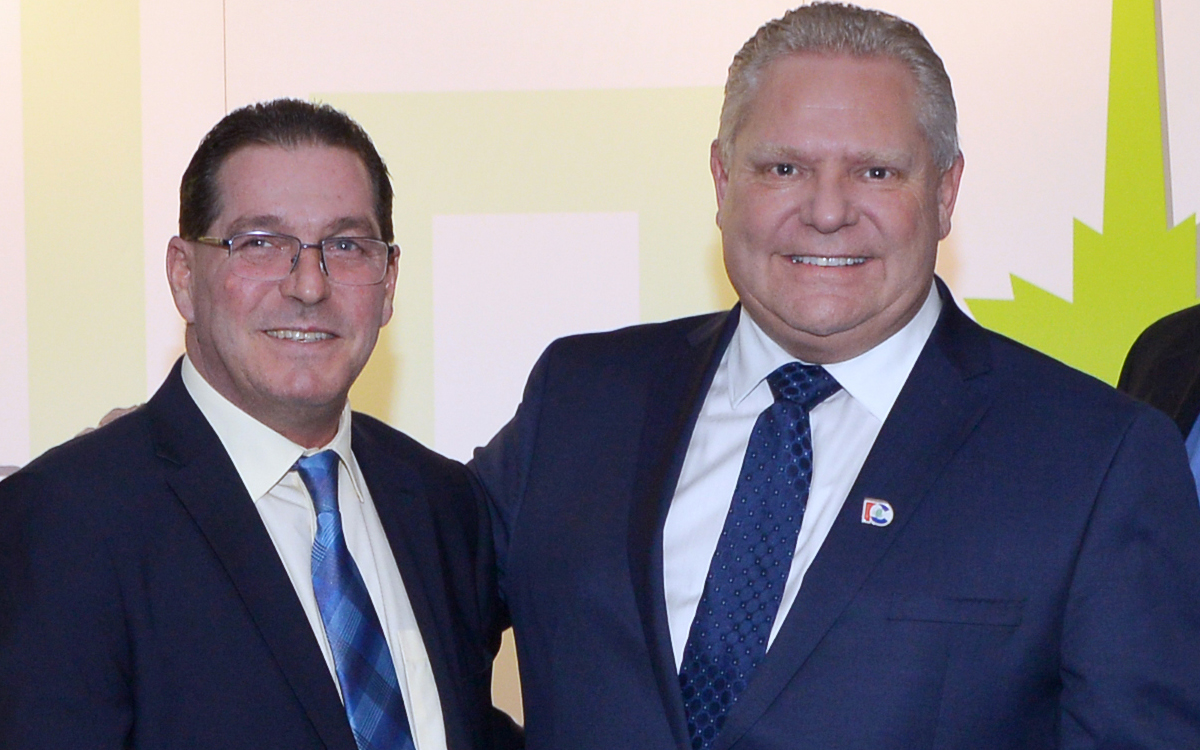 Niagara Falls Riding PC candidate Chuck Mcshane (left) with newly appointed PC Party leader Doug Ford.
Doug Ford shocked everyone, including himself, when he won the leadership of the PC Party on the third ballot on the weekend.
"Today isn't only about defeating Kathleen Wynne. Today is about rebuilding Ontario to be the economic powerhouse of the country. It's about bringing new jobs, and new opportunities. It's about showing the province, the country, and the world, what happens when a strong, united, Progressive Conservative Party focuses on a single goal," Ford told supporters.
The leadership vote was conducted electronically across the province for the first time.  It was a one- member one-vote system, but votes were tabulated by riding and each riding was worth 100 points.  This was an attempt to ensure that no one riding would have a disproportionate amount of influence on the result. The system helped Ford beat perceived frontrunner Christine Elliott of Whitby.
Elliott received more overall votes from party members and actually won a majority of points in a majority of ridings.  But Ford won by huge margins in some polls.  Those large margins of victory and the support from fourth place finisher Tonya Granic Allen's surprisingly strong camp, pushed him past Elliott.
Elliott finished first on the first ballot; with Doug Ford second, Caroline Mulroney third and newcomer Tonya Granic Allen.  Allen's votes were eliminated, and her voters' second choice support was then re-allocated to the remaining candidates, predominantly to Ford.  At this point Caroline Mulroney was still third and so she was required to drop off the ballot.  Although most of her voter's second choices were allocated to Elliott, it was not enough to lift her past Ford.
All three of the currently nominated PC candidates in Niagara, have indicated they are ready to move forward with Ford.   Chuck McShane from the Niagara Falls riding said, "Doug has many strengths.  He's a successful businessman who knows first hand the problems the Wynne Liberals and NDP have inflicted upon business. He has been a municipal Councillor in Canada's largest municipality so again he will know how to fix all of the problems the Liberals have passed onto municipal governments." McShane pointed out that Ford helped to find a billion dollars of savings in a municipality . . . so he'll be able root out the waste in Ontario's budget too."
April Jeffs, candidate in the Welland riding said, "I am thrilled to have Doug Ford as the leader of the PC Party of Ontario. Whether you're a single mom, working family or unemployed, Doug is the kind of man who will fight for what Niagara Centre needs."
Jeffs went on to say how Ford showed his commitment to the people of her riding by making it one of his first stops.  "I'm looking forward to working with him to turn around Ontario's massive debt, improve electricity prices for Ontarians, and fix the fiscal and economic mess left by Kathleen Wynne and the Liberal Party."
In the middle of the leadership campaign a comprehensive poll of 1,426 Ontarians, conducted by Campaign Research, suggests that Ford could form a majority government.  The poll put Ontario PC's at 39% with Ford as leader compared to 24% apiece for the NDP and Liberals and just 7% for the Greens.