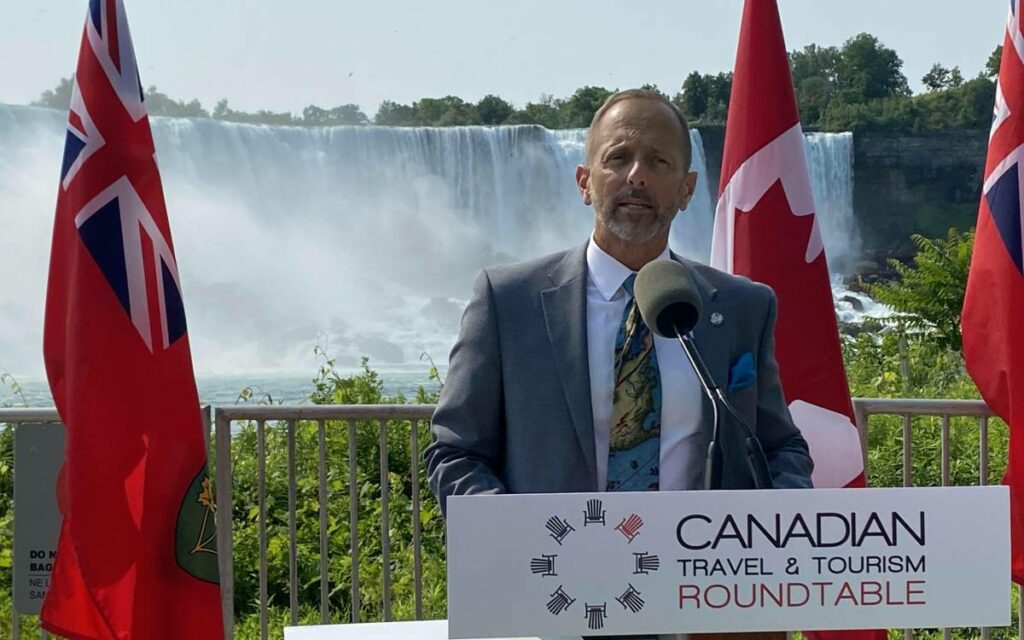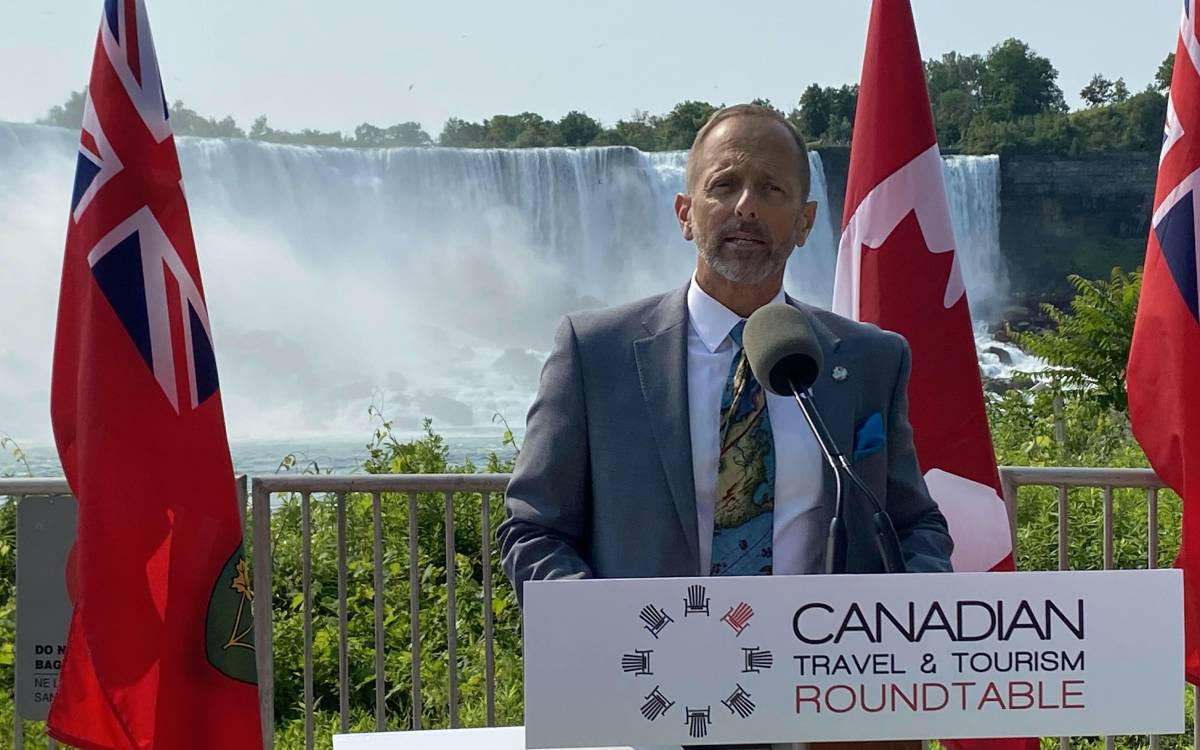 Mayor of Niagara Falls Jim Diodati speaks at a press conference hosted by the Canadian Travel and Tourism Roundtable on Monday, July 5. Photo credit: Canadian Travel and Tourism Roundtable
On Monday, July 5, the Canadian Travel and Tourism Roundtable, in collaboration with local political and business leaders, held a press conference at the Niagara City Cruises lower landing on the Canadian side of the gorge in Niagara Falls.
The group called on Canada's federal government to come up with a concrete re-opening plan for the Canada-U.S. border, as many of Niagara Falls' most iconic tourist attractions are under threat of permanent closure. American tourists are a key revenue source for the local tourism and hospitality sector.
"Niagara Falls and the surrounding region relies heavily on American tourists every year," said Janice Thomson, President and CEO of Niagara Falls Tourism.
"We don't see Americans as international visitors; they're our neighbours and friends – and together, we operate as a seamless community. Since the pandemic, that wonderful balance has been threatened. While American travellers don't make up the majority of our visitors, they provide the vast majority of revenues to our businesses."
The Canada Day/Fourth of July holiday is typically the busiest travel weekend of the summer and marks the unofficial start of the high season for the local tourism industry. July 1 through to Labour Day normally accounts for 80 per cent of Niagara Falls' total tourism revenue each year.
If that crucial window is not made available to American tourists soon, it could spell disaster for the local economy.
"Is tourism important in Niagara Falls?", queried the city's mayor Jim Diodati. "I'd say it's up there with oxygen."
Diodati has worked tirelessly over the last several months to pry particulars from the federal government and see Canada-U.S. border restrictions eased across the country.
"I've been on a lot of Zoom calls with Minister Blair, the public safety minister for our federal government, along with all the other border city mayors, and we've had great discussions – [but] the part that we've been pressing him on is a plan. Share the plan," said Diodati.
"He [Minister Blair] intonated to us that they expect on or about July 21 that Canadians will be 75 per cent fully vaccinated and we'd be in a position to loosen restrictions at the borders. So, what're asking is: put it in writing, share the metrics."
According to the latest statistics from COVID-19 Tracker Canada, over 78 per cent of eligible Canadians have received at least one dose of vaccine, with nearly 41 per cent of the over-12 population fully vaccinated.
Paul Burns, President and CEO of the Canadian Gaming Association, said Canadians have done their part in getting vaccinated and now it's time for the federal government to be more transparent.
"Fallsview Casino and others like it are critical employers in the Niagara region, and without immediate action, we are at risk of losing out on a second summer travel season. Canadians are getting vaccinated, and our government should be rewarding this effort by setting out a clear re-opening plan," said Burns.
While a far-cry from any kind of large-scale re-opening, on Monday Canada partially eased travel restrictions for citizens and permanent residents. Fully vaccinated Canadians re-entering the country are no longer required to self-quarantine, given that they show proof of appropriate vaccination and receive a negative COVID-19 test no more than three days prior to arrival.