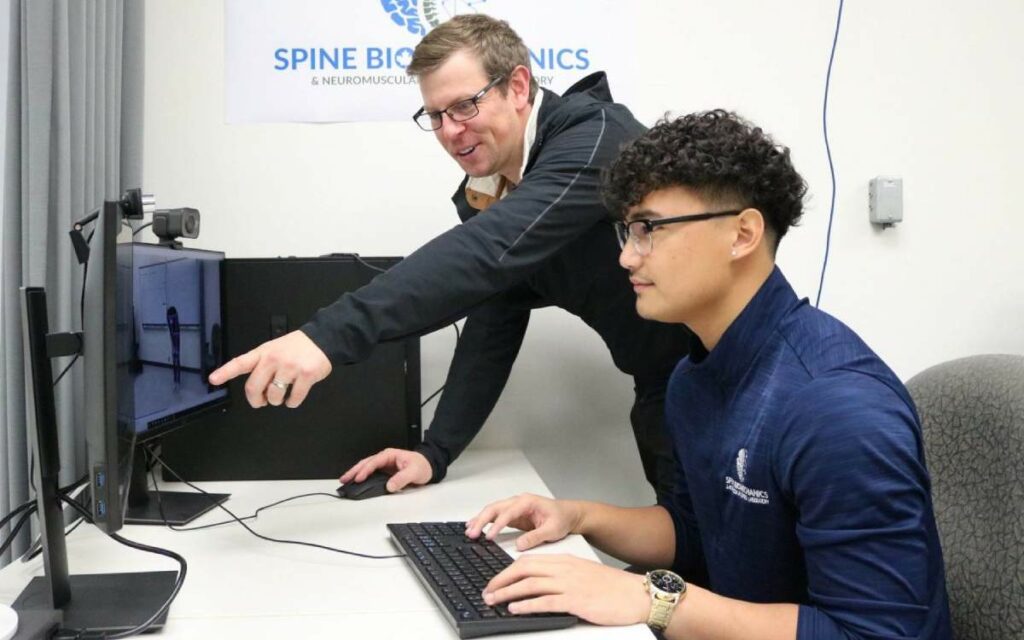 Brock University Kinesiology graduate student Carl Alano and his thesis supervisor, Assistant Professor of Kinesiology Shawn Beaudette (standing), review video data being used to develop a telehealth screening tool for diagnosing back pain. Photo credit: Brock University 
Whether acute or chronic, many adult Canadians have experienced lower back pain at some point in their lives. 
The discomfort, or down right agony, suffered by those afflicted can have serious consequences on both a personal and professional level – preventing individuals from playing their favourite sport, or working a particular job. 
And in today's climate, obtaining a timely diagnosis – the first step toward recovery, or at least pain mitigation – is becoming increasingly more difficult with a healthcare system in crisis countrywide. 
But one Brock University graduate student is trying to make the diagnosis of one of humankind's most common ailments easier and faster – all with a bit of help from artificial intelligence (AI).
Through his research, "Automated Movement Screen: Developing a data-driven scoring tool to assess spine motor dysfunction," Master of Science in Kinesiology student Carl Alano is working to develop a telehealth screening tool for clinicians. 
"Back pain is typically hard to diagnose without using a movement assessment test in clinic," said Alano. 
"The aim of our work is to automate movement analysis and to help alleviate the need for in-person appointments. Particularly, since many cases of low back pain are classified as 'non-specific,' meaning the pain cannot be attributed to any specific injury or cause."
Alano's work involves inputting images and videos of common tasks requiring movement of the lower back into AI software for analysis. The data are aligned with patient-reported outcomes to understand the relationship between how someone moves and how they reportedly feel.
Images and video are sourced from research participants who are asked to complete an online survey and film themselves performing three different movement tasks: picking up a pen or pencil, completing a single body weight squatting motion, and doing a maximum spine flexion, which is when an individual rounds their spine as much as they can comfortably.
The data derived from the survey then allows the team to build an algorithm that scores someone's movement using a web camera or smartphone and predicts levels of disability.
"The research takes a data-driven approach to uncover hidden patterns that are aligned with clinically meaningful outcomes," explained Alano. "To get a good idea of how one individual compares to others, we need a large number of participants with a wide range of ages, activity levels and low back-related disability."
The idea for Alano's graduate research developed out of his fourth-year undergraduate thesis, which looked at back pain in rowers. Even though COVID-19 restrictions were easing, athletes were reportedly hesitant to come to campus or had scheduling conflicts, which made it difficult to recruit participants.
"I started looking at ways AI could help in the collection and analysis of data because it can be done from anywhere with an internet connection," said Alano.
"I want my research to have an impact and to do this we need a lot of data. Historically, we have suffered from small sample sizes; this is where AI can help."
Alano's study is still recruiting participants. Interested adults aged 18 to 65 are invited to learn more online.