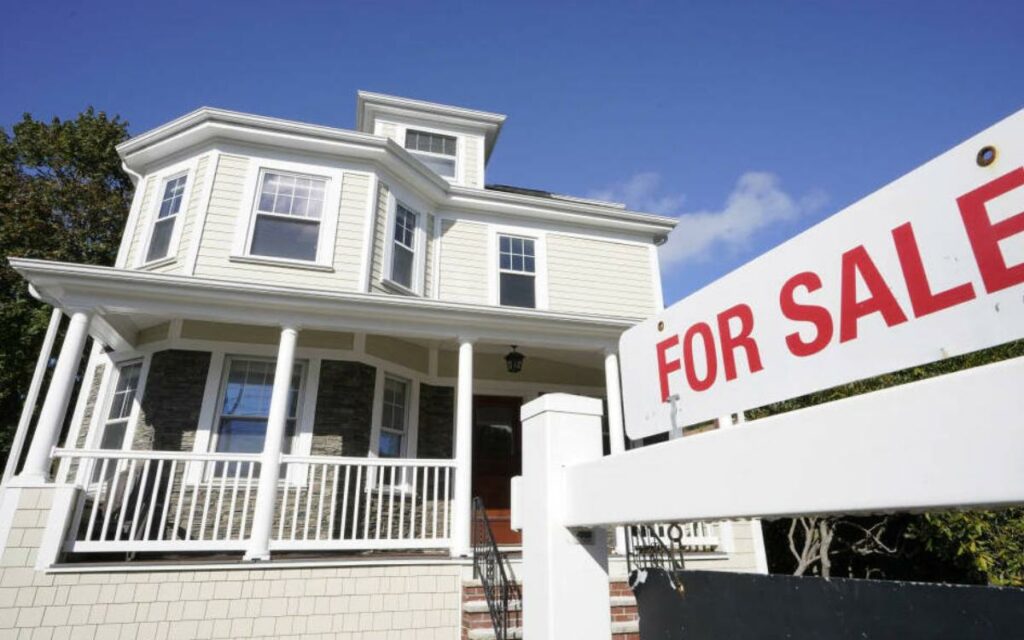 Local housing prices rose another 1.3 per cent last month, with number of sales increasing 22 per cent from April to May. Photo credit: AP/Steven Senne
For the third consecutive time, home prices across Niagara ticked up last month. 
According to the latest statistics from the Niagara Association of Realtors (NAR), the regional Home Price Index (HPI) benchmark price rose 1.3 per cent from $654,000 in April to $662,400 in May. 
The number of new listings and number of sales were also up on a month-over-month basis, rising a significant 33 and 22 per cent, respectively. 
"The Spring market arrived in May of 2023 as we saw an increase in sales, new listings and average sale price compared to April 2023," said NAR president Amy Layton in a press release Monday. 
According to Layton, the "Niagara housing market is continuing to hold value", however, like most other areas around Ontario, figures remain depressed compared to this time last year.
"We are still seeing a large gap between the current average sale price compared to May 2022: a decrease of 15.6%, but it's imperative to remember that the May 2022 market was still inflated as the market began to level out around May and June of 2022. Prices have still increased on average year over year for the last three years." 
The HPI benchmark price for May 2022 was $785,000, before a series of break-neck interest rate hikes from the Bank of Canada made borrowing prohibitively expensive for many Canadians and created a lot of unease among potential buyers, slashing housing prices in the process. 
But since March 2023, prices have started to make a comeback, rising 5.6 per cent. And experts believe prices will continue to make gains throughout the year. 
"Spring 2023 increasingly looks like the turnaround point for Canada's housing market after a year-long slump," assistant chief economist at RBC Robert Hogue said in a report last month. 
"Rising prices could spur more sellers into action. We suspect many have been waiting out the correction until conditions turned in their favour."
Between April and May 2023, the HPI benchmark price rose everywhere in Niagara expect Pelham, where it dropped a nominal $400 month-over-month. 
Fort Erie and West Lincoln both saw local price increases of 2.7 per cent, while Port Colborne/Wainfleet saw the area's HPI go up 2.4 per cent. 
Niagara-on-the-Lake experienced a monthly uptick of 1.8 per cent. 
St. Catharines and Niagara Falls saw a 1.4 and 1.3 per cent increase, respectively. 
Everywhere else saw smaller increases below a single percentage point. 
Calculated using a sophisticated statistical model that considers a home's quantitative and qualitative features, HPI provides a more stable price indicator than average prices, as it tracks changes to 'middle-of-the-range' or 'typical' homes and excludes extreme high-end and low-end properties.
The HPI composite benchmark property for Niagara is currently a 1,259 square foot single detached home between 51 to 99 years old on municipal sewers with three bedrooms, two full bathrooms, forced air, and natural gas. 
The NAR service area excludes Grimsby and certain parts of West Lincoln, which are included in statistics provided by the Realtors Association of Hamilton-Burlington.