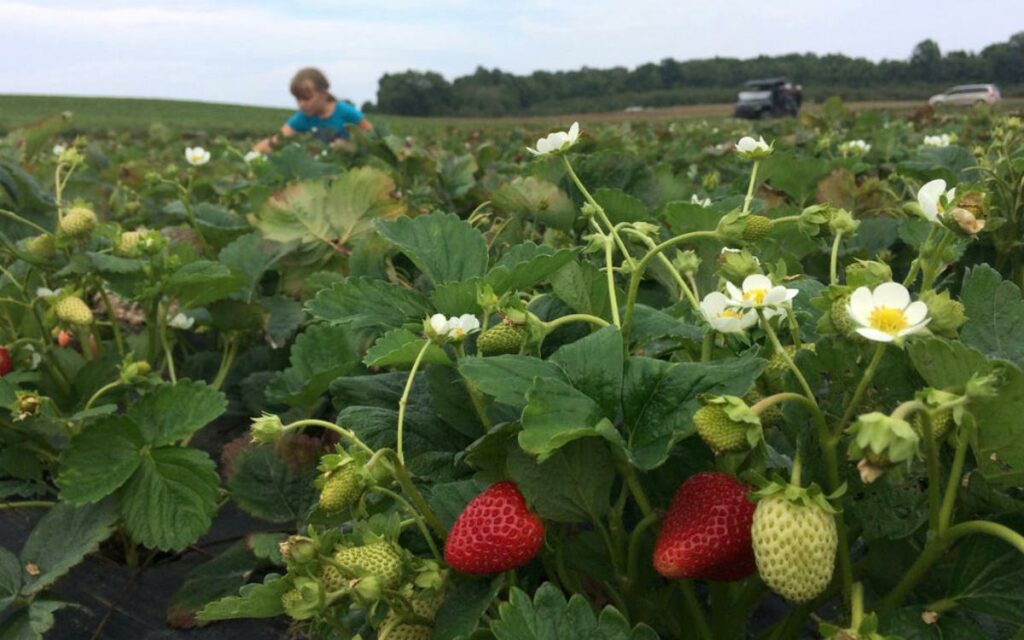 Several pick-your-own experiences around the region to choose from. Pictured is Fenwick Berry Farm. Photo credit: Fenwick Berry Farm
Strawberry season in Niagara officially kicks off this weekend with the 38th annual Strawberry Festival in Niagara-on-the-Lake. 
The festival, which takes place on Saturday, June 17, will be held on the grounds of St. Andrew's Presbyterian Church between 9am to 3pm. 
Strawberries will be available for purchase, as well as strawberry shortcakes, crepes, pies, ice cream and jam. There will also be a barbecue, silent auction, children's area, and tours of the historic St. Andrew's Church (built in 1831).
Elsewhere throughout the Niagara region, berry farms are preparing for the pick-your-own season and are opening their stands with this year's crop.
BryAnne Farms
Fresh picked strawberries are available at the farm in Fenwick starting in the month of June. Pick-your-own strawberries is open during June and July. Call ahead to confirm availability and hours. 
DeVries Fruit Farm 
Pre-pick strawberries are currently available, but the pick-your-own crop is delayed this season and will be ready June 19. Pick-your-own is on a first come first served basis, Monday to Friday 8:30am-4:30pm and Saturday 8:30am-4pm. 
This Saturday June 17 from 10am-3pm there will be a strawberry and ice cream social with wagon rides held at DeVries farm in Fenwick to support Open Arms Mission of Welland. A cash donation or a non-perishable food item is recommended for admission. 
Fenwick Berry Farm
Pick-your-own strawberries opens June 16. Hours or operation are Monday to Thursday 8am-6pm and Friday and Saturday 9am-5pm.
Fehrhaven Farms
Fresh local Niagara strawberries are now available at Ferhaven Farms, located on Highway 3 and Weaver Rd. in Port Colborne. The farm stand is open at 10am Monday to Saturday. Closing times vary – it is recommended you call ahead. 
Blueberry Knoll Berry Farm
Pick-your-own strawberries at Blueberry Knoll Farm in Lowbanks officially opened on June 14. There are 3-litre and 5-litre pails offered for pick-your-own: $14 or $21, respectively. 
Fresh picked strawberries are also available for purchase, as well as rhubarb, and other fresh farm baked goods. Summer hours are Monday to Friday 8am-6pm and Saturday 8am-5pm. Pick-your-own is open 8am-4pm.
And of course, local strawberries can be found at the plentiful farmers' markets around the region throughout the week!