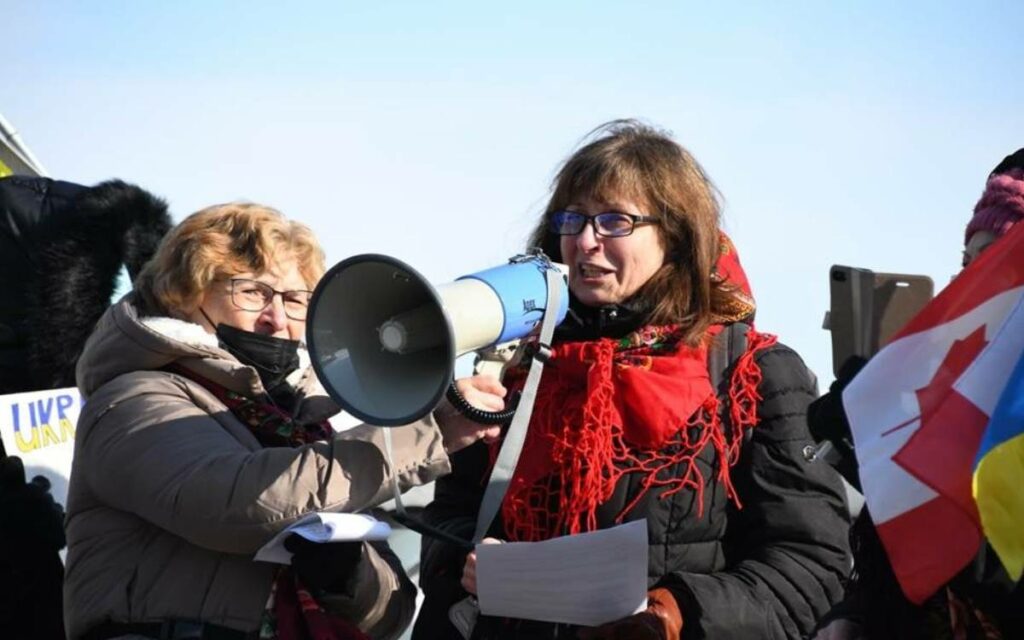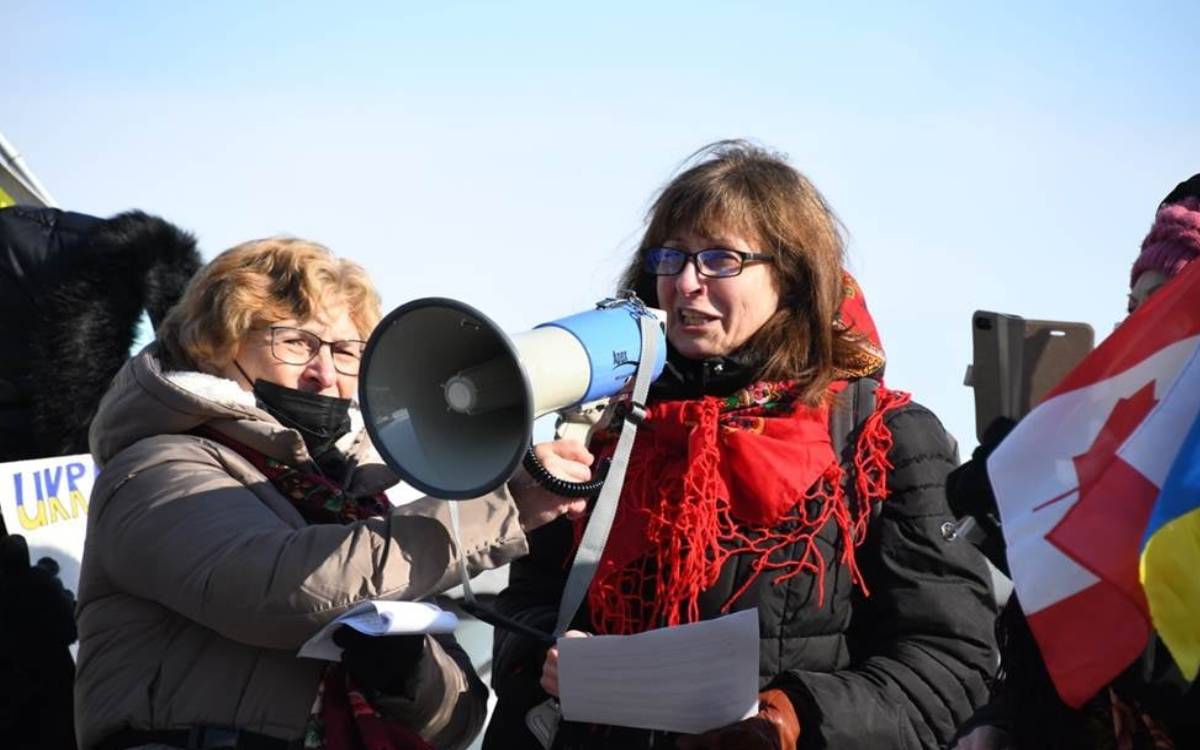 President of the Niagara branch of the Ukrainian Canadian Congress Irene Newton (left) and the organization's national president Alexandra Chyczij (right) speak at a rally against Russian aggression in Niagara Falls last month. Photo credit: Facebook/Ukrainian Canadian Congress Niagara
With the eyes of the world seemingly fixed upon the "occupation" in Ottawa, and the alleged threat both it and its governmental response pose to Canadian democracy, an actual would-be occupying force with explicitly undemocratic intentions sits along the Ukrainian border, prepared to lay siege at any moment. 
Currently, anywhere from 100,000 to 150,000 Russian troops are stationed near Ukraine's shared borders with Russia and Belarus, as well as on the annexed Crimean Peninsula. 
Though Russian president Vladimir Putin has adamantly denied any desire for war, officials warn Ukraine could be subject to full-scale invasion "any day now." Several Western nations, including Canada, have told their citizens to leave Ukraine, while also sending military equipment and money to help in the country's defence.  
According to Niagara branch president of the Ukrainian Canadian Congress Irene Newton, Putin looks at Ukraine as a potential "breadbasket", given Russia's insufficient agricultural capacity. 
"Russia has always had it in for Ukraine, and for good reason. As large as it is, Russia doesn't have sufficient arable lands to grow things like wheat or maintain orchards."
Though, as Newton explained in an interview with The Niagara Independent, Putin's desire to take over Ukraine is not primarily economic, its cultural and strategic.
"He wants to re-establish the Soviet Union. Take Ukraine and then it's a clear shot to the Baltics."
A keystone state separating NATO-allies in the West from Russia in the east, Ukraine gained its independence from the Soviet Union in December 1991. Though it's had its difficulties over the years, Ukraine has slowly migrated away from its authoritarian past, angling itself more in line with the modern democracies Moscow considers enemies. 
At the heart of the recent military buildup – and indeed central to the Ukrainian-Russian conflict stretching back to 2014, which has claimed the lives of 14,000 and seen the annexation of Crimea – is Ukraine's move toward greater economic, social, and military integration with the West. 
Putin, for his part, specifically wants to stop Ukraine from ever receiving membership in NATO (North Atlantic Treaty Organization). 
Newton remains hopeful that a diplomatic solution can still be reached, though she said the threat of invasion is "very real" and "severe". 
"It depends on who you talk to, but in my mind, I'm still feeling positive. I think Putin feels that he's made his point regarding entry into NATO. But if that's what he wants, he has to stay out of Ukraine." 
Should an invasion occur, Newton said it likely won't happen until after the Olympics conclude on Feb. 20, a prediction seconded by many pundits; lest Putin take the global spotlight away from his authoritarian ally in China.
Last month, Newton and the Niagara branch of the Ukrainian Canadian Congress (UCC) – which represents "at least" 25,000 local residents of Ukrainian heritage – staged a rally outside of the Table Rock Welcome Centre in Niagara Falls.
The demonstration was part of a series of rallies held across the country in solidarity with the people of Ukraine. 
Newton said the Niagara community has been nothing but supportive of the Ukrainian cause.
"No one has been in opposition to what we've been saying. Our Polish friends, our Latvian friends, our Lithuanian friends – everyone has been in full support…Anyone who's ever been through anything has shown support." 
The Trudeau government recently announced it will provide Ukraine with a $500 million loan and $7.8 million worth of "lethal weapons" to defend against Russian aggression. 
The federal government has already provided Ukraine with a cache of non-lethal weapons and a $120 million loan. 
Canada is home to close to 1.4 million people of Ukrainian descent.