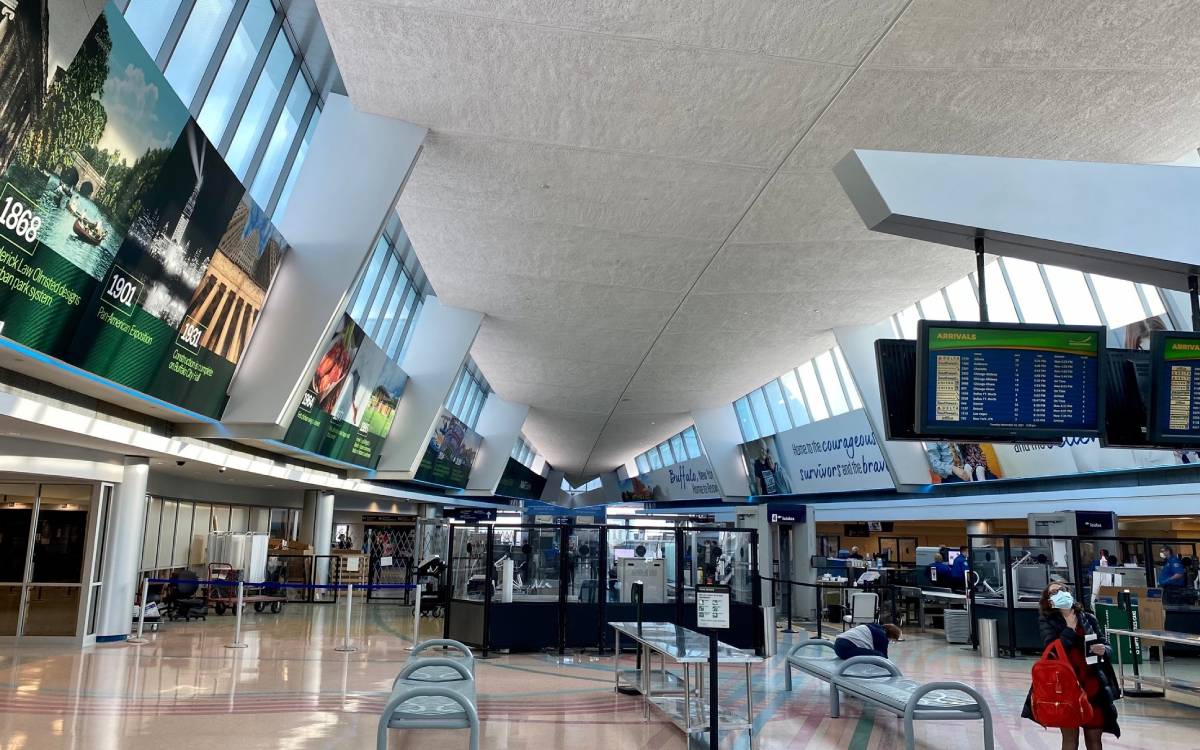 Prior to the pandemic, nearly half of all annual passengers at Buffalo Niagara International Airport (pictured) were Canadian. It was recently announced that the airport would receive $7.3 million in federal funding as part of the U.S. bipartisan infrastructure bill passed last month. Photo credit: Facebook/BNIA
On Nov. 15, 2021, President Joe Biden signed the bipartisan Infrastructure and Jobs Act into law. The legislation provides $1.2 trillion for the rebuilding and improvement of America's highways, bridges, rail lines, electrical grid, and more.
Relevantly, the investment allocates $15 billion over five years to airports and $3.85 billion to the construction and improvement of land ports of entry. 
While no official word has been given yet regarding whether the Peace Bridge, Rainbow Bridge, Lewiston-Queenston Bridge, or any other local international crossings will receive some of the $3.85 billion set aside for land ports of entry, it was recently revealed that Western New York airports will receive nearly $9 million in federal funding. 
"Modern airport infrastructure is critical to ensure that all visitors are safe, whether they are passengers themselves or providing transportation for passengers," said Buffalo-area congressman Brian Higgins.
"The Bipartisan Infrastructure Law provides once-in-a-generation funding for long-awaited improvements, so our airports are safe, modern, and sustainable."
The $8,771,135 in funding will be provided through the Federal Aviation Administration (FAA) Airport Infrastructure Grant program. Buffalo Niagara International Airport will receive $7,277,246 and Niagara Falls International Airport will receive $1,493,889. Both airports will work with the FAA Office of Airports' regional office to identify and implement eligible projects.
"We are very thankful to Congressman Higgins who has once again successfully secured badly needed local funding for our airports, this support is critical to our aviation operations," said Kim Minkel, executive director for the Niagara Frontier Transportation Authority. 
"With our passenger traffic down due to COVID coupled by the U.S. and Canadian border closure, the funding will ensure we can continue to provide aviation services to those traveling to and from Western New York and that our airports will be well positioned to play an important role in the communities post-pandemic economic recovery."
According to a 2012 report by the Conference Board of Canada, 47 per cent of all passengers flying in and out of Buffalo Niagara International Airport in 2011 were Canadian. 
Of the five million Canadians that used American airports that year, 1.7 million flew into or out of Buffalo, with another 135,000 departing from or arriving in Niagara Falls.
Most trips made by Canadians from Buffalo and Niagara Falls were to locations within the U.S. itself, particularly Florida. 
The U.S. reopened its land ports of entry to fully vaccinated Canadians on Nov. 8, 2021, after some 20 months of being closed to non-essential travel. 
While some Canadians flew into Western New York from Canada out of necessity during that time – with stories of Niagara residents driving all the way to Toronto just to fly into Buffalo to see cross-border family and friends – the pandemic significantly reduced, and indeed continues to reduce, the number of Canadian passengers at both Buffalo Niagara International Airport and Niagara Falls International Airport.