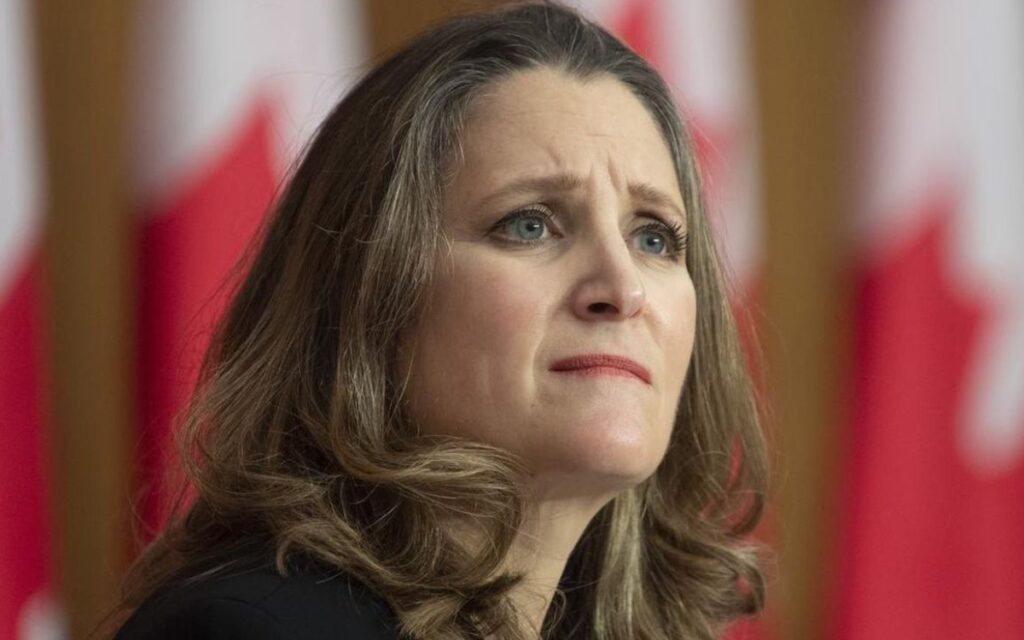 Video of an Alberta man verbally attacking Deputy Prime Minister and Minister of Finance Chrystia Freeland last week led many across the political spectrum to claim such harassment of politicians is a threat to Canadian democracy. Photo credit: The Canadian Press/Adrian Wyld 
In the wake of Canada's finance minister being accosted by a man yelling profanities at her while she was on her way to a meeting inside city hall in Grand Prairie, Alberta, there has been a lot of talk this week about the growing frequency of harassment against politicians as "posing a threat to our democracy."
The video of Minister Chrystia Freeland, coupled with a new survey from Pollara Strategic Insights showing that nearly half of Canadians are upset with the policy decisions coming from the federal government, has made for a particularly bleak news cycle. In a post-pandemic world that is likely to be defined in the coming months by a period of economic hardship, the summer sun is quickly fading into a turbulent winter that will continue to see the cost-of-living rise for Canadians while the federal government struggles to get inflation under control.
As people cope with the uncertain economic situation, will threats, harassment and acts of violence become the new normal? And is this a threat to democracy?
A complicated problem invokes a complicated response.
Ask any political staffer on Parliament Hill, and they will likely rattle off several instances in their experience where their boss has received comments or direct messages on their social media or email accounts that are insulting and abhorrent. In some instances, these messages threaten not only the politician, but their families. They are then forwarded to the RCMP, but don't generally result in tangible action against the individual in question.
In most cases, these types of messages are ignored, and life moves on. While wrong, it is commonly accepted that this is a hazard of the job.
Thankfully, most Canadians do not have much of a frame of reference for this type of behaviour, as they are not directly exposed to these experiences within the workplace. But that shouldn't mean as a society we condemn this type of behaviour, and then shrug our shoulders and move on when the news cycle changes.
Just like the average Canadian, politicians deserve a workplace free of harassment, violence and intimidation. If this cannot be guaranteed, people will choose to opt out of public service altogether because the parts of the job that are most rewarding are increasingly less visible to the public eye. Where once the positive aspects of making a difference outweighed the negatives, it feels as though there is an inescapable cloud of anger that means any decision made by a politician will result in unhappy people on both sides of the equation.
The video of Minister Freeland from last week has been shared far and wide. It drew outrage from Canadians across the political spectrum, and was firmly denounced as unacceptable. But the reality is that while it is important to draw attention to the bad actors in society and condemn their actions, we must also do better at amplifying the good work politicians do every day that lead to better outcomes for Canadians. Losing sight of the importance of public service is the true threat to democracy.
Josie Sabatino is a Senior Consultant at Summa Strategies, focused on providing strategic insight and helping clients meet their objectives in an ever changing and complex political and regulatory environment. Prior to joining Summa, Josie spent nearly a decade in political communications and most recently served as the Director of Communications to the Hon. Erin O'Toole, former Leader of the Official Opposition.