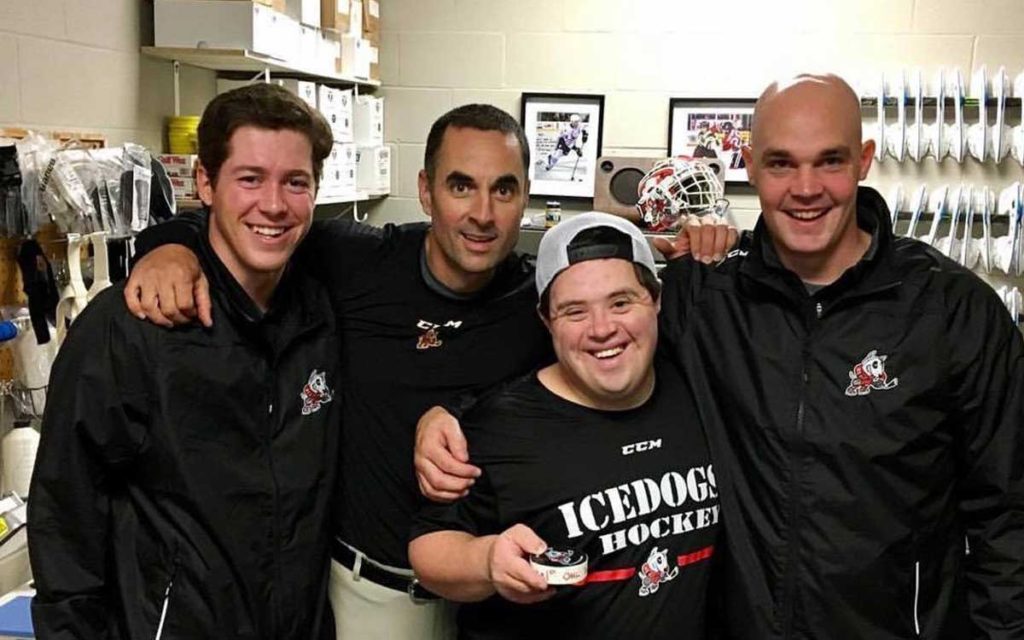 Left to Right: Spencer Casey, Pete Dobbin, Greg MacPherson, Nick Hornby
There's an adage – look good, feel better.
That saying definitely rings true for the Niagara IceDogs hockey club, thanks in large part to two individuals who spend countless hours making sure the IceDog players feel good, and look even better.
Pete Dobbin has been with the Ontario Hockey League franchise for 11 seasons as Athletic Therapist, while Nick Hornby is entering his third season as Equipment Manager.
"My typical day starts with a morning workout with the older boys (players)," said Dobbin a 44-year old Niagara Falls native who has also worked with Baseball Canada in the same capacity.
"I design and implement its programs, and make sure everything and everyone is technically sound, that lasts between an hour and an hour and a half."
That starts what, on game days, could be a 12-hour day for Dobbin.
"After that would involve therapy work which involves me one on one with anybody that is injured, in the therapy room doing hands on work, or directing them through another type of rehabilitation program."
"The boys then go on the ice at 2 p.m. and I'm here for that to make sure no one gets hurt, followed by a workout with the high school (aged) players after practice, and again that would be facilitated by myself. And because they're younger, and have been at school all day – their program has to change."
And change is something Dobbin knows all about. Anyone that knows him knows he is always upgrading his athletic therapy knowledge, that includes at the arena or on long bus trips with the team.
Another aspect that Dobbin takes pride in is the nutritional side of things for the 20-plus players he deals with on a daily basis.
"We keep track of the player's weight on a daily basis. Everybody has different dietary intakes and dietary needs.  It's difficult from time to time, to keep everybody on the same page in terms of what they like to eat. We have allergies, certain food restrictions, different choleric intakes, based on the individual."
Dobbin is also quick to point out, "some of these guys can intake 7,000 calories a day. Science is always changing. Really, my job is a young person's job," he says with a laugh.
Hornby smiles in agreement in his office located at the back of the dressing room at Meridian Centre – the home of the IceDogs.
Hornby usually puts in even longer days than Dobbin. In fact, a day at the office (rink) could last 16 hours for the 31 year-old Grimsby native.
"Typical practice day I roll into the arena at around 7:45 am, and we'll have the (laundry) in the dryer from the day before. I'll hand all that out, along with the socks and jerseys."
"I like to be all set up when the guys get here," explained Hornby who was with the American Hockey League's Toronto Marlies for five years as an assistant equipment manager before coming to Niagara.
"Professional is what I'm about, and what I like. Coming from a pro game, I like to treat the guys like pros."
"I'll be here all day. The guys will practice and I'll be here until five or 5:30 (pm), but on a game day I'm here from 7:45 (am) until 11 pm."
And then there's an agreement with the rest of the equipment managers across the OHL – definitely one that most people don't know about.
"If you've got a visiting team in town, then you've got their laundry to do too. Yeah it can get crazy. Everyone just thinks it's all about getting to hang out, and look at hockey gear all day. That's not it at all."
"And people forget about time away from your family. I have a little guy at home now, and I just went three days without seeing him. I leave in the morning he's asleep, and I come home at night and he's in bed. It can be tough."
Both Hornby and Dobbin were quick to point out the help they receive from their assistants. Greg MacPherson and Spencer Casey are locker room attendants for Hornby, while Nick's dad Bill has also come on board this season to help when he can.
Blair Stayzer is an assistant athletic therapist for Dobbin, while team doctors John Ostrowski and David Dec and team dentist Daryl Smith are always there on the beck and call.
And Dobbin and Hornby's long hours and dedication to the team certainly don't go unnoticed by the IceDogs players.
"Horns and Dobs have been nothing but first class throughout my time here," said Niagara captain Ben Jones.
"Regardless of the day or time, they would each give their left arms if one of the players needed anything.  We wouldn't be the team we are without them both."
The IceDogs open their season Sunday afternoon in Mississauga, with their home opener next Friday night against Kingston. Game time is 7 p.m.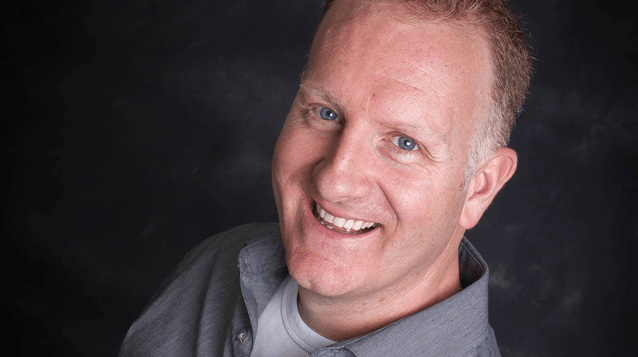 Rod Mawhood is a lifelong Niagara native who has had the pleasure of working in all three mediums – Radio, Print and TV – for over 20 years. His first announcing gig was with the then St. Catharines Stompers. Since then he's worked in radio and TV in Toronto, and currently is the announcer for the Niagara IceDogs and Niagara River Lions.
Rod also covers the Buffalo Bills for FOX Sports and the Buffalo Sabres for NBC Sports.