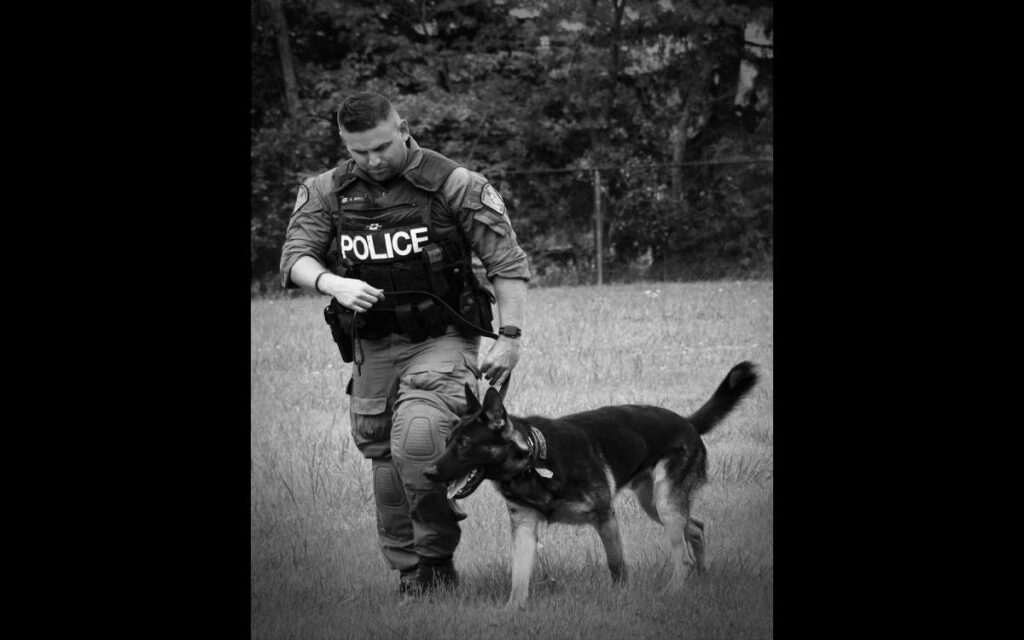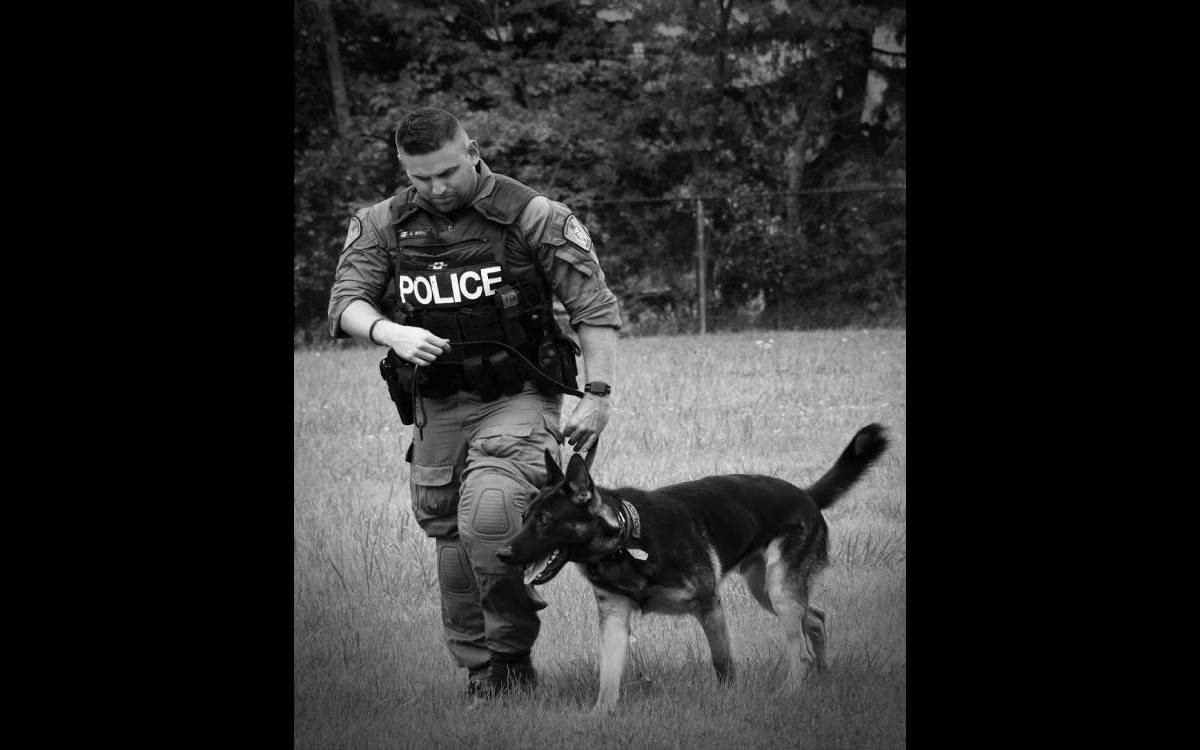 Officer Tim Wiley with his partner Rudy.
As a kid Tim Wiley didn't just want to be a police officer. As someone who grew up with a family dog, Wiley's ultimate goal was to join the K-9 unit. That dream recently came true as Wiley and his new partner Rudy graduated together from their training program.
The training began back in August. "I started when Rudy started," explained Wiley. He said when all the kids were getting ready to go back to school he and Rudy were doing the same. "Everything I've done up to this point was to get to this position," Wiley said when expanding on his goal to be a member of the K-9 Unit.
The 15-week course put both human and dog through the paces making sure both were suitable and capable of joining the team. Rudy is a 17-month old German Sheppard and while some police dogs come from overseas, Rudy was born in Canada. This year the COVID-19 global pandemic has made it difficult to get a dog from outside of Canada.
Before Rudy is even invited to the training school he's put through a series of tests to make sure he's a good candidate for the Unit. "We'll go meet the dog and make sure he would be a good fit and Rudy was a perfect fit." Wiley said they watch for his demeanour and how he handles himself at work.
The training process is done in baby steps. "It was all new to me too. It was very hands on and I learned how to read his behaviour." As any dog owner will tell you, often times the dog's behaviour feeds off of the owner's. "Every day it was something different. There are provincial standards we had to meet before Rudy was certified."
Wiley said every police dog has different temperaments and Wiley says, "Rudy is very sociable." While Wiley refers to Rudy is a "big suck" at home (the dog lives with Wiley), at work he's all business. "He's very good at home and around my wife. If we were in the backyard and you came over you'd never know he was a police dog." Before training started Rudy lived with Wiley and his wife for two weeks so the two potential K-9 partners could get use to each other. "When he's off duty he's like a regular family pet, we play fetch, go for walks, go to the park. He's very good at switching it on and off. Rudy is very smart that way."
However, Wiley said once Rudy is at work he's all business. "He puts on his game face." Rudy is a dual-purpose K-9 trained in narcotics and as a general service dog meaning he is trained to detect human odour in a search mission or to locate evidence like a firearm or clothing.
Not surprisingly people, especially kids, are fascinated with police dogs and often want to pet them but Wiley said, "99 per cent of the time when the dog is out of the vehicle we are working so people can't pet him. We do presentations to schools and kids can pet him in that situation and Rudy can interact with the community."
Niagara Regional Police has six K-9 teams plus the Unit's sergeant and his dog. Rudy will be replacing a retiring dog. The handlers can buy back the dogs upon retirement at which time the dog becomes a family pet. "You'd never know they were retired police dogs," said Wiley. But while they are working, that's when the dogs are most happy. "They want to work. Rudy is in his glory when he's at work. He just loves working."
"We will hopefully have a long and rewarding career. He's a member of my family. My wife would say the same thing."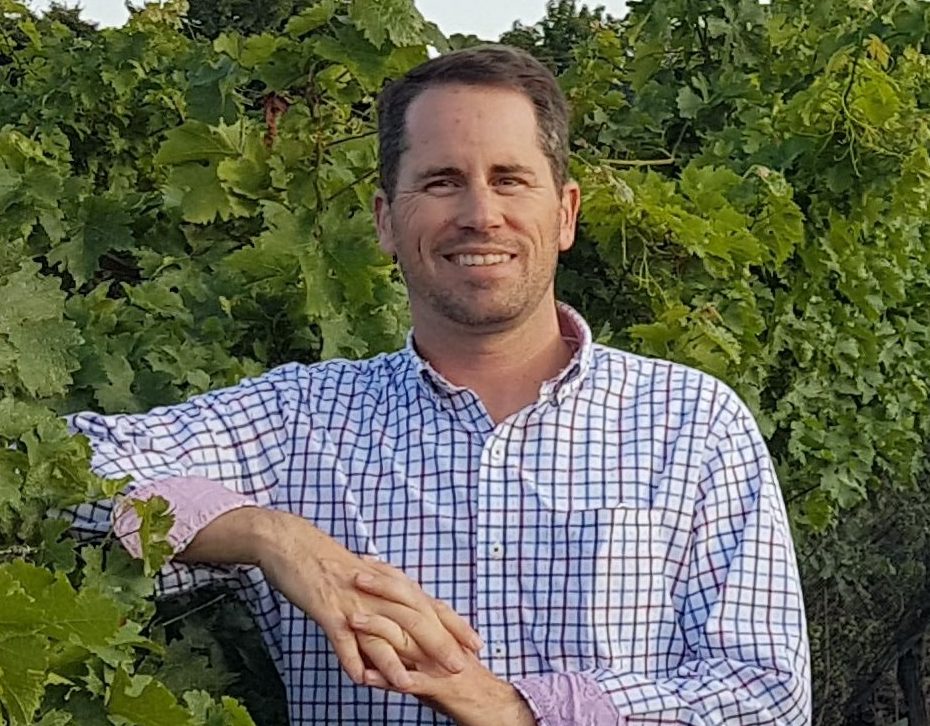 Kevin has spent over two decades as a public relations professional in a variety of sectors including professional sports, the arts, industry and healthcare.  After tiring of the daily commute to Toronto he returned to Niagara and launched The Niagara Independent, an online news source published twice weekly.
He is a graduate of Brock University, Niagara College and the Richard Ivey School of Business. He was named one of Niagara's 40 Under Forty in 2005.
Kevin is most proud of his twin daughters. He is also a triathlete and four-time Ironman finisher.