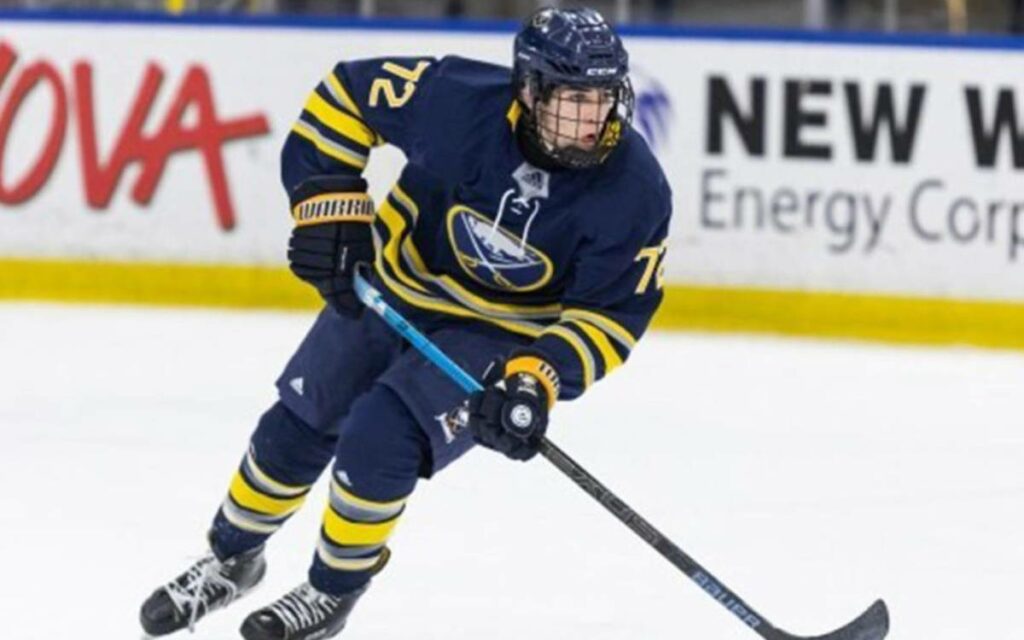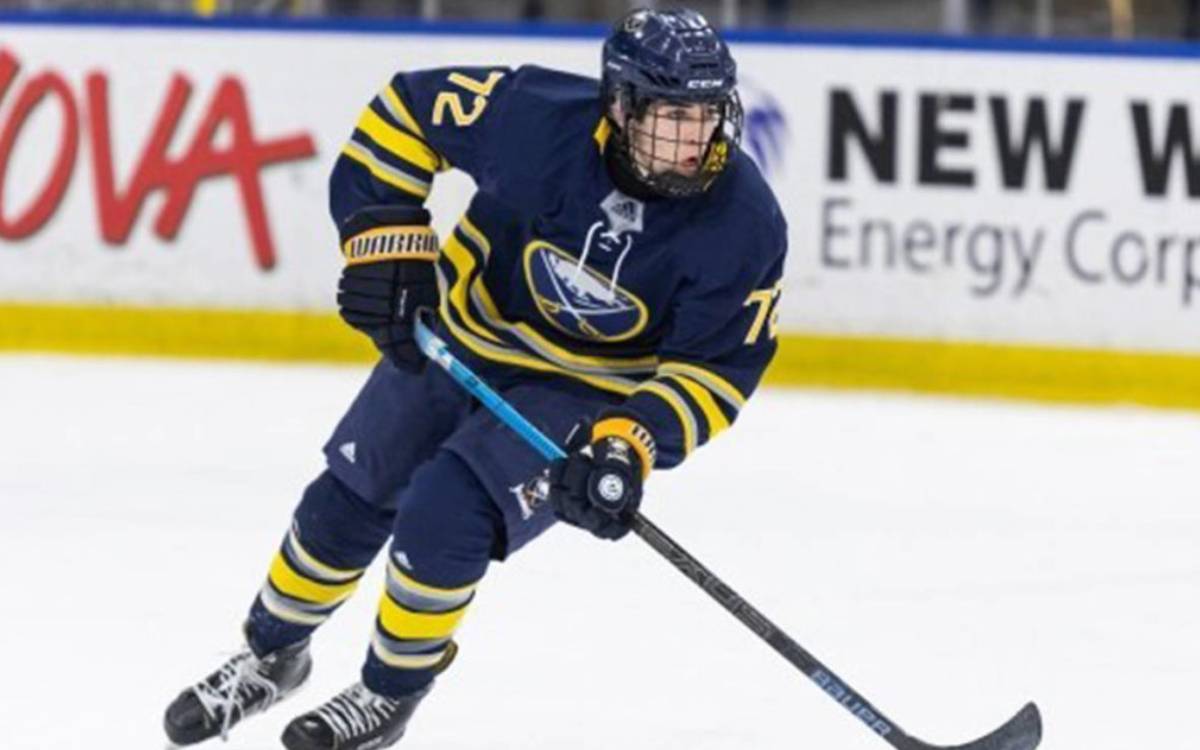 Matteo Costantini playing last season with the Buffalo Jr. Sabres.
Sometimes stories fall right into reporters' laps. As was the case recently with St. Catharines native and 2020 Buffalo Sabres draft pick Matteo Costantini.
While trying to set up a radio interview with the 18-year old, via 'Zoom', I chuckled as his sign-in name was Scott Niedermayer. As in Hockey Hall of Famer, four-time Stanley Cup Champion, and five-time NHL All-Star Scott Niedermayer.
I quickly piped up: 'Nice sign-in name, Matteo' – and his response was "no, I live with Scott Niedermayer, it's his computer."
What?
Yes, an 18-year old St. Catharines native whose living in British Columbia is billeted by one of the top defensemen to ever play the game of hockey.
Believe it.
"I came down here (British Columbia) and they were like, your billet is going to be Scott Niedermayer if you come here," said Costantini from the Niedermayer home in Penticton, where Costantini plays with two of Niedermayer's sons on the Penticton Vees of the British Columbia Hockey League (BCHL).
"Obviously that's something that opened your eyes. Being able to pick his brain about hockey has been something that has been really cool for me."
Costantini chose Penticton because the options of playing for the Buffalo Jr. Sabres in the Ontario Junior Hockey League (OJHL) or the USHL (United States Hockey League) were off the table due to COVID-19 and border restrictions.
Costantini was fortunate enough to travel out west with his parents, but is quickly becoming fond of his new billet dad in Niedermayer.
"He's probably one of the most humble guys I've ever met in my life, especially with all the (Stanley Cup) rings, Olympic gold medals, it's unbelievable. He definitely has a head for hockey that's for sure. It's crazy living with him that's for sure."
Costantini, a 6-foot, 175 pound centreman, is committed to the University of North Dakota next season.
As the sport of hockey has now taken Costantini to two countries and two provinces here in Canada, he certainly never forgets his roots in St. Catharines, including his favorite local memory on the ice.
"Probably taking Niagara North to the OMHA's, and scoring the game-winning goal in that final against the Oakville Blades. I think it was a 4-3 win in overtime. That was definitely a really good feeling, something I'll remember for the rest of my life."
Constantini would put up 29 points in 32 games that season, but has averaged well over a point per game the last two campaigns including 36 goals and 68 points in just 50 games with the Buffalo Jr. Sabres last season.
Those numbers were enough for newly named Buffalo Sabres General Manager Kevyn Adams to call his name in the fifth round, 131st overall, in this year's NHL Entry Draft.
"I was not a Sabres fan growing up. I grew up being a Leafs fan since Day 1, and then moved to Buffalo when I was 16 and got to see a couple of games and wearing that jersey I kind of just fell in love with it. Obviously being drafted by them was a dream come true. It's unreal."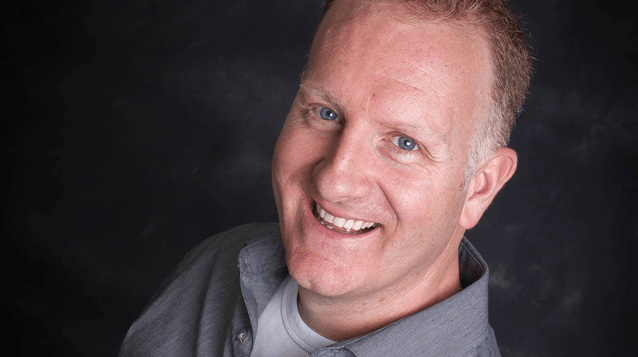 Rod Mawhood is a lifelong Niagara native who has had the pleasure of working in all three mediums – Radio, Print and TV – for over 20 years. His first announcing gig was with the then St. Catharines Stompers. Since then he's worked in radio and TV in Toronto, and currently is the announcer for the Niagara IceDogs and Niagara River Lions.
Rod also covers the Buffalo Bills for FOX Sports and the Buffalo Sabres for NBC Sports.